BLYTHEWOOD – Three Blythewood farms offering their own produce and featuring a number of artisans participated in an 11-county Ag + Art Tour last weekend, opening their front gates to hundreds of visitors Saturday and Sunday.
Visitors loaded up their cars with farm produced eggs, fresh flowers and vegetables, artwork and took fun photos of their children posing with barnyard animals. Musicians performed at some of the farms on back-to-back sunny days.
Many told the farm owners they would be back, using the tour as a year-long guide to find locally grown food and handmade artisan treasures.
The Purple Tuteur Farm on Langford Road, which grows and sells a wide variety of garden flowers to local florists as well as to the public, featured not only its blooming gardens, but several vendors – May Vokaty's Molly Creek Soaps; Sculptor Ellen Emerson Yaghjian's hammered copper artwork, and others.
Doko Farm on Cedar Creek Road offered a virtual petting zoo as well as a vendor from Elgin selling shabby-chic cottage furnishings, a gardener selling his potatoes, flowers, and round green squash and graphic de signer Caroline McKay's note cards, some of which were designed from the farm setting, and a specially designed Father's Day card.
Fabel Farm on Hinnants Store Road featured not only the farm's own vegetables but several vendors including Kevin Cullis' demonstration of turning a block of cedar into a charming potpourri pot topped with an intricately carved silver lid.
For those families who toured Blythewood's Ag + Art farms, it was a weekend in the country they will remember.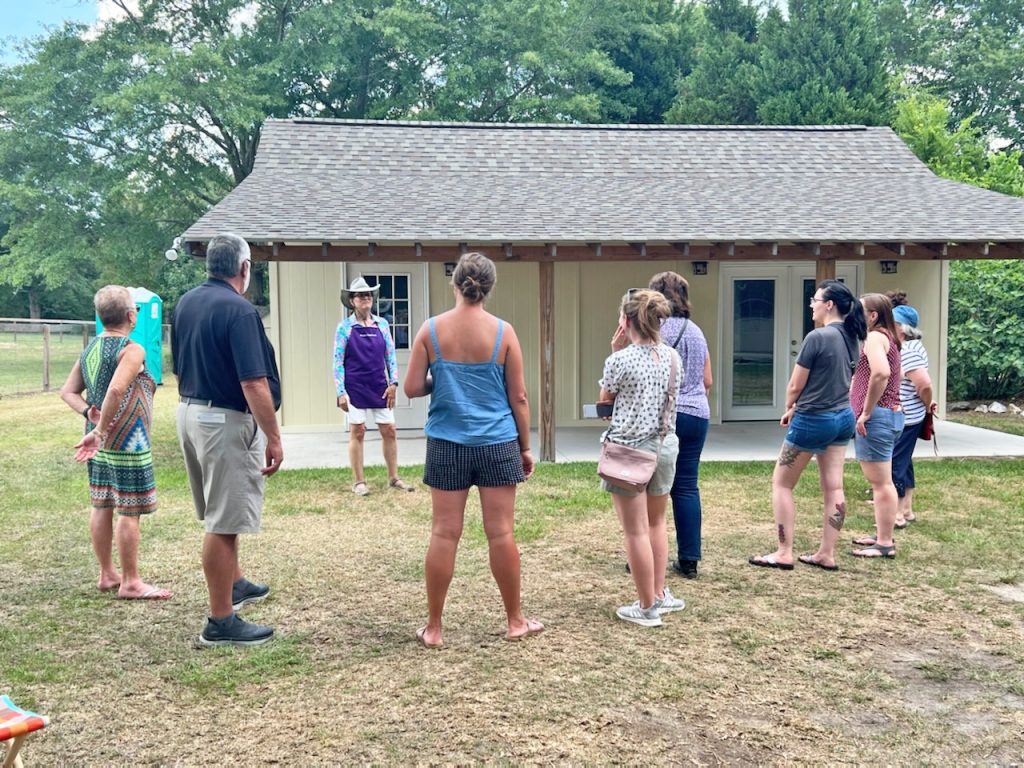 Pam Rodrigus of Moxie Creations sold her shabby chic creations.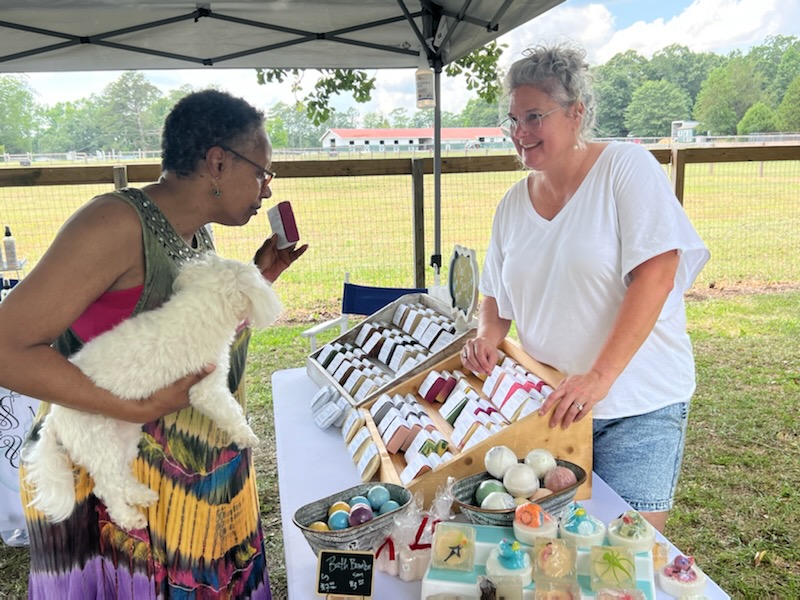 Karen Bickley and Linda Martin sold fresh cut bouquets at Purple Tuteur Farm

Sculptor Ellen Yaghjian displays her copper creations.
A quarter in the slot provided a handful of chicken scratch.

A variety of fresh, homegrown onions were on sale at Fable Farm.
Craftsman Kevin J. Cullis created exquisite potpourri potsfrom cedar blocks at Fabel Farm on Hinnants Store Road.

Craftsman Kevin J. Cullis created exquisite potpourri pots from cedar blocks at Fabel Farm on Hinnants Store Road.