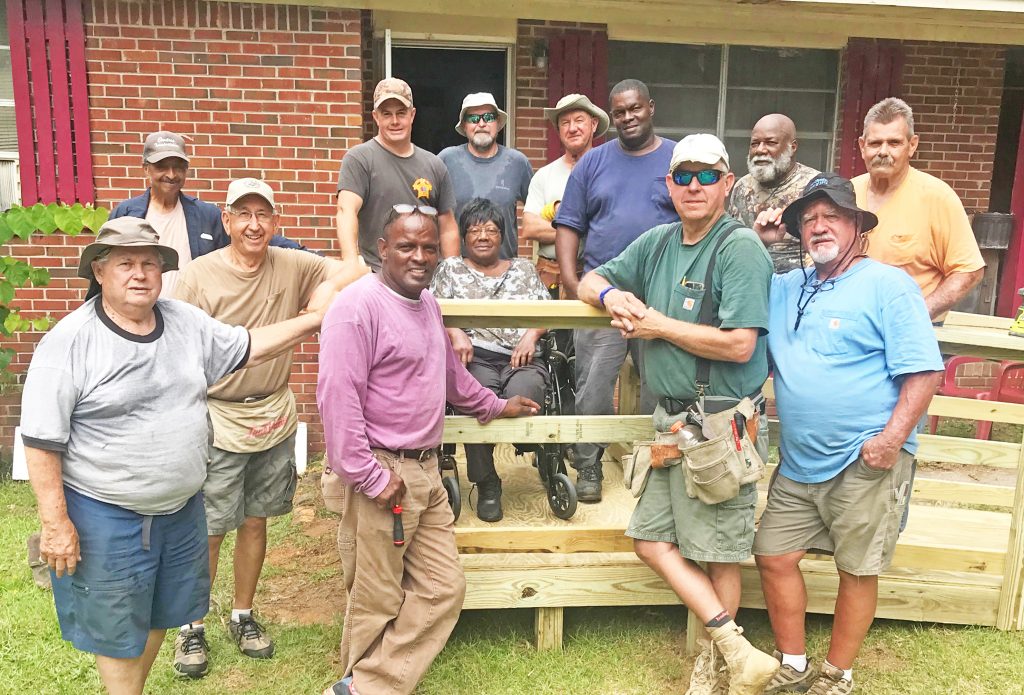 FAIRFIELD COUNTY – They finished their most recent project on Friday – a wheelchair ramp to help a woman who is both an amputee and dialysis patient, to give her access in and out of her home and to medical appointments.
It was also a milestone for the local men's group called Bridge Builders for Christ, who began several years ago building ramps for disabled members of their church. They expanded three and a half years ago to serve all of Fairfield County, with help from several other church denominations and others in the community pitching in to help.
"It was just about impossible for her to get in and out of her house to go to dialysis," says David Ferguson, of the woman they helped with Friday's project. "That's the kind of situation that we run into that we try to alleviate."
Ferguson, who co-founded the group several years ago with fellow church member Tommy Wright, says the effort began at First Church of the Nazarene in Winnsboro, but local Methodist and Baptist churches have since joined in to contribute and volunteer, as have members of the Fairfield County sheriff's department. The group has also received funding from the Fairfield Electric Co-Op.
Still, Ferguson says, there's always a list of people waiting for help – and donations and volunteers are always needed.
"We have been as many as six behind at one time, and you never get caught up," Ferguson says. "Before we get down the list, we get other people on the list."
To Ferguson, 78, helping others feels like a calling. In the past, he says, he's taken 15 mission trips overseas – to eight countries on five continents – to help build things like church buildings, parsonages, and Bible schools. Wright accompanied him on some of these as well, he says.
And while the Covid-19 pandemic has kept a lot of missionary-minded folks at home, the ramp builders have found no shortage of help in Fairfield County.
"The folks outside the United States, they appreciate what you can do for them so much. You really see what Christianity's about when you do what you can," he says.
"These folks [at home in Fairfield County] also appreciate what we do for them, and you see it in their eyes. We've helped some folks who were really down, but they felt better and we did too when we got them some help."
Most of the volunteers, he says, aren't that young – though there are a few younger men who've gotten involved. Sometimes, as many as a dozen men show up on a project to help get it done.
Their clients contribute what they can to the cost of materials, he says – but if they have nothing, the group finds a way to complete the project with donations. He says good people will always pitch in and do what they can.
"The thing is, everybody is not as fortunate as some others. You have to do what you can for your fellow man; that's what Christianity's about," Ferguson says.
"It's good to let people know that with all the problems that we're facing in the world today that we can still do the right things for folks."
Groups and individuals who are interested in helping Ferguson and the Bridge Builders for Christ with their work can reach Ferguson at (803) 718-0564.