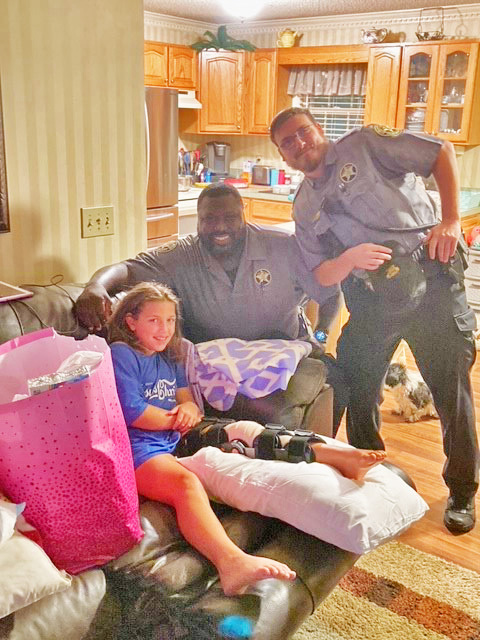 WINNSBORO – When Fairfield County Sheriff's Deputy Chris Mills was called to a home in the county around 8 a.m., on Sunday, June 19, he discovered Khloe Meares, 9, suffering from a gunshot to her left leg, approximately two inches below the knee.
According to the incident report, an unknown subject had shot into her family's residence, hitting Khloe. None of the other 6 people in the home at the time were injured, officers reported.
Corporal James McLamore arrived to gather information on the shooting and the investigation is ongoing to find the shooter.
But the story doesn't end there.
Haunted by the trauma the little girl suffered, Deputy Mills and Corporal McLamore said they wanted to put a smile back on Khloe's face. After all, she was so young and they didn't want that traumatic situation to be Khloe's lasting memory of law enforcement in her life.
So with cooperation from Khloe's mom, the officers prepared a surprise for the nine-year-old.
They returned to Khloe's family's home, this time with a giant bag of gifts. They said they wanted to help her return quickly to her regular life and routine, such as going swimming and enjoying other summer activities.
"I am genuinely sorry that this happened to Khloe," Fairfield County Sheriff Will Montgomery said. "I pray for her speedy recovery. Gun violence is a growing problem that affects us all and we as a community need to get together to put a stop to it."
Montgomery said he is proud of Corporal McLamore and Deputy Mills who, he said, went the extra mile to show support to Khloe and her family.
Anyone with information about the shooting is asked to contact the Sheriff's office at 803-635-4242.