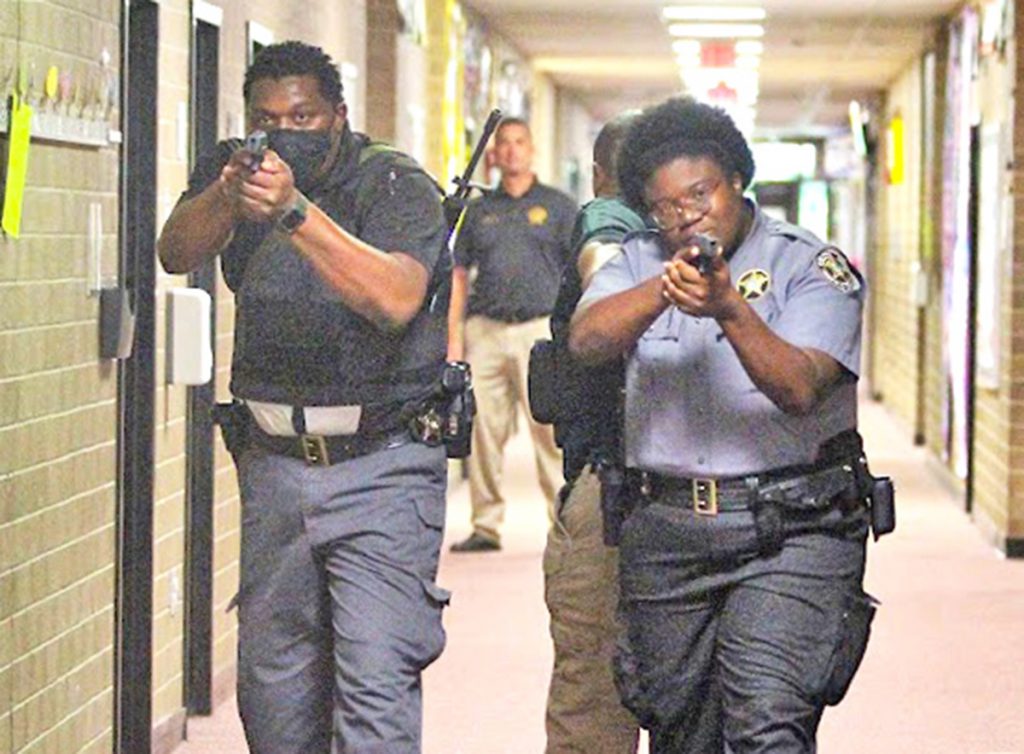 WINNSBORO – Wearing tactical gear, and with weapons ready, deputies with the Fairfield County Sheriff's Office carefully and quickly enter the school building, then scatter through the hallways, methodically searching for the shooter.
Fortunately, it was only a drill. Last week, fifty-five of the county's sheriff's deputies participated in training to prepare for the worst – an active shooter incident.
"This week-long training is one of the things we do at least twice a year to make sure that our deputies stay trained and prepared for whatever may happen," said Fairfield County Sheriff Will Montgomery. "But the training is for more than our schools.
"This time we trained in a school – the magnet school – just because of all the school shootings going on in our nation recently. Past years' training scenarios have been in different types of locations based on news events at the time. For example, after a church shooting made headlines, we trained inside a church," Montgomery recalled.
He said it took a week – July 18 – 22 – for all the deputies to each complete one day of training. Arriving at the building at 8:30 a.m., they spent three hours of classroom training with Sheriff's Deputy Lee Haney who has received specialized training at the Police Academy in Columbia in order to train his fellow deputies. He was assisted by Deputy Chris Childers.
After lunch, the remainder of the day was spent working on active shooter scenarios.
"The scenarios gave them the opportunity to work out things like communication during an active shooting incident and how to approach the building and move through the hallways with protection from other deputies," Montgomery explained.
Part of the training, Montgomery said, included reviewing video from the recent tragic mass-shooting incident at a school in Uvalde, Texas.
"When we review active shooting videos, we look for things that went wrong and what went right," Montgomery said.
In addition to the preparation provided by nearly a decade of active shooter training for Fairfield deputies, Montgomery says the county schools are equipped with security to deter violent incidents.
"In Fairfield County we have school resource officers in all the public schools and the Midlands STEM charter school. The high school has two assigned to it, and all of the doors into the buildings are secure," he says.
"These schools have cameras in the halls, other specified areas and at the entrances.
"The School Resource Officers (SRO's) are armed at all times and they have extensive training to prepare them for active shooter incidents. They train with us in these one-day sessions," Montgomery said, "and they attend additional specialized training for SRO's on a regular basis."
He said the deputies went into the training scenarios last week a little nervous.
"This type of training was a new experience for some of them, and while it is not a real-life incident," Montgomery said, "it's intense for all of us to experience the real-life process involved in a response to an active shooter incident.
"School shootings are on the minds of every parent who has a school-age child these days," Montgomery said. "They wonder, 'What if the unthinkable happens here?' "
"I want our citizens, our parents and students to know that our deputies are prepared for the worst and dedicated to protect against an active shooter incident wherever it might occur," Montgomery said.
"We have some of the best deputies I've ever seen," he continued, "and it feels good to see how well they've prepared for the worst. I'm confident that they have the knowledge they need going into a situation as bad as an active shooter incident."