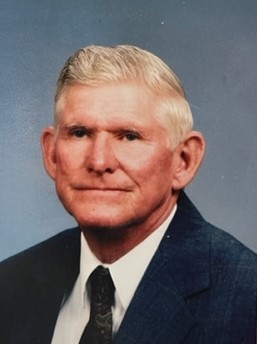 BLACKSTOCK – Edward Hunter Mills, 93, of Blackstock passed away on Sunday, July 17, 2022.  Born in Blackstock, he was the son of the late Edward McDaniel and Annie Hooks Mills. 
Ed retired after 39 years as a Fairfield County Ranger with the S.C Forestry Commission. He retired as First Sergeant after 40 years with the S.C. National Guard and Retired Colonel with the S.C. State Guard after 20 years. Ed was a lifelong member of Hopewell ARP Church where he served as Clerk of the Session and Elder. He served and was past President of the Fairfield County Farm Bureau Board of Directors, member of the S.C. Farmer and Agriculture Association, Blackstock Young Farmers Chapter for 70 years, member of the Cattleman's Association, longtime member of the Lions Club, and past member of the Fairfield County School board.
He is survived by his wife of 58 years, Frances Mayo Mills; son, Thomas E. "Tommy" Mills (Shannon); daughter, Amy Mills Whitfield (Swain); brother, Joseph D. Mills (Sara); sisters, Margaret "Peggy" Howard and Sara Jane Williamson; and five grandchildren, Thomas James Mills (Samantha), Lydia Leigh Mills, Hunter Swain Whitfield, Annie Grace Whitfield McCarty (Will), and Emma Katherine Whitfield.
In addition to his parents, Ed is predeceased by one brother, William Carlisle Mills; two sisters, Doris "Jimmie" Mills and Betty Anne McSwain; and brothers-in-law, Aubrey "Mac" McSwain, R. Wyndal Howard, and Ollie Williamson.
Ed's greatest joys in life were his family, particularly his wife, children, and grandchildren, and his beloved Hopewell Church where he worshiped the Lord faithfully every Sunday. He loved his family land in Blackstock and farmed there his entire life. As a great man and friend to many, he will truly be missed.
Funeral services were held at 11:00 AM Wednesday, July 20, 2022, at Hopewell ARP Church, 1341 Hopewell Church Road, Blackstock, SC 29014. The family received friends after the committal in the church.
In lieu of flowers, memorials may be sent to Hopewell ARP Church Cemetery Fund, 672 Banks Weir Road, Blackstock, SC 29014.
Pope Funeral Home is assisting the Mills family.