On July 29, 2022, Judith Price Case, 75, went home to be with her Heavenly Father.  After a courageous battle with a rare type of breast cancer, she was in remission.  She then battled lung, liver, and spinal cancer. She succumbed to the aftermath of a stroke.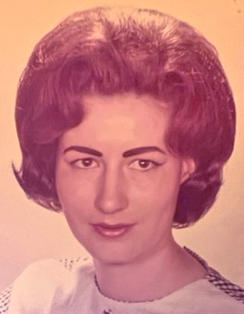 Affectionately known as "Mrs. Judy," she was born January 29, 1947, in Gilbert, S.C, the beloved daughter of the late William O'Dell and Minnie Gillion Price.
She is survived by her daughters, Shannon Case Anderson of Winnsboro, and Jacqueline "Jacquie" Case of Winnsboro. She also leaves an adopted son, David (Ivie) Roberts and her "baby darling" amazing granddaughter, Mary Grace Windham of Ridgeway, S.C. She leaves two sisters, Ellen Royster of Gilbert and Jean Keisler of Gilbert; sisters-in-law, Pansy Case of Great Falls, Marlene Case of Myrtle Beach, Barbara Graham of Columbia, and Delle Price of Gilbert; her" son in love," Lee Keisler of Lexington; and grand nephews, Brayden Keisler, Grayson Keisler, and Bay Watford.
In addition to her parents, Judy was predeceased by her husband of 50 years, Jack Case; brother, Dwight "Sonny" Price; and sister, Hazel Rauch.
Judy was a member of First Baptist Church of Winnsboro for over 45 years. She was also a member of the Ruth M. Cathcart Circle, with whom she made many lifelong friends. She also served as a Mission's Friends teacher, helped direct VBS and was in the WMU. One of her favorite projects was helping Mrs. Julia Hungerpiller start the food bank here in Fairfield County.
"Mrs. Judy loved grub, God, Gospel, and the Gamecocks."
Judith and her husband Jack were a dynamic team in working. They set the bar for customer service and sales high. They could literally sell anything. They also helped people hat were trying to get clean and sober get back on their feet.
Although Judith was a domestic engineer, she did have later careers. She began by being employed with the State Department of Transportation, then Belk Department store where she was a Dept. Manager and won Pace awards for sales/service and retired. She then went to work for Wachovia later Wells Fargo Bank, where she was known for her service and retired from there as well.
A special thanks to Charles McElmurray and staff for many years of care and for caring for the entire family. An enormous amount of gratitude belongs to Judy's sister Jean "GiGi" Keisler who provided infinite care, love, and attention.
A Going Home service will be held at 4:00 PM Friday, August 5, 2022, at Winnsboro First Baptist Church, 1373 Newberry Road, Winnsboro, S.C. 29180. Burial will follow in Fairfield Memorial Cemetery, Smallstown Road, Winnsboro, S.C. The family will receive friends one hour before the service in the church.
In lieu of flowers, memorial may be made in Judy's memory to Sistercare, Inc. PO Box 1029, Columbia, S.C. 29202 or to Richard Winn Academy, PO Box 390, Winnsboro, S.C. 29180.
Pope Funeral Home is assisting the Case family.