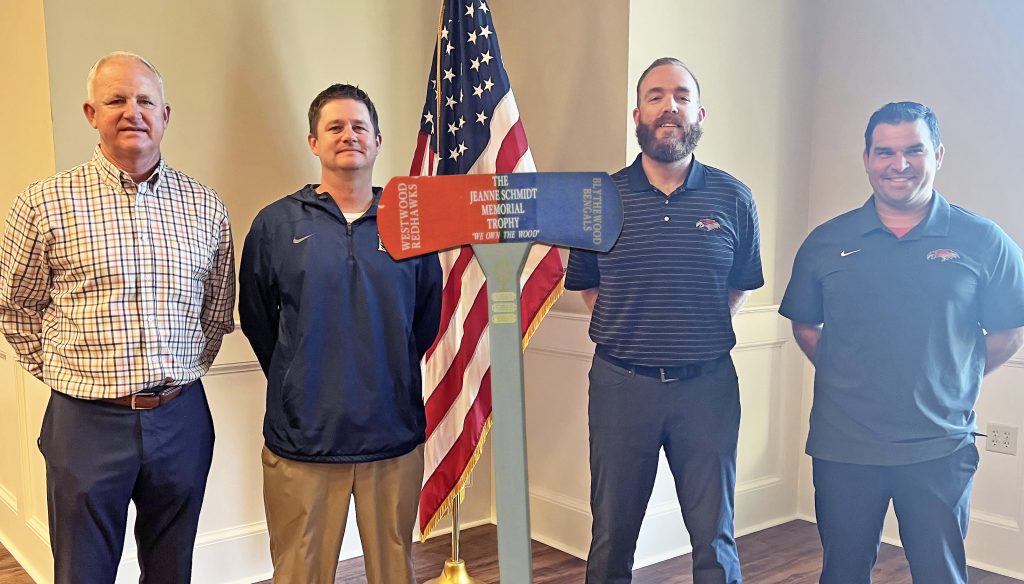 BLYTHEWOOD – This fall Blythewood and Westwood football fans will get a fresh look at the work the Bengals and Redhawks put in to make the 2022 season a success.
For Blythewood, it means returning 16 starters on both sides of the ball, and finding roles for 133 athletes, whether on the varsity team, the B team, or the junior varsity team.
For Westwood, it will be the program under the leadership of new coach Robert O'Connell.
Both O'Connell and fifth-year head coach Jason Seidel spoke at the Blythewood Chamber of Commerce meeting Tuesday, sharing their teams' progress as the season kicks off next week.
"It's interesting being in the Blythewood community because we have that small-town feel which is really good, especially for football," said O'Connell, who took over last spring after third-year head coach Matt Quinn left in February to be the North Augusta head coach. "We had a great summer. We've got one more tune-up this weekend, the jamboree at Chapin, and kick off at Spring Valley the next week (Aug. 19). Our kids have done a great job buying in to what we're trying to do."
Seidel said the Bengals immediately went to work after wrapping up a 3-6 season in which they went winless in Region 4-5A, and for good reason. Besides fielding an overwhelming young team, Blythewood suffered injuries in the quarterback position to the extent that a wide receiver had to start under center late in the season.
"There was a lot of learning going on last year with our kids," Seidel said. "This year has been a great transition. Right when our season ended, our brand-new weight room opened up. We lost (the playoff game at Laurens) that Friday, on Monday we were in the weight room."
The Bengals return eight starters on offense and eight on defense.
The quarterback position is much healthier than last year, when then-sophomore Harrison Collins missed six games with a broken hand, and then-David Herndon went down with an injury in mid-season. Collins and Herndon both return ready to play.
Four wide receivers return, among them Chris Thomas and Josh Gary.
A more experienced defensive line returns, among them defensive ends 6-6 Jalen Briggs and 6-5 Jabari Collins.
"We do have a lot coming back," Seidel said, "but as any coach'll tell you, you've got to piece them all together. Things have gotta click."
Getting the Redhawks to click will be the focus for O'Connell, who was Ridge View's defensive coordinator before taking the Westwood job. He served as a head coach at Richard Winn Academy where his 2016 team reached the SCISA 1A playoffs, and hopes to carry on where Quinn's region champion team (5-5, 4-1 in 2021) left off.
"The biggest part of our program is that we want our kids to be the best version of themselves," O'Connell said. "We want them to be the best student they can be, the best community member that they can be, the best football player they can be."
Among other returners of note, wide receiver Noah Jennings will play a key role in the offense. Jennings was Region 4-4A's offensive player of the year last season.
Both teams have their work cut out for them this season.
In jamboree action Friday, Blythewood plays Providence Day in a jamboree in York, and Westwood plays 2A defending state champions Gray Collegiate at Chapin's Aun & McKay Classic.
The Bengals open the season at Ridge View Aug. 19, play their home opener against Richland Northeast Aug. 26.
Westwood opens the season at Spring Valley Aug. 19, then opens its home slate against Lower Richland Aug. 26.
Sept. 2 marks the Battle for the Axe: the Blythewood-Westwood rivalry that has not been played since 2019, when the Redhawks topped the Bengals 14-7. The covid-19 public health emergency has caused the game's cancellation in 2020 and 2021.
"Our kids, they know each other. They're best friends, they went to middle school together, our coaches know each other, so not to have played that game has been tough," Seidel said. "We're excited. It's a big rivalry, but a healthy rivalry. The kids love each other, they know each other, they pull for each other. We're not in the same region, but that Friday is going to be a war, that's what it's supposed to be."
After that game, Westwood travels to White Knoll and to Midland Valley before opening Region 5-4A play. The Redhawks will open the region at home with A.C. Flora Sept. 30 then play at Lugoff-Elgin Oct. 7, play host to Ridge View Oct. 14, then close the regular season with games at Irmo Oct. 21 and RNE Oct. 28.
Blythewood hits the road after the Westwood game with a matchup at Lexington Sept. 9 and at Goose Creek Sept. 16. The Bengals open Region 3-5A at home against Fort Mill Sept. 30, travel to Nation Ford Oct. 7, host Clover Oct. 14, travel to Rock Hill Oct. 21, and host Spring Valley to close out the regular season Oct. 28.