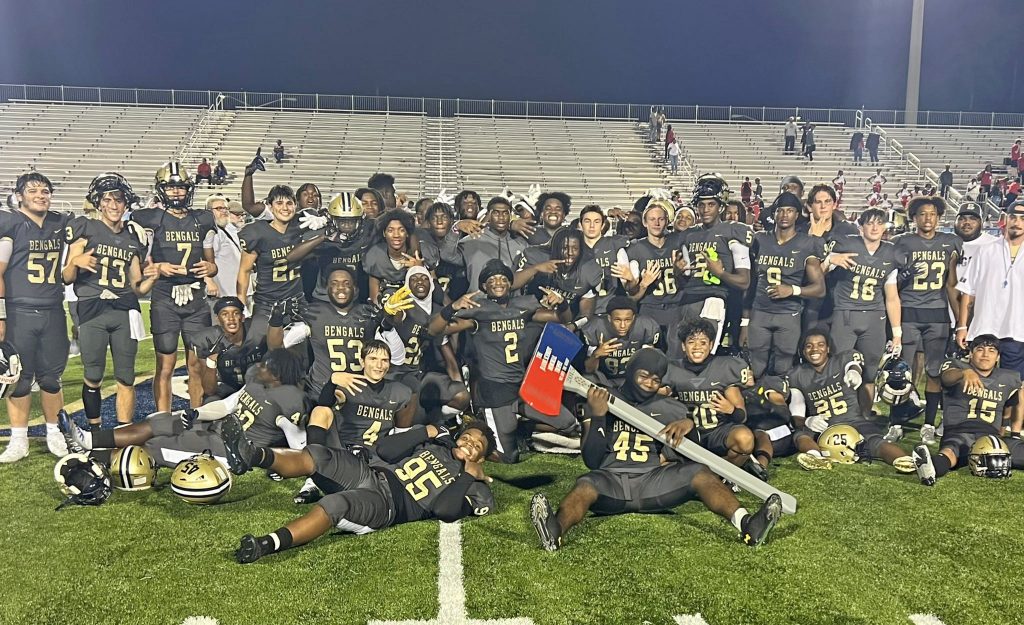 BLYTHEWOOD – In the Battle for the Axe at Blythewood's District 2 Stadium Friday, the only drama came after the final gun, when Blythewood head coach Jason Seidel and his team raised the crosstown rivalry trophy in victory.
"We've got a great coaching staff and great kids. They've been waiting for this for six years and they showed it tonight," Seidel said after the Bengals' 53-8 victory over the Redhawks in the sixth game in which Blythewood and Westwood battle for the Jeane Schmidt Memorial Trophy.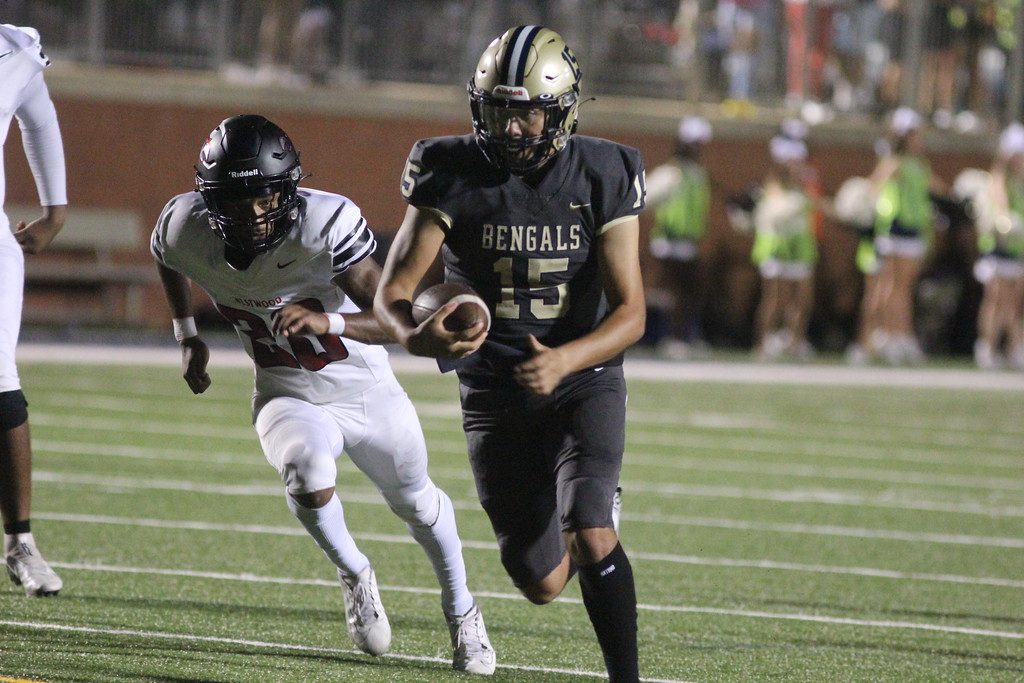 Westwood was the last to win the rivalry game, beating Blythewood 14-7 in 2019 at Westwood. The games in 2020 and 2021 were cancelled because of Covid.
It was just the second win for the Bengals over the Redhawks since the Battle for the Axe began in 2015.
"Hard work, man. It pays off," Seidel said. "These kids were young last year, everybody's back. They're on a mission this year. Week by week we've got to get better, but this one feels pretty good."
The Bengals (2-1) drove up and down the field with a mostly ground attack, with some passes from senior David Herndon and junior Harrison Collins. Westwood met the Bengals with some resistance on defense, but Kinson Holland led all rushers with 122 yards and two touchdowns on 21 carries. Herndon and Collins each had a touchdown pass to Deon Tyler.
"The offensive line did a great job," Seidel said. "We really didn't get too crazy with our offense, we added a few wrinkles in, but I'm proud of our kids, they're been waiting for this one for a while."
With the exception of Dylon O'Neal's beautiful 68-yard touchdown pass to senior Noah Jennings—which gave Westwood its only points of the game—the Blythewood defense shut the Redhawks down.
Westwood managed six first downs in the first half, but could not move the chains in the second half. The Bengals defense sacked Redhawks quarterbacks seven times and made 13 tackles for loss. Westwood rushed for minus-52 yards for the game.
"It's unbelievable," Seidel said. "We preach in every game, O-line/D-line is what's going to get us to the next level.
"It was physical up front and I think as the game wore on we wore them down a little bit," Seidel said. "I can't say enough about our defensive line. I think Edward Robinson is one of the best players in the state as a junior too."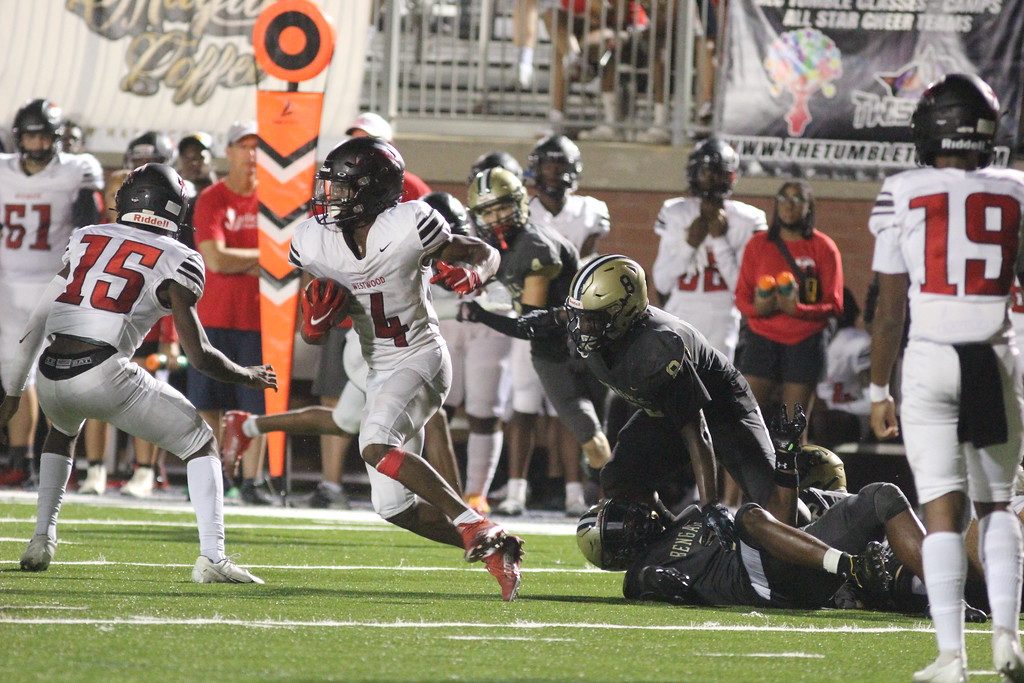 In addition to shutting down the run, Blythewood defenders returned a blocked punt for a touchdown and returned an interception for another score.
Westwood (0-3) suffered its third straight double-digit defeat. It opened the season with a loss at Spring Valley, then fell to Lower Richland at home last week.
"We played three really good football teams, and that's on purpose," first year head coach Robert O'Connell said. "We try to schedule good teams before the conference because No.1, our region (5-4A, which includes A.C. Flora, Irmo, Ridge View, Lugoff-Elgin, and the Redhawks) is really good too."
Even though tough teams can teach lessons and build character, being on the wrong end of a high-scoring game can also have its effect.
"That's a tough locker room to walk into because there are a lot of hurt people in there, me included," O'Connell said. "We've got the right group. We've just got to keep working."
Blythewood worked up a 31-8 lead by halftime.
Holland opened the scoring with a 3-yard touchdown run at the 4:37 mark of the first quarter. Later in that period Blythewood forced the Redhawks to a fourth-and long situation at their own 39. Blythewood defender Drayden Young got his hand on Daniel Brown's punt, and teammate Zarion Williams scooped it up at the 32-yard line and ran it back to the end zone with 31 seconds left.
Leading 14-0 to open the second quarter, the Bengals continued to take advantage of good field position that their defense set up.
David Herndon connected with Deon Tyler for a 9-yard TD pass at the 7:56 mark, and Holland ran in another score from six yards out to make it 28-0 Bengals with 5:20 left in the half.
Westwood's only score of the half came one minute later, when quarterback Dylon O'Neal lofted up a high pass to Noah Jennings on the right sideline. Jennings caught it around the Blythewood 10-yard line and ran the rest of the way to complete a 68-yard pass play. Jayden Harrison added a 2-point conversion run.
Blythewood kicker Ryan Hart made good on a 30-yard field goal just before the half.
The second half was all Bengals.
Harrison Collins came in under center to start the second half and connected with Deon Tyler for a 25-yard touchdown at the 7:43 mark of the third.
Seconds later, Jacob Gary grabbed a Carrington Carter pass and ran it back 30 yards to the end zone to give Blythewood a 44-6 lead.
The Bengals added a safety and a Deandre Williams rushing touchdown in the fourth quarter to close out the win.
Westwood plays host to White Knoll Friday. The Timberwolves (3-0) were 35-14 victors over Colleton County last week.
"We all saw that coming with Coach (Nicholas) Pelham going over there," O'Connell said of the former Dutch Fork defensive coordinator in his second year with White Knoll. "He does a great job and he's got that program rolling, so it doesn't get any easier for sure."
Blythewood travels to Lexington Friday. The Wildcats (2-1) beat Stratford 28-14 Friday.
"They're real tough but we need to see this if we want to make a playoff run," Seidel said. "They're well-coached, I love their staff, I love their kids, I think it'll be a good game.
Westwood – 0-8-0-0 — 8
Blythewood – 14-17-13-9 — 53
First Quarter     
B – Kinson Holland 3 run (Ryan Hart kick) 4:37
B – Zarion Williams 42 blocked punt return (Hart kick) :31
Second Quarter
B – Deon Tyler 9 pass from David Herndon (Hart kick) 7:56
B – Holland 6 run (Hart kick) 5:20
W – Noah Jennings 68 pass from Dylon O'Neal (Jayden Harrison run) 4:17
B – Hart 30 field goal 1:01
Third Quarter
B – Tyler 25 pass from Harrison Collins (Hart kick) 7:43
B – Jacob Gary 30 interception return (kick failed) 6:59
Fourth Quarter
B – Safety 6:16
B – Deandre Williams 1 run (Hart kick) 2:02
WHS BHS
First Downs 5 23
Rushes-Yards 27-(-52) 43-237
Passing Yards 112 140
Att-Com-Int 15-7-1 15-10-0
Fumbles-Lost 1-0 1-1
Penalties-Yards 10-70 6-51
Punts-Avg 5-38.5 1-26.0
INDIVIDUAL STATISTICS
RUSHING: Westwood – Jayden Harrison 11-19, Sanah Furgess 4-2, K-Shon Harrison 3-0, Corey Putmon 1-0, Michah Henryhand 1-(-4), Carrington Carter 4-(-35), Dylon O'Neal 3-(-34). Blythewood – Kinson Holland 21-127, Deandre Williams 10-46, Chris Thomas 1-2, Josh Gary 3-36, David Herndon 2-30.
PASSING: Westwood – Dylon O'Neal 7-14-1, Carrington Carter 0-1-0. Blythewood – David Herndon 3-7-0, Harrison Collins 5-5-0.
RECEIVING: Westwood – Noah Jennings 6-97, K-Shon Harrison 1-15. Blythewood – Stuart Sword 4-69, Deon Tyler 2-34, Josh Gary 2-7, Nate Rabon 2-30.