LAKE WATEREE – A Blythewood man, Russell Britton Pope, 27, has been arrested in connection with several recent burglaries and larcenies in the Lake Wateree area of Fairfield County.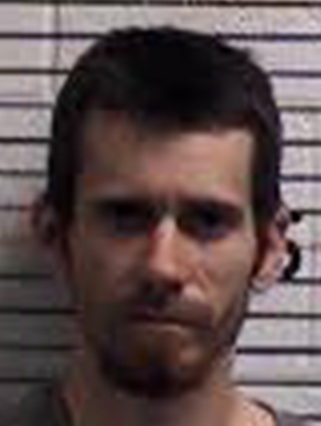 On July 22, Fairfield County Sheriff's Deputies responded to a burglary on River Road near Rocky Point Circle where the suspect broke in to a building in an attempt to steal an ATV. During the course of this burglary the suspect was confronted by a friend of the victim, and officials said fired a gunshot in the air.
It was reported that the suspect was still inside the building while deputies were responding to the incident, however, deputies, with the assistance of SLED, searched the building and determined the suspect had left prior to law enforcements arrival.
Later that day deputies were called to a residence on Rock Bridge Road due to a burglary and Grand larceny of a CJ7 vehicle. The Rock Bridge Road homeowner was travelling home and observed his vehicle being driven down the road. The description of the suspect driving the CJ7 Jeep was the same given for the suspect that law enforcement was already searching for from the burglary earlier that morning.
Fairfield County Deputies and Kershaw County Deputies along with the assistance of SLED located the vehicle on Shivers Green Road but were unable to locate the suspect at that time.
On Sept. 8, investigators and Sheriff's Deputies responded to Antioch Cemetery Road where a hunter located his own ATV that had been stolen a week prior but had not been reported. While investigating this incident, Investigators located another ATV that had been stolen that same day and the owner was unaware that his ATV was missing.
During the course of this investigation, Investigators made contact with the property owner where the ATV's were located and learned that he, too, was missing a Honda dirt bike along with other items.
A witness passed by and provided information to investigators that helped identify Russell Britton Pope as the suspect in the ATV thefts. Throughout the course of the investigation, Investigators with the Fairfield County Sheriff's Office were able to connect Pope to the July 22 incidents with the ATV thefts reported on Sept. 8.
Pope was located by Fairfield County Deputies on Sept. 14, in the Ridgeway area of Fairfield County where he was arrested and booked in to the Fairfield County Detention Center. He has been charged with 2 counts of burglary 2nd violent and 4 counts of grand larceny.
"The Investigators with the Fairfield County Sheriff's Office would like to thank the citizens who provided information that was helpful in identifying Pope as being involved in these cases as well as SLED and the Kershaw County Sheriff's Office," Fairfield County Sheriff Will Montgomery said.
Montgomery said investigators are still looking into other incidents from the Lake Wateree area, and he said it is believed that Pope could be involved in those as well.