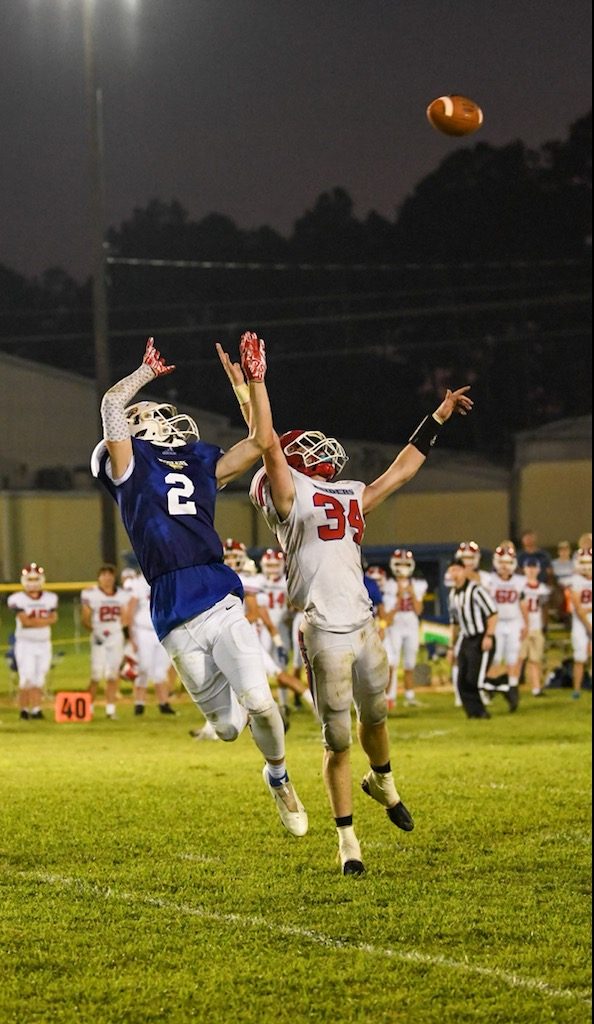 WINNSBORO – The Holly Hill Academy Raiders have been perfect since the start of the 2020 season. The back-to-back SCISA 8-man state champions strode into Winnsboro Friday night looking to extend that undefeated streak.
"We thought it would be our biggest challenge so far, and it definitely was," said Eagles Head Coach Paul Brigman after the game.
The Raiders' ground-heavy attack proved formidable against the Richard Winn defense as Holly Hill gained 532 offensive yards. Quarterback Tyree James and running back Tyler Wright scored each of the Raiders' 8 touchdowns. Wright found the end zone three times on the ground and returned a kickoff 70 yards for a score. James also rushed across the goal line three times and returned an interception 87 yards for a touchdown.
The 60-34 final is the Eagles' first loss this season, and the fewest points the Eagles have scored in a single game.
"We are disappointed in the outcome," said Brigman, "but we will use the loss to learn and get better."
Incomplete passes plagued the Eagles throughout the game. Quarterback Landon Caulder was 19 for 47 passing, but threw for five touchdowns and 305 yards. Drew Spires was Caulder's primary target, receiving 11 passes for 156 yards and three scores. Rob Wilson caught four balls for 99 yards and two touchdowns. Jacob Chaisson also caught four passes for 50 yards. The Eagles had difficulty gaining momentum on the ground, and rushed for just 56 yards on 15 carries.
On defense, Campbell Sims recorded 14 tackles, Lawson Wade had 10 stops, and Connor Little logged six. The Eagles forced two fumbles, one recovered by Charlie Bonds and the other by Travis Bonds.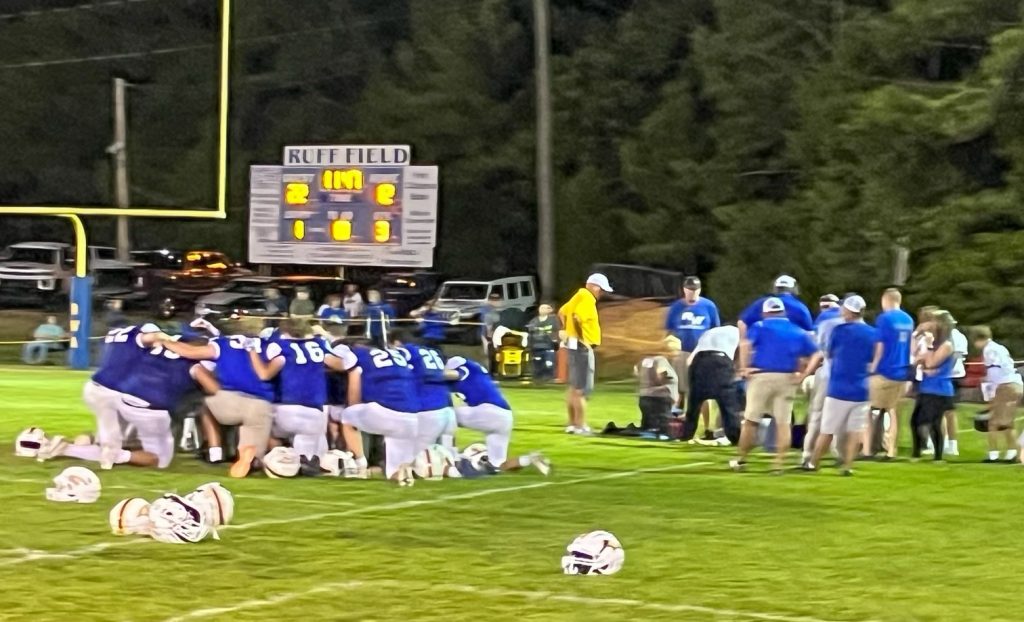 Charlie Bonds also returned a kickoff 68 yards to the Raiders' six yard line before sustaining a season-ending leg injury on the play.
"Losing Charlie for the rest of the year will be tough on us," Brigman said. "He is a great player and one of our leaders. He will be difficult to replace."
Brigman acknowledged that injuries are a concern for the Eagles: "With all of the injuries we are dealing with now, some of our younger guys will have to step up."
The Eagles travel to Batesburg on Friday, September 23, to battle the Knights of W.W. King Academy at 7:30pm.
Holly Hill – 16-6-32-6 – 60
Richard Winn – 6-6-14-8 – 34
First Quarter
HH – Tyler Wright 6 run (Tyree James run) – 8:46
RW – Rob Wilson 44 pass from Landon Caulder (Tindall kick blocked) – 6:00
HH – Tyree James 46 run (Tyler Wright run) – 5:17
Second Quarter
HH – Tyler Wright 16 run (Tyree James run failed) – 10:20
RW – Drew Spires 12 pass from Landon Caulder (Landon Caulder pass failed) – 7:30
Third Quarter
RW – Drew Spires 5 pass from Landon Caulder (Landon Caulder pass failed) – 10:57
HH – Tyler Wright 67 run (Tyree James run) – 10:35
RW – Rob Wilson 40 pass from Landon Caulder (Landon Caulder pass to Drew Spires) – 7:48
HH – Tyler Wright 70 kickoff return (Tyree James run) – 7:34
HH – Tyree James 41 run (Tyree James run) – 4:21
HH – Tyree James 6 run (Tyree James run) – 0:40
Fourth Quarter
HH – Tyree James 87 interception (Mason Rudd run failed) – 11:31
RW – Drew Spires 12 pass from Landon Caulder (Landon Caulder pass to Rob Wilson) – 3:50