Photo: Joe Seibles

Photo: Shannon Woodard
WINNSBORO – Fairfield Central cross country hosted Richard Winn Academy, Lewisville High School Columbia High School and Keenan High School for a Tuesday night meet.
The Fairfield boys' team took the top spot, with Griffin runners taking the top three places. Hank White finished first overall at 18:27.63; Rylan Woodard finished second at 19:49.71 and Sidney Wilson placed third overall at 21:08.28. Krishi Patel finished at 23:07.02 for seventh place and Parker Douglas placed ninth at 23:18.41.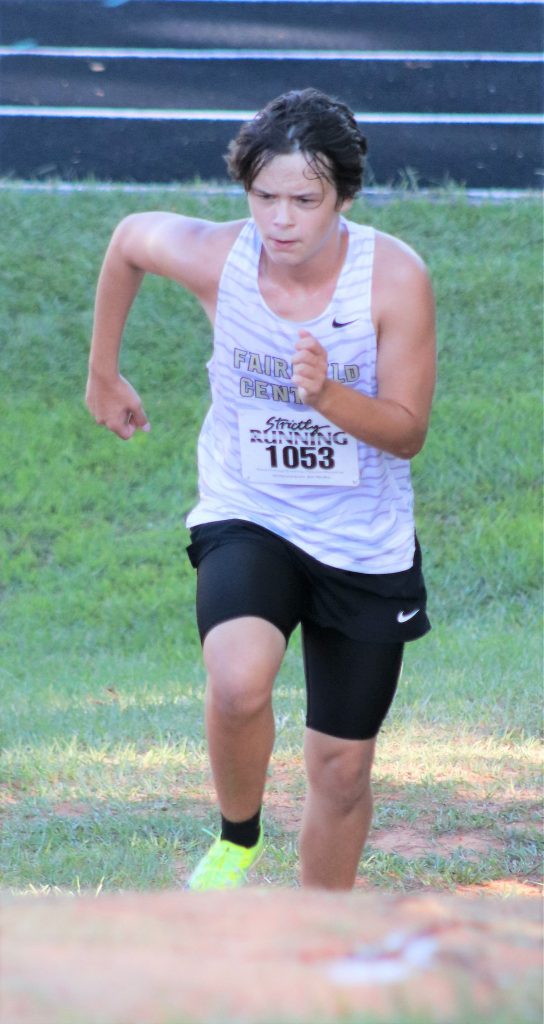 With only four boys competing, Richard Winn's team did not qualify for a team score. Noah Britt finished first for the Eagles in 15th place at 24:41.38. Gabel Cahoon (30:38.48), Logan Steed (32:19.76) and Carson Taylor (34:13.79) also ran for Richard Winn.
Despite a first place overall finish for Eagle runner Hayden Branham, the Eagle girls' team finished second behind Fairfield Central's girls.
The Griffin girls took second through seventh places in route to their home meet win. Judeah Warren placed second overall, first for the Griffins, at 22:34.67. Kensley Green (23:51.25), Kendis Green (25:31.01), Justice Warren (26:53.55), and Maia Sloss (27:43.92) placed for Fairfield in third through sixth places. Not in the top five scores for Fairfield, Jamie Downs had a solid performance for seventh place overall (sixth for the Griffins) at 27:43.92 and Tierra McDuffie finished 12th of 26 runners at 30:22.63.
Hayden Branham's top finish was clocked at 22:23.44. Hannah Britt was Richard Winn's second finisher. She placed eighth at 28:31.54. Harper Branham finished at 29:50.28 for tenth place. Ada Bass (30:31.78) and Ava DiPietro (30:38.85) rounded out the Eagles top five finishers.
Richard Winn will travel to Rock Hill tonight for a meet hosted by York Prep. Fairfield Central will run again in Chapin on Sept. 21.