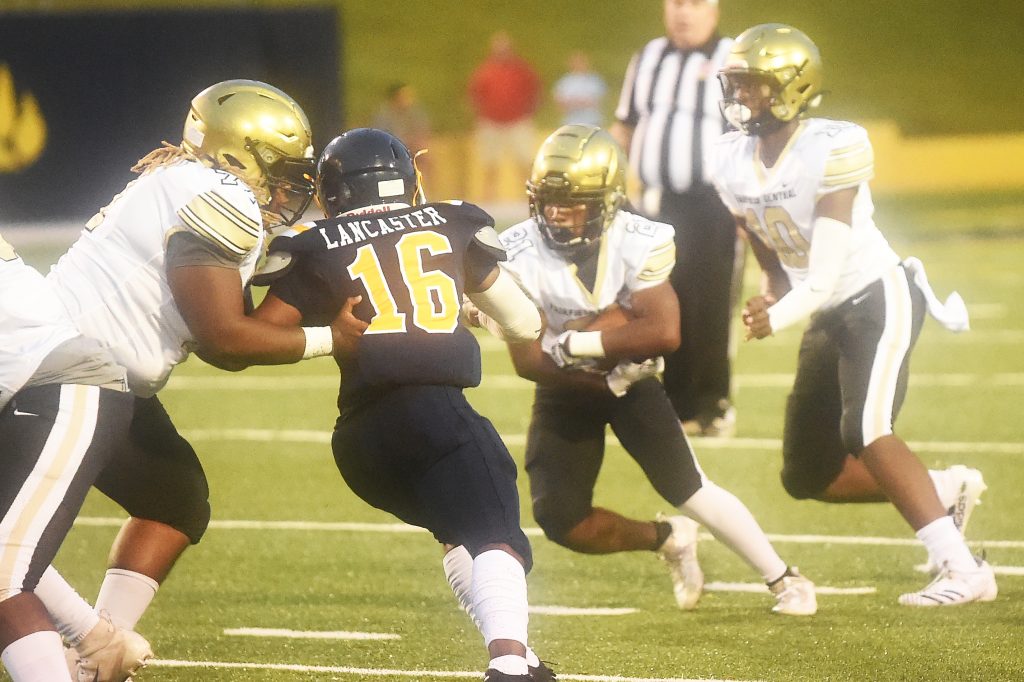 LANCASTER – For the second straight week, an old football maxim held true for the 3-1 Lancaster Bruins.
Defense wins games, and it did for Lancaster High School in a 14-7 win over Fairfield Central High School at Memorial Stadium on Friday, Sept. 9.
A week ago in a 45-38 win over Rock Hill, a late-game Ladarius Cloud pick six staked Lancaster to the exciting win over the Bearcats.
Fast forward a week with visiting Fairfield Central of Winnsboro, the No. 5 team in Class AA, on the move late for a possible game-tying or winning score.
But Bruins' senior linebacker Xavier Graham snuffed the Griffins' hopes with an interception and return to the Lancaster 39-yard line with 52 seconds left to help notch the seven-point win.
The Bruins' defense with a key stop in the second period led to the first Lancaster score.
Fairfield Central appeared on the verge for six, but Lancaster stymied the Griffins with a goal-line stand at the Bruins 1.
Lancaster responded with a key 99-yard drive, where the big play was an 83-yard pass from quarterback JaRon Stevenson to Zi Moffatt, who dashed all the way to the Griffin' 6-yard line on a zig-zag run.
Two plays later, Bryce Surratt powered in from a yard out to give Lancaster a 6-0 lead after the extra point was missed with 3:53 in the first half.
Late in the first half, Lancaster drove 37 yards for what would be the decisive score.
Stevenson, with 10.1 seconds in the half, whipped a fourth-and-goal 2-yard touchdown pass to Graham in the back of the end zone. Stevenson edged in on the two-point conversion keeper for a 14-0 halftime lead.
The Griffins, who moved the ball well during the game on the passing of freshman quarterback Cameron McMillon, struck early in the final period.
McMillon hit Donovan Watkins on a 39-yard scoring strike and Hezekiah Childers drilled the extra point to make it a seven-point game with 10:46 to play.
The Griffins had other chances, but Cloud had a drive-snuffing interception and Graham had his game-sealing pick.
"We didn't execute the way we needed to," said Fairfield Central coach Demetrius Davis. "We've got to play better and coach better."
Davis tipped his hat to Lancaster.
"Lancaster is a good team, solid on both sides of the ball," Davis said.
The Griffins, now 2-2, now prepare for their first region game against Keenan on Friday in Columbia. The Raiders also sit at 2-2 on the season, with losses to Dreher (29-22) and Orangeburg-Wilkinson (20-8). They picked up a 36-22 win over Richland Northeast on Sept. 2 and defeated North Central 58-28 last week.
Kickoff is set for 7:30 p.m.