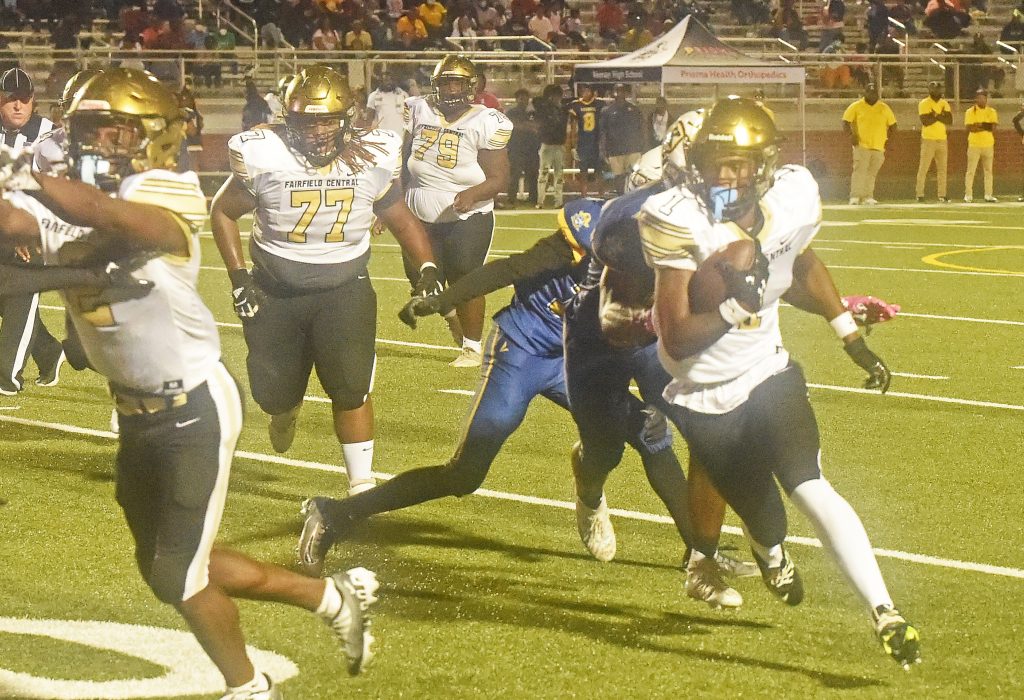 COLUMBIA – Fairfield Central took their first lead of the game over Keenan High School with 4:54 left in the first quarter on Friday. Keenan responded a little over two minutes later with 6 of their own. Both teams battled to the end, trading scores.
Down 12-26 at halftime, Keenan outscored the Griffins 22-14 in the second half but fell short of the deficit as Fairfield claimed the first region win of the season with a 40-34 final.
Freshman quarterback Cameron McMillon completed 10 of 12 passes for 170 yards and three touchdowns. His main target was senior Donovan Watkins, who caught five passes for 112 yards and a score. Jai Boyd had three catches for 20 yards and a touchdown, and Roger Burns scored off of his one 20-yard reception.
TyDarian Greer led the Griffin ground attack. He had six carries for 93 yards and a touchdown. Senior Stephano Gadsden had 38 yards on nine carries, and sophomore Steven Gadsden had 87 yards on 20 carries.
Fairfield tallied 214 rushing yards in the win and held Keenan to just 106 rushing yards and 172 receiving yards. Miles Roberson had 10 tackles, one tackle for loss. Josh Green and JaShaun Manning tallied 9 tackles apiece. Green also had an interception and a forced fumble and recovery; Manning had three tackles for loss. Stephano Gadsden had eight tackles, one for loss, and a fumble recovery and CJ Sampson had seven tackles and a fumble recovery.
The win puts Fairfield (3-2) at 1-0 in the region and drops Keenan to 2-3 on the season (0-1 in region action). The Griffins will rest this week and return to action on Friday, Sept. 30 at Mid-Carolina High School.
The Rebels also picked up their first region win last week with a 51-18 final over Columbia. They now sit at 2-3 on the season and will face Gray Collegiate Academy this week.