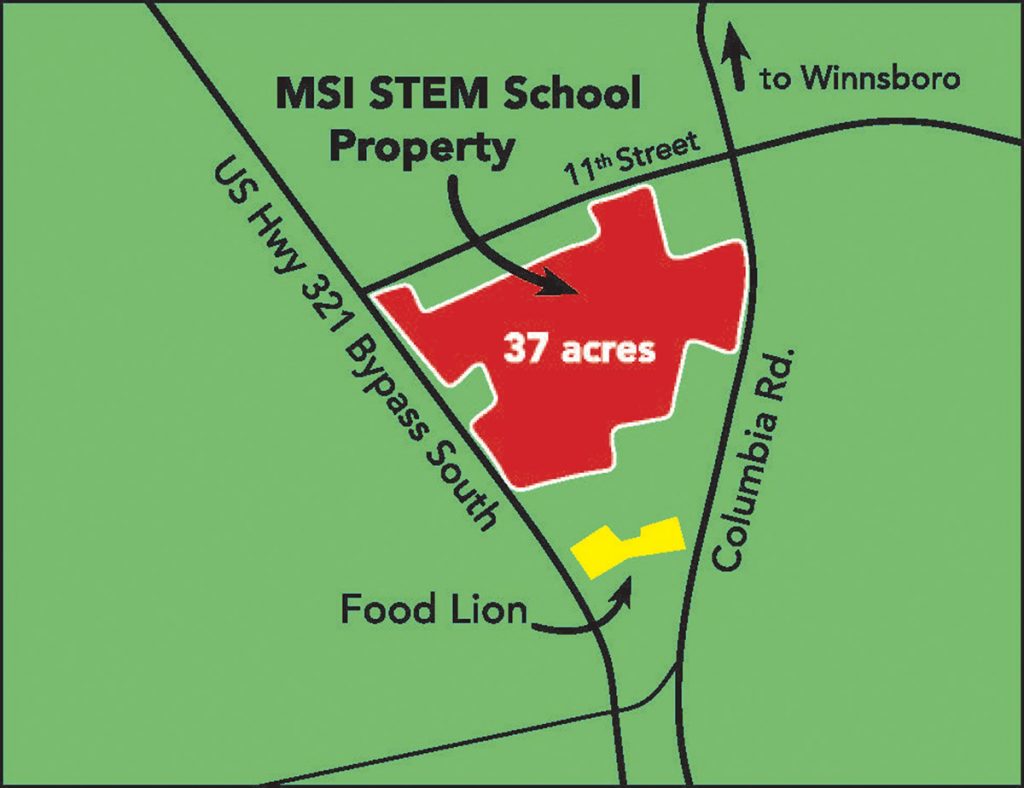 WINNSBORO – The Midlands STEM Institute (MSI), Fairfield County's charter school, has announced it has purchased land for a new school in Winnsboro near the bypass.
Last week, the school's board of trustees closed on a 37-acre property bordered by the Highway 321 S bypass, Columbia Road and Eleventh Street, according to Kevin Thomas, a member of the board and one of the school's founders. He said plans are to break ground later this year and begin construction in January, 2023.
"We hope to have it completed by August of next year, ready for the opening of the 2024-25 school year," Thomas said. "The location is great, right in the heart of Winnsboro and on the bypass."
The free charter school was founded in 2014 and is currently housed in the Rockton Baptist Church at 112 Crane Street, off Columbia Road.
"We've added a grade each year since starting the school," Thomas said, "and we graduated our first class of seniors in May."
MSI now offers classes for 3k – 12. To keep up with its growth, the school has added three modular units to the Rockton campus in the last three years and a separate modular with four classrooms for the high school students.
"We're bursting at the seams," Thomas said. "We had to find something else. We were looking to renovate something already built, but there was a lack of empty buildings in Winnsboro that suited our needs, so we decided to build."
Plans are to construct a 35,000-square-foot facility on the new property.

"The new school will have a full-fledged high school for grades 9 through 12 with science labs and rooms for clubs such as the chess club, art club, young writers and DECA as well as space for music, STEMbiotics and a band room," Thomas said.
There will also be outdoor space for baseball, softball, archery and cross country with room for expansion for volleyball, basketball and maybe a football field in the future.
Cynthia Prince, the school's principal, said the school will definitely include a gym.
"That's not negotiable," she said. ''We've been in existence for nine years now, and have never had a gym. So it was extremely important for our new school to have an indoor area for our students to practice sports and to also have physical education classes," she said.
"We're working with an architect on the blueprints. I started by putting together a wish list of things I wanted, then worked with the assistant principal to make the building fit our price range," Prince said. "We had to cut a total of 10,000 square feet which was tedious but we managed to do that after going through six renderings of the blueprint."
Even though the new school isn't yet under construction, Prince said they are currently accepting enrollment for students.
The new building will accommodate 351 students. Current students will get the first available slots.
"If our student population exceeds the available space, we'll partner with the charter alliance and would probably use a lottery system for new students," Thomas said. "This new building will provide students with enough space to pursue more than a STEM education. We'll be able to offer more sports, clubs and other student activities.
"The students will finally have a forever home, and it will be state of the art, with lots of STEM touches to it", Prince said. "Everyone involved in this process is excited and working hard to make it a reality."
"Our overall goal," Thomas said, "is to serve more students in Fairfield and surrounding counties with a quality education."