The Reverend Frank Bundy Bynum, Jr., 91, of Winnsboro, SC, departed this life on October 9, 2022, at NHC Healthcare in Columbia. "Pastor Bundy" spent over 40 years as an active United Methodist minister.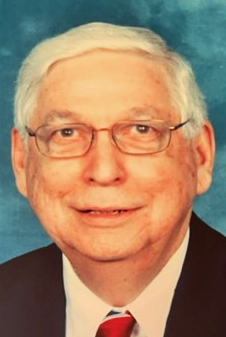 Mr. Bynum was born on April 21, 1931, in Darlington, SC, to the late Frank B. Bynum, Sr., and Elva Harrington Bynum.  During high school he was an Eagle Scout and a member of the football and golf teams at St. John's High School in Darlington. He attended Duke University on a ROTC scholarship and received a Bachelor of Science degree.  While serving as a line officer in the U.S. Navy during the Korean War, he felt a call to the ministry.  Leaving the Navy with the rank of lieutenant, he attended Duke Divinity School and received a Bachelor of Divinity degree in 1958.  Ordained in the South Carolina Conference, he served churches in Cheraw, Chesterfield, Charleston, St. George, Spartanburg, Gilbert, and Winnsboro, also serving as District Superintendent of the Orangeburg District. A beloved and caring pastor to his congregations, he was a mentor to many young ministers.  He and his wife, Betty Mobley Bynum, retired in Winnsboro, his last pastorate, where he was named Pastor Emeritus in 1999. 
His friends and family knew him as an avid fan of Duke sports, Braves baseball, and the "Peanuts" comic strip. He was a talented artist in watercolors and woodcarving, a connoisseur of puns, an occasional but enthusiastic golfer, and enjoyed refinishing furniture. He loved listening to music and joking about his lack of musical talent. He spent many happy days with family at the house his parents built at Holden Beach, N.C.
Besides his wife, he is survived by a son, William B. Bynum (wife Michele A. Bynum) of Midlothian, VA; a daughter, Nancy Bynum Riley of Columbia; grandchildren Hilary R. Hozey (husband William R. Hozey) of Blacksburg, VA, John H. Riley (wife Emily B. Riley) of Columbia, William A. Bynum of Richmond, VA, and Matthew H. Riley of Charlotte, N.C.; two nieces and a nephew. He is predeceased by a son, Marshall H. "Mark" Bynum; son-in-law C. Blaine Riley; and sister Carolyn Bynum Platt.
A celebration of life will be held at 11:00 AM on Thursday, October 20, 2022, at First United Methodist Church, Winnsboro. The family will receive friends after the service in the church fellowship hall.
In lieu of flowers, memorials may be made in Bundy's memory to the Building Fund of First United Methodist Church, 109 W. College Street, Winnsboro, S.C. 29180.
Pope Funeral Home is assisting the Bynum family.