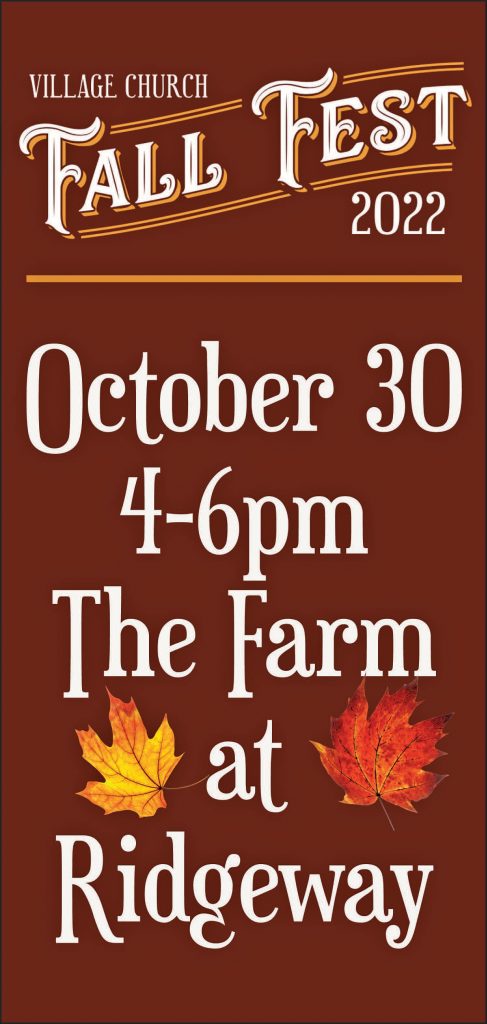 BLYTHEWOOD/FAIRFIELD – Looking for a spooky, fun experience this Halloween? There will be plenty of them this weekend – in Blythewood, the VillageChurch Fall Fest, Sandy Level Baptist Church's Fall Festival, a dog costume party at Doko Park and Trunk or Treats. In Winnsboro, there will be a Ghost Walk and PumpkinFest on Saturday.
Fall Fest (previously Scare-O-Lina)
The Village Church's annual Fall Fest is always tons of fun with candy, games, candy, pony rides, candy, music, candy and much more. It's a wonderful fall outing for the whole family and just about everyone in town will be there.
The Fall Fest is held at The Farm at Ridgeway again this year from 4-6 p.m., Sunday, Oct. 30.
Fall Festival
Sandy Level Baptist Church will host their second annual Fall Festival on Friday, Oct. 28 from 6-8 p.m. at the church located at 408 Blythewood Road.
There will be hay rides, inflatables, trunk or treat and free food. In fact, everything is free!
And be sure to bring the kids in costume – it's a lot more fun!
Dog Costume Party
If your dog would like to join the Halloween fun, take him/her to Doko Park Saturday, Oct. 29 from 3 – 7 p.m. There 'll be live entertainment, vendors, a kid's corner, wine, beer, music and food and, best of all, a dog costume contest.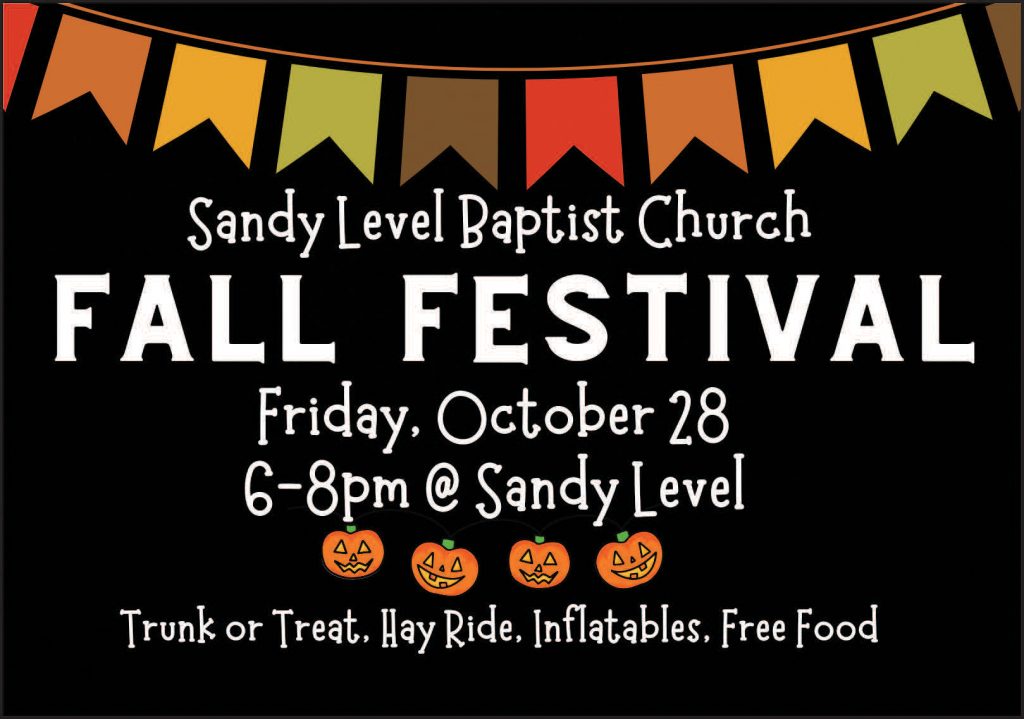 In Winnsboro
Expect something scary to happen during the Winnsboro Woman's Club annual Ghost Walk on Saturday, Oct. 29.
Guides in costume leading the way through downtown will carry lanterns as they take groups on tours at 6:30 p.m. and again at 8p.m. through nine haunted structures and many historic homes and buildings in downtown Winnsboro.
Added eerie-ness will be the appearance of some of Winnsboro's ghosts of centuries past during the tour.
"As costumed characters (Pinetree Player volunteers) come out of the shadows along the way, some of them come out and talk for a few minutes about the history of the house or how they died. Others are silent and eerie. It can be very real," tour organizer Lisa Cathcart said.
"The 20-year-old tour is scary, educational and great fun," said Cathcart, who writes all the tours – a different one each year. "A lot of people go on the tour for the historic part of the tour. Others, of course, look forward to the haunted part of it," she said.
"We always have some skeptics on the tour who don't 'believe,' but they love to hear about the very interesting history of the town. And sometime, as someone sees shadowy figures float past windows, they begin to 'believe.' Being right before Halloween, everyone is a little on edge and ready to be scared or excited, which makes it all the more fun," she said.
Those taking the tour, which leaves from and returns to the Woman's Club, are encouraged to come in costume. Prizes for best costumes in each tour group will be given at the conclusion of each tour.
The Woman's Club is located at 102 S. Vanderhorst Street in downtown Winnsboro.
Tickets are Adults $12 and Children $8. Space is limited so reserve your place by calling 803-635-6963 or emailing [email protected]
PumpkinFest
Before taking the Ghost Walk, plan to join the fun at Pumpkin Fest from 2 – 4 p.m., on Congress Street in downtown Winnsboro.
The street will be filled with kids in Halloween costumes for the big candy grab. There'll be music, games, a costume contest and pumpkin carving contest and, of course, lots of candy. If you enter the pumpkin carving contest, bring your spooktacular jack-o-lantern to the Town Clock between 10 a.m. and 1 p.m. for judging.
Presented by the Town of Winnsboro, it's an afternoon of fun that your kids won't want to miss!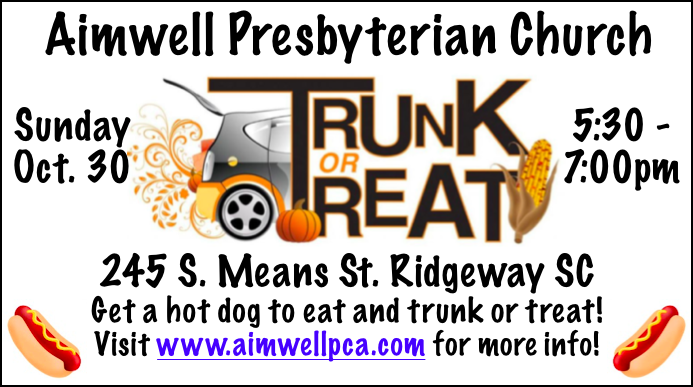 Other Events
Mt. Seir Baptist Church, 136 Rimer Pond Rd, Blythewood, is hosting it's annual fall fes- tival on Friday, Oct. 28, from 3-5:30 p.m. Food, games, treats, & more.
Lake Wateree Baptist Church will host a fall festival for the community on Saturday, Oct. 29 from 10 a.m. – 2 p.m. at the Church's pavilion, 5856 River Rd., Ridgeway. The event will feature candy, funnel cakes, fried oreo cookies, hotdogs, fun and games, hayrides and a costume contest for all ages. Children must be accompanied by a parent or adult. Registration begins at 9 a.m. 803-337-0174
Aimwell Presbyterian Church in Ridgeway will be hosting a Trunk or Treat on Sunday, Oct. 30 from 5:30-7 p.m. in the front park- ing lot and will have free hot dogs and sides in the Fellowship Hall. This event is open to the community. Costumes encouraged. 245 South Means St., Ridgeway.
Vive Church will hold a Trunk or Treat on Sunday, Oct. 30 from 6 – 8 p.m. at 2630 Clemson Road, Columbia. Please bring a non perishable item for the Christian Assis- tance Bridge food pantry. For more infor- mation call the office at 803-233-2877.

Fairfield County Sheriff's Office will hold their annual Trunk or Treat on Monday, Oct. 31 from 4:30 – 7 p.m. at the new County Administration Building, 320 Wal- nut Street in Winnsboro.