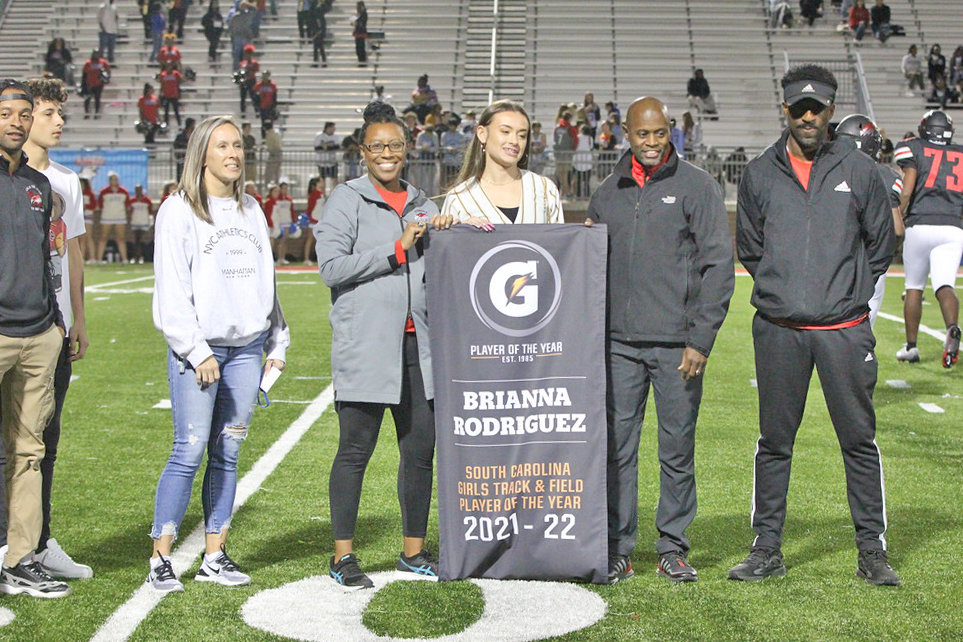 BLYTHEWOOD – In June of this year, Gatorade announced Westwood High School runner Brianna Rodriguez as the 2021-22 Gatorade South Carolina Girls Track & Field Player of the Year. Rodriguez is the first Gatorade South Carolina Girls Track & Field Player of the Year to be chosen from Westwood High School.
The award, which recognizes not only outstanding athletic excellence, but also high standards of academic achievement and exemplary character demonstrated on and off the field, distinguishes Rodriguez as South Carolina's best high school girls track & field athlete.
The 5-foot-8 junior won four events at the Class AAAA state meet this past season, leading the Redhawks to a third- place finish as a team. Rodriguez broke the tape in the 200-meter run, the 100-meter high hurdles and the 400- meter intermediate hurdles, also running the anchor leg of Westwood's winning 4×400-meter relay team. The Class AAAA State Track Athlete of the Year, Rodriguez's gold medal state-meet 400 hurdles time of 1:00.81 ranked No. 7 nationally among prep competitors in 2022 at the time of her selection.
Rodriguez has volunteered locally as a youth track coach, and she has donated her time to multiple community service initiatives through her church.
"Brianna Rodriguez is a very talented track athlete who works real hard at her craft," said Coral Johnson, head coach of AC Flora High School. "She gets better each year and she had a great season overall for Westwood."
Rodriguez has maintained a 3.33 GPA in the classroom. She is currently in her senior year of high school.