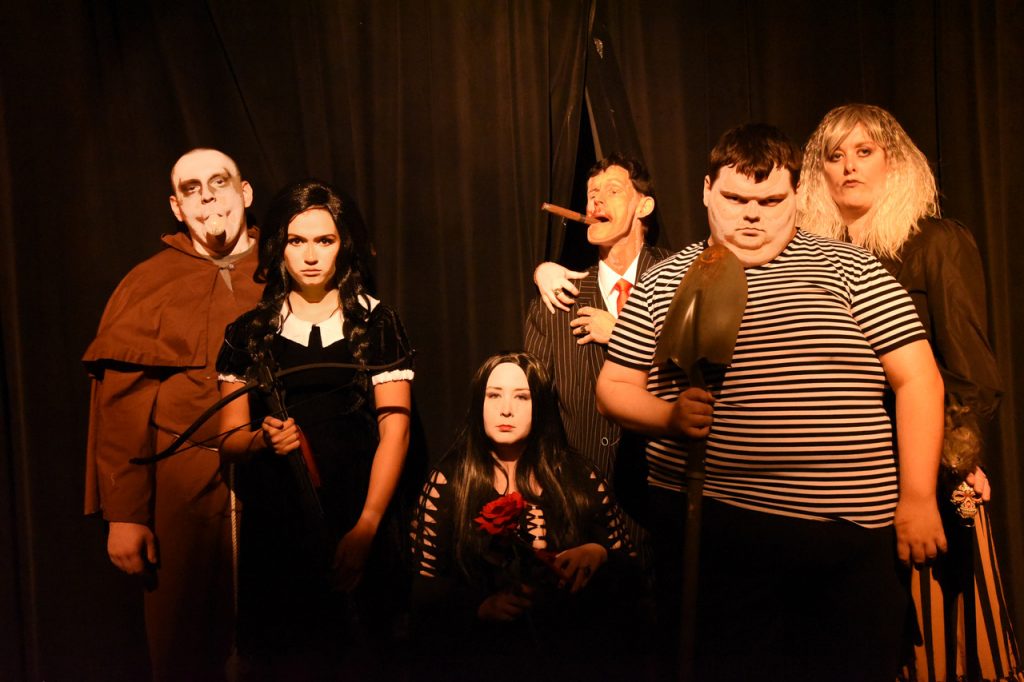 WINNSBORO – They're creepy they're kooky, and they're at the Pine Tree Playhouse.
The Playhouse's next production is "The Addams Family A New Musical" opening Oct. 14 at 8 p.m. and running Oct. 15, 21 and 22 at 8 p.m. with matinees on Oct. 16 and 23 at 3 p.m.
Director Shane Moody has assembled a talented cast to bring one of America's favorite fiendish families to life (so to speak). The cast has been rehearsing diligently to prepare the ghoulish but fun production for their audiences.
But don't go to The Addams Family Musical expecting to see the TV version of this well-known family of freaks: To present this new take on the creation of cartoonist Charles Addams, the producers of this show, which appeared on Broadway, struck a deal with the Addams Foundation that the license to use the characters would be based on the single-panel cartoons Charles Addams drew that were published in The New Yorker magazine.
Being surprised by a new and fresh take on familiar characters is reason enough to take in the Pine Tree Playhouse version of the show. There will also be a few familiar Addams Family touches recognizable to TV and movie fans: Thing, Lurch and Gomez' penchant for cigars to name a few. Wednesday still tortures Pugsley and Uncle Fester is…well, Uncle Fester.
The plot? The play publisher describes it like this: The Addams Family, a comical feast that embraces the wackiness in every family, features an original story and it's every father's nightmare: Wednesday Addams, the ultimate princess of darkness, has grown up and fallen in love with a sweet, smart young man from a respectable family – a man her parents have never met. And if that wasn't upsetting enough, Wednesday confides in her father and begs him not to tell her mother.
Now, Gomez Addams must do something he's never done before – keep a secret from his beloved wife, Morticia. Everything will change for the whole family on the fateful night they host a dinner for Wednesday's "normal" boyfriend and his parents.
The music is lively and veers (sometimes crashes, like the toy trains Gomez is fond of playing with) from tangoes, to waltzes and even an angst-ridden confessional song, "Waiting". There's even a Vegas-style kick line number and the show begins with a grand gathering of the Addams Family clan, "living, dead…and undecided," as Gomez says.
The cast features a lot of new faces, but there are some Pine Tree Players regulars as well. A few special effects will add to the spooky atmosphere. We won't disclose any of those, you'll just have to come and see the atmospheric set, the special effects and the show for yourself.
It's going to be an enjoyable evening (or afternoon) spent with 'The Addams Family A New Musical," and don't be surprised if that hand you feel on your shoulder…doesn't belong to your seatmate.
Tickets for "The Addams Family A New Musical" are $20 each or a special two for $30.
Reservations can be made by text or by calling 803-707-1807. Leave a voicemail with your name, a contact number, number of seats requested and any special requests if the call is not answered. Please allow 24 hours for confirmation. The Addams Family are taking temporary residence at the Pine Tree Playhouse at 230 S. Congress Street in Winnsboro, SC.