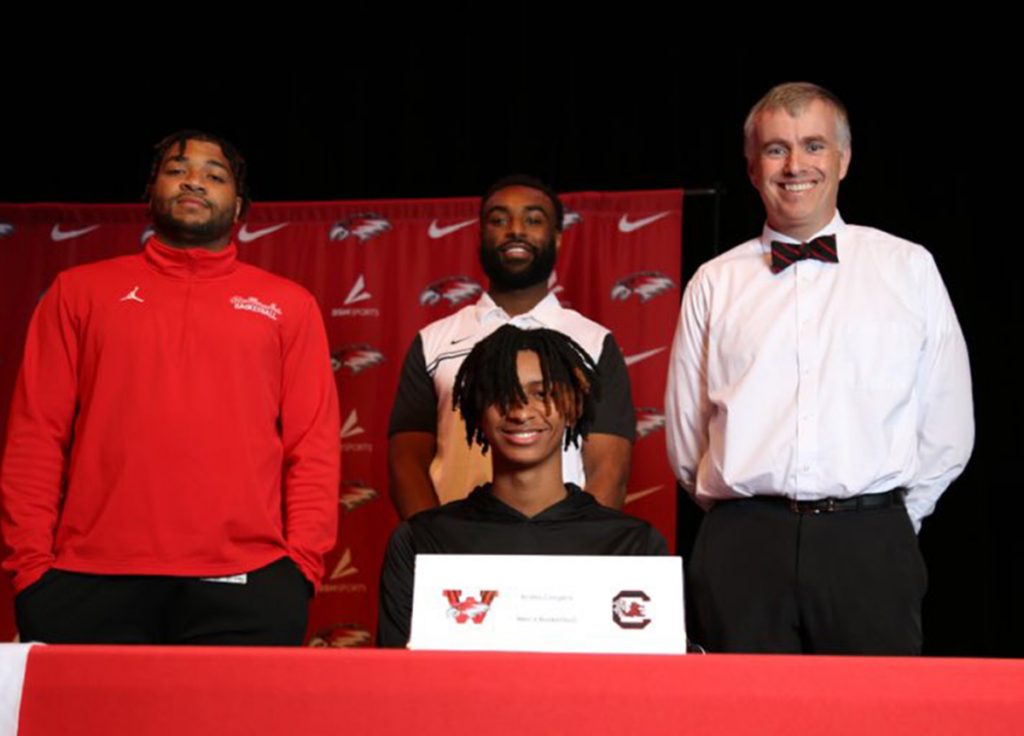 BLYTHEWOOD – The University of South Carolina men's basketball team is getting another home-grown basketball standout come fall 2023.
Westwood guard/small forward Arden Conyers, listed on the winter 2022 roster as 6 feet, 7 inches and 195 pounds, signed to play for the Gamecocks last week, on the first day of the fall signing period.
"It's a lot of relief, I'm finally ready to play basketball," he said about signing. "It's a dream come true. I've always been a Gamecock fan since I was a kid. Just finally growing up into the system and going to the games, it's great. It's amazing."
Conyers, who averaged 18.5 points, 5.8 rebounds and 1.5 assists per game in his junior year with the Redhawks, joins another in-state signee, former A.C. Flora standout Collin Murray-Boyles.
Boyles left A.C. Flora after his junior year to play his final season at Wasatch Academy in Utah.
Conyers and Murray-Boyles will join former Ridge View star G.G. Jackson, who had 18 points and 10 rebounds in his debut game against South Carolina State Nov. 8 and followed up with 12 points at Clemson Nov. 11.
Among other recruits coming in 2023, the two in-state signees will provide support for Lamont Paris, in his first year of coaching the Gamecocks after USC fired 10-year coach Frank Martin, when the team takes the court in 2023.
Paris took over the program in the spring knowing no returning regular starters and just five scholarship athletes. Since then, he and his team have put in a lot of work toward playing within a new system and a new court philosophy. The Gamecocks are off to a 2-0 start, with wins against S.C. State and the arch-rival Tigers.
Conyers said he's excited to see how he will fit into the program.
"I'm grateful for the opportunity that Coach (Lamont) Paris gave to me. I'm ready to go, Conyers said. "I'm going to bring a mixture of everything. I'm working on my intense defense right now because that's a flaw that I see in my game. I'm going to bring the defensive intensity and the shooting ability to space the floor with my height and my length. I feel like that really helps the team, with my athleticism and the way I can handle the ball. I can also bring intense defense."
In the meantime, Conyers will lead the Redhawks as a senior approaching the 1,000 point mark. They look to do better than last year's 11-14 season and 6-4 Region 4-4A finish.