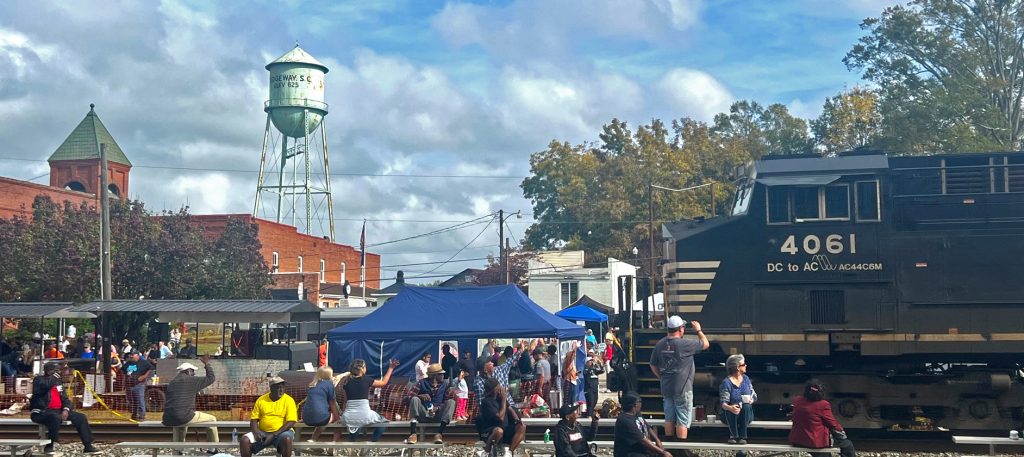 RIDGEWAY – Perfect weather, a huge crowd and tons of great barbecue defined last weekend's Pig on the Ridge festival in Ridgeway.
Friday night's 'No Pigs Allowed' crowd was packed into the Cotton Yard elbow to elbow as they roamed the yard, enjoying everything from pizza to mac and cheese to chili.
"The barbecue was just great – most teams sold out early, and our vendors had a great sales weekend," said POTR steering committee member Gloria Keeffe. "I think everybody came to buy Christmas gifts and eat barbecue, and that's what we offered," she said with a laugh. "That and a really good time on an absolutely beautiful fall day.
"We had great volunteers who gave it their all. And the kids' choir from Geiger Elementary was entertaining as usual. We had a wonderful collection of classic and antique cars and Doug Pauley did a great job as DJ. I can't say enough about how well everything went," Keeffe said. "I think everybody had a great time. And best of all, we raised a lot of money that will be used to give back to our community."
Boros Que

Monkey Bottom Boys
Winners this year included Winnsboro's Boro Que amateur cook team who took home $500 in prize money and a trophy.
'Big George,' chief cook for Monkey Bottom Boys of Timmonsille, S.C. took home $1000 as winning professional cook team.
Backwoods Bar-B-Que

Tail-Gater Hater
Chief cook Gene Culbertson's Backwoods BBQ team from Trenton, S.C. won $500 for Friday night's 'No Pigs Allowed' event.
Chief cook Philip Miles' Tail-Gater Haters out of Lake City S.C. took home points and a trophy for best ribs.
Hog Calling champs were Caleb Benson for the children's category and Steve Stewart for the adult category.