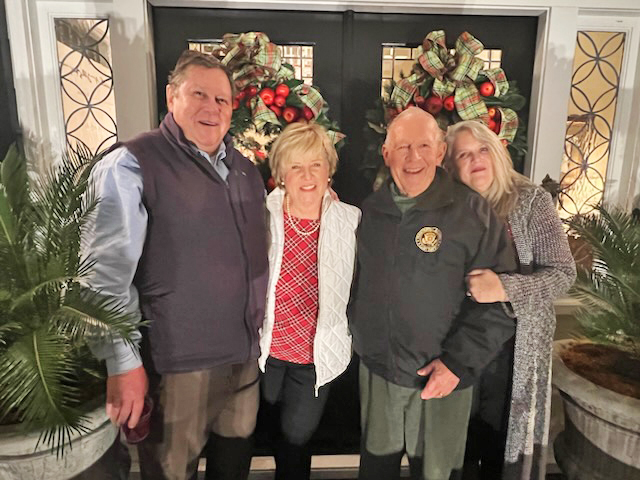 BLYTHEWOOD – After more than 30 years of faithful service to the music ministry at Trinity United Methodist Church in Blythewood, Dr. Richard Conant, a base-baritone and conductor, has laid down his baton. His last day of directing and conducting the chancel choir at Trinity UMC was Sunday, Nov. 11.
To celebrate and thank Conant for his years of service, church members Pam and Bob Wood hosted a Christmas gathering in his honor Tuesday evening at their home in the Center Creek community.
"He is much loved by his church family," Pam Wood said, "but he has also lived an illustrious life apart from his work with the church."
She said the native New Yorker has travelled the world during his career, performing on stage in Austria, Bulgaria, Spain, New York City, Czechoslovakia, Vienna, East Germany, China, Tokyo, Hawaii and more.
The breadth of his accomplishments is staggering.
Conant has sung for several U.S. presidents including Ronald Reagan, Richard Nixon and George H.W. Bush, as well as for Pope John Paul II and several prime ministers, ambassadors, governors, senators and generals.
In addition to his international performances, Conant is a Distinguished Emeritus of Music at the University of South Carolina where many of his music students went on to successful careers, including Darius Rucker of Hootie and the Blowfish fame.
Conant is recognized for his rendition of the National Anthem which he performs at political, civic, athletic events around the country as well as at USC.
He has sung professionally with Robert Shaw and the Roger Wagner Chorale and, while at USC, Conant founded Carolina Alive!, a popular singing /dance troupe.
Other highlights of his musical life include singing at Carnegie Hall, recording a baritone solo of Beethoven's ninth symphony, and judging music festivals on cruise ships.
According to Conant's choir members, he brought many aspects of his international music experiences to Trinity.
"Richard was an outstanding leader for our choir these 30 years," said Ed Garrison, a former president of the choir who has been a member of Trinity UMC since 1982 and has been a member of the choir since that time.
"He has successfully taken the choir at Trinity down a very challenging road. He would put together fabulous Christmas programs and other choir events and bring in the Army band or special percussionists or strings. He just knew how to do that and he did it well," Garrison said. "And we and the church all benefited. He loved to put choral programs together for us that were exciting and entertaining."
Conant holds degrees from UCLA, the University of Maryland and the University of Texas and was awarded the Order of the Palmetto in 2002.
While Conant is retiring from his duties at TUMC, at 81, he isn't planning to slow down much. During Tuesday night's party at the Woods' home, he told well-wishers about his and his wife Kim's plans to continue to travel and be involved with his music.