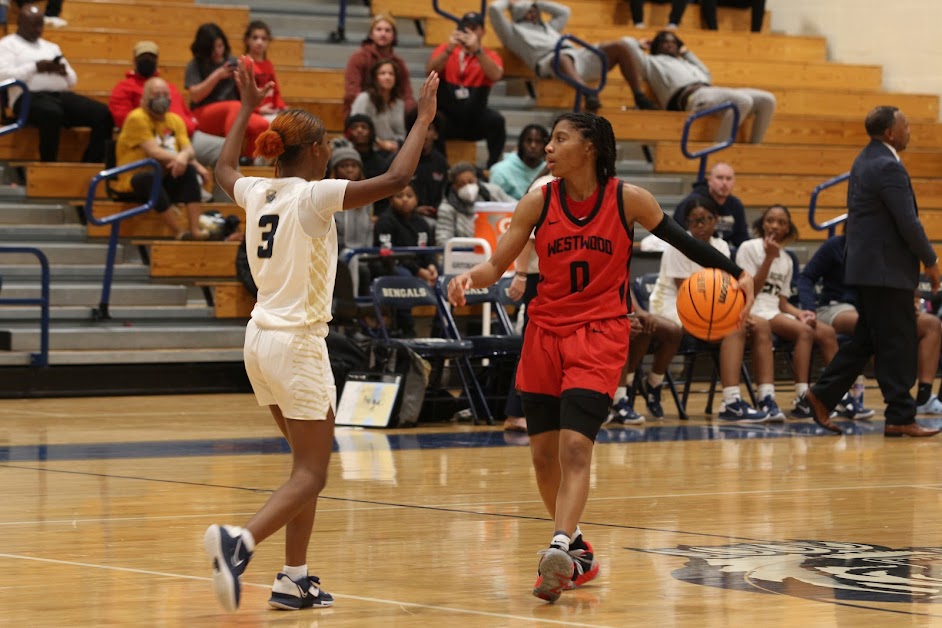 BLYTHEWOOD – The Westwood girls basketball found itself in an odd midseason situation Tuesday night—behind at halftime, to crosstown rival Blythewood.
Playing at home, the Bengals matched the Redhawks shot for shot in the first half, and strode into the locker room with a 22-21 lead at intermission.
The Bengals' lead didn't last long, as Westwood pulled in the lead for good early in the third quarter. The Redhawks built a 13-point cushion by the fourth quarter and finished with a 58-50 victory.
"Maybe I overemphasized (Blythewood's aggressiveness) in our pre-game meeting to where it may have had the reverse effect," Westwood head coach Gregory Bauldrick said. "We were just tight and weren't able to get into our rhythm the entire first half."
Jessica Woods finished the night with 19 points for the Redhawks. Thanna Davis and Korletta Daniels had 12 points apiece. Makiah Thompson scored 10.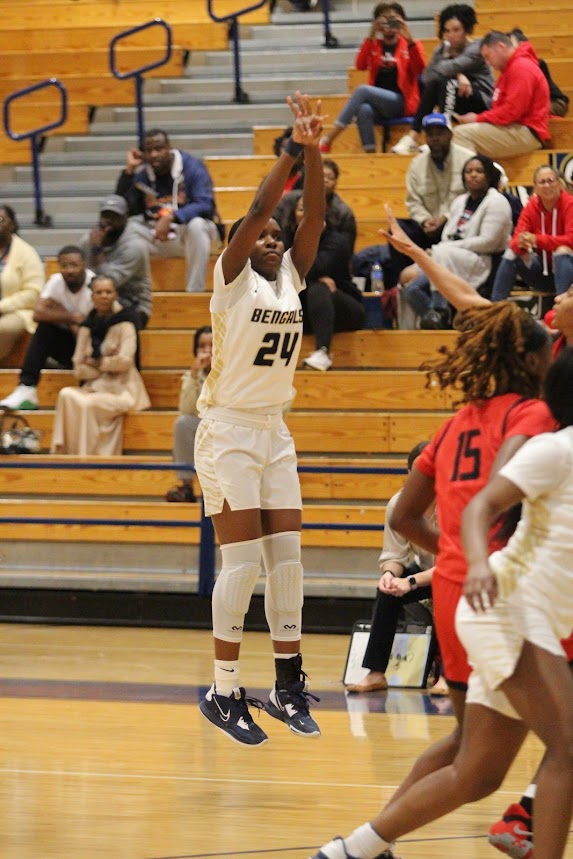 Chase Thomas led the Bengals with 17 points, India Williams had 13 and Hayley Hightower had 12. They kept the heat on the Redhawks.
"It was a great first half. We knew that the second half was going to be more difficult and that lapse in the third quarter was the difference in the game," Blythewood head coach Steve Inabinet said. "That's what they have to learn, that a high school game only lasts 32 minutes. If you have a lapse for a minute or two and do it two or three times, that'll be the difference in the game,"
Tuesday's result was a far cry from Westwood's 65-35 win over the Bengals Dec. 15. The Redhawks (12-3) went to the Beach Ball Classic in Myrtle Beach and fell 45-25 to nationally ranked Miami (Fla.) Dec. 19. They beat Peachtree Ridge (Ga.) 51-40 and Cumberland Valley (Va.) 52-41 Dec. 21, but have not played any games until Tuesday.
On the other hand, Blythewood (10-7) played seven games over the holiday break. They lost 54-50 to Chambers (Charlotte, N.C.) Dec. 21 and 63-42 to Marvin Ridge (Waxhaw, N.C.) Dec. 22 in the in the Y.C. Winborn Classic in Rock Hill. The Bengals then played in the District Nine Officials Tournament in Manning, with wins against the host-team Monarchs 65-46 Dec. 27, West Florence 54-45 Dec. 28, and 58-43 over Darlington Thursday. They fell 52-40 to Crestwood Friday.
So by halftime, the Bengals' confidence showed on the scoreboard, and that had the Westwood head coach reminding the Redhawks to get to work on the court.
"I told them at the half that they took their very best shot, and it's a one-point game," Bauldrick said. "We're not even close to playing how we're capable of playing, so the ballgame is ours to take."
Even with some halftime adjustments made, Westwood still looked around the court to find its knockout punch without firing up a Blythewood response. But each time a Redhawk made a play, it seemed like a Blythewood girl took over and delivered a shot that would keep them on pace.
Westwood built a 34-24 lead midway through the third quarter, with Jessica Woods draining a 3-pointer at the 3:30 mark.
Soon after, Hightower dropped a 3 to cut the lead to 34-27, and then another 3 with 1:29 left to cut it to 35-30. Hightower then picked up a loose ball and took it to the net to make it 35-32 at the 1:08 mark of the third.
Westwood closed out the final minute with eight points—a 3-point play from Woods, and a transition basket and a 3-pointer from Davis to give Westwood a 43-32 lead going into the final quarter. The Redhawks stayed well ahead of the Bengals throughout the closing minutes, but Blythewood won that quarter 18-15.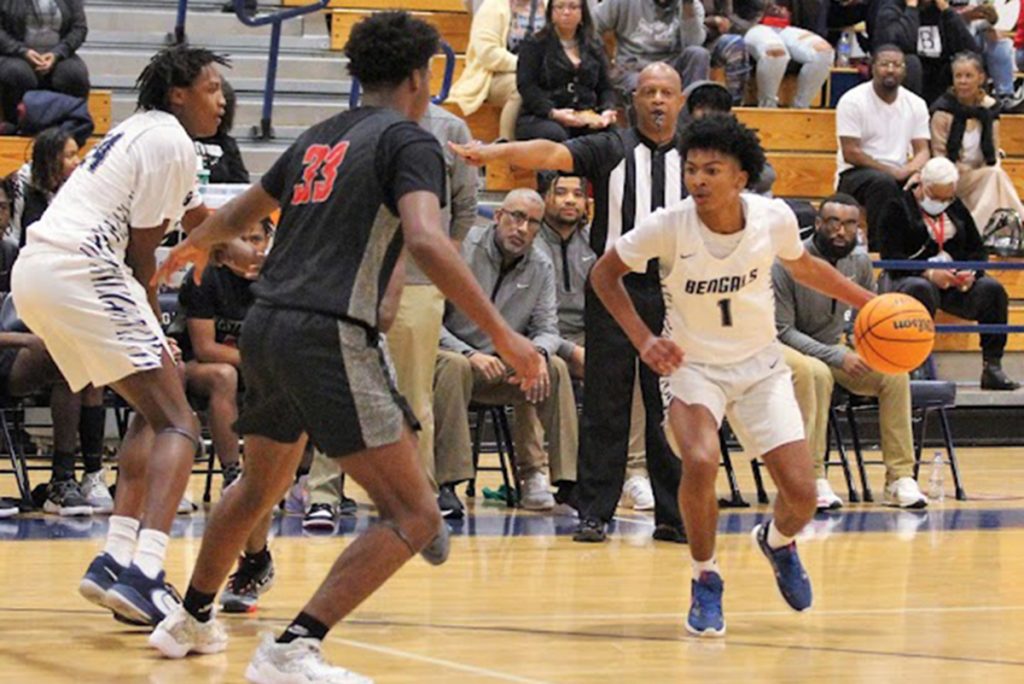 In the boys game, Blythewood (10-5) got off to a fast start and closed the first quarter with 3-pointers from Jayden Guess and Jaiden Haltiwanger to take a 19-5 lead at the buzzer. From there the Bengals ran to a 71-39 rout of the Redhawks (7-8).
"When the kids decide to play, good things can happen," head coach Zeke Washington said. "I thought we played really well together, and that was good for us. When we can pressure and run everybody plays as hard as they can, it's just good stuff."
Blythewood's boys also kept busy over the holiday break, playing in the Lemon Street Classic in Marietta, Ga., Dec. 17-20, then playing at the Hammond tournament Dec. 27-29. The Bengals fell 62-60 to Albany Academy for Boys and 56-53 to Peachtree Ridge, but finished the Lemon Street Classic with a 61-49 win over Marietta. The Bengals followed up with three straight wins in the Hammond tournament, a 42-34 win over Lower Richland, an 83-61 victory over Wagener-Salley, and a 51-35 win over Hammond.
Lamont Jackson led the way for Westwood with 16 points and Jaiden Haltiwanger added 15. Jayden Guess had 12 points and Josiah Pack had 10. The Bengals scored 10 3-pointers on the night.
Arden Conyers led Westwood with 16 points, 11 of which came from the free-throw line. Conyers made good on just one 3-pointer and one layup, which was typical of the Redhawks Tuesday. No player made more than three baskets.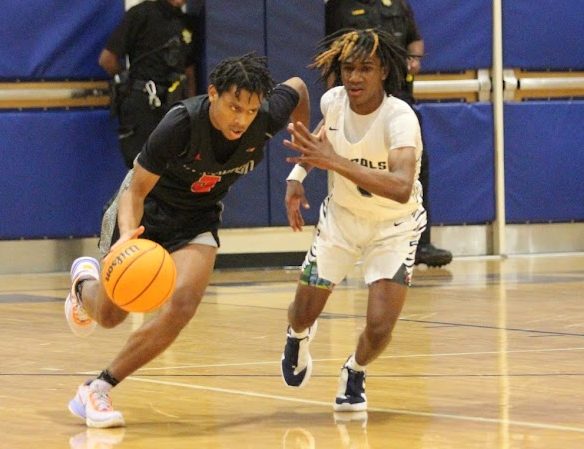 "You've got to give Blythewood credit. They were tougher, more physical than us," head coach John Combs said. "They put hands on you as much as they do and they physical you, they were a lot tougher than we were. We didn't respond well, we didn't shoot the ball well, but Blythewood was the better team tonight."
Westwood played three games in the Cayce Roundball Classic at Brookland-Cayce High School Dec. 21-23 and went 1-2. They fell 52-46 to Lancaster, beat Spartanburg 54-37, and lost 87-57 to T.L. Hanna.
Westwood opens Region 5-4A play at home against A.C. Flora Friday.
Blythewood plays host to non-region White Knoll Friday and opens Region 3-5A play at home against Fort Mill Tuesday.
Boys
Westwood – 5-14-11-9 — 39
Blythewood – 19-12-25-15 — 71
Westwood
Arden Conyers 16, Bell 8, Hobbs 4, Walters 4, Roberts 2, Rowan 2, Balkman 2, Hudson 1.
Blythewood
Lamont Jackson 16, Jaiden Haltiwanger 15, Jayden Guess 12, Josiah Pack 10, Mazyck 9, Washington 4, Jones 3, Stephens 2.
Girls
Westwood – 8-13-22-15 — 58
Blythewood – 8-14-10-18 — 50
Westwood
Jessica Woods 19, Korletta Daniels 12, Thanna Davis 12, Makiah Thompson 10, Johnson 3, Odieire 2.
Blythewood
Chase Thomas 17, India Williams 13, Hayley Hightower 12, Thomas 6, Fluker 2.