WINNSBORO – Richard Winn's boys put on shows in back-to-back games against Wardlaw Academy on Monday and Tuesday.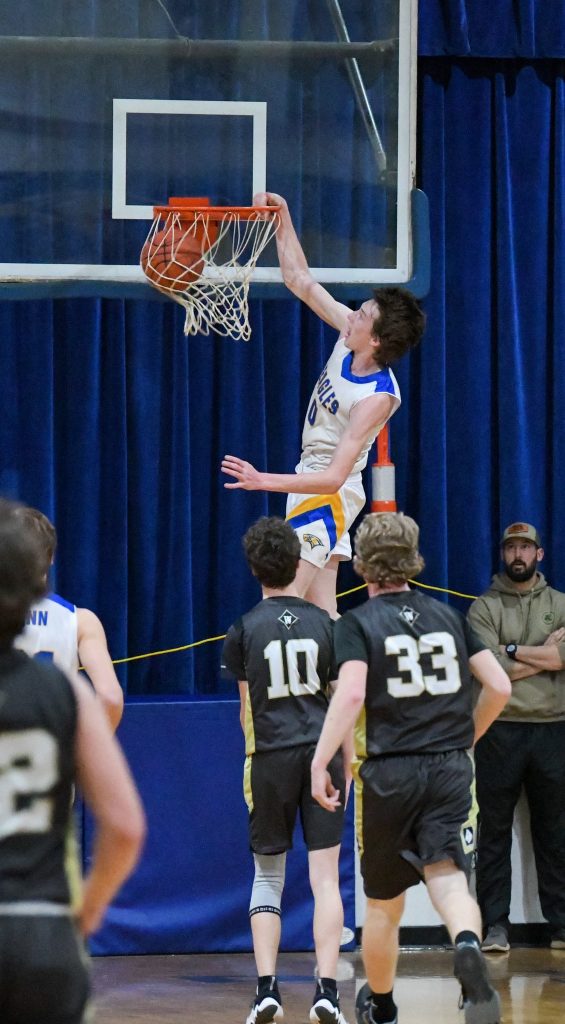 The Eagles held the Patriots to only nine points in Monday's away game, defeating Wardlaw 70-9. The Patriots almost doubled their offensive output in Tuesday's game, but Richard Winn took a 68-16 win to move to 10-1 in region action.
Senior Lawson Wade led the Eagles in scoring in both games, putting up 20 on Monday and 26 on Tuesday, tallying his 1000th career point with a breakaway dunk.
Drew Spires added 15 points on Monday and 10 on Tuesday. Charlie Bonds also had 10 in Tuesday's win.
Wade also tallied 17 rebounds in the two-game stretch. Bonds had 14 on Tuesday.
The team had 21 steals in Monday's game: four from Jacob Chaisson; Wade, Bennett Nicholson and Spires all had three. Spires, Nicholson, Miller Stuck and Rob Wilson had three assists. Bonds, Wilson and Wade all had two blocked shots.
On Tuesday, Chaisson had nine rebounds and Landon Caulder snagged seven. Wilson had five assists.
Up next, the Eagles face a stretch of region opponents: Laurens, Oconee Christian, Anderson, and Cambridge before they'll close out the regular season at home against King. King is their sole loss in region action.
RWA 70, WA 9
RWA: Wade 20, Spires 15, Chaisson 7, Caulder 6, K. Nicholson 6, Smith 6, C. Bonds 4, T. Bonds 4, Stuck 2.
RWA 68, WA 16
RWA: Wade 26, Bonds 10, Spires 10, Wilson 6, Chaisson 5, Stuck 5, Caulder 4, Smith 2.