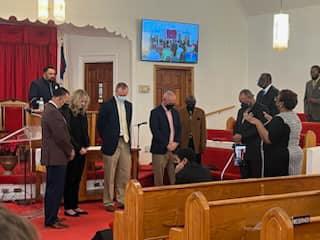 FAIRFIELD COUNTY – During their recent campaigns in November, several candidates visited St. Mark's Baptist Church on Highway 34. The church's Pastor, Michael McCoy, invited them back for a prayer service last week following their successful campaigns.
Attending the service were Brad Caulder (Probate Judge), Anne Bass (Auditor-elect) and councilmen-elect Clarence Gilbert and Doug Pauley.
The prayers sent up were for all the newly elected officials in Fairfield County.