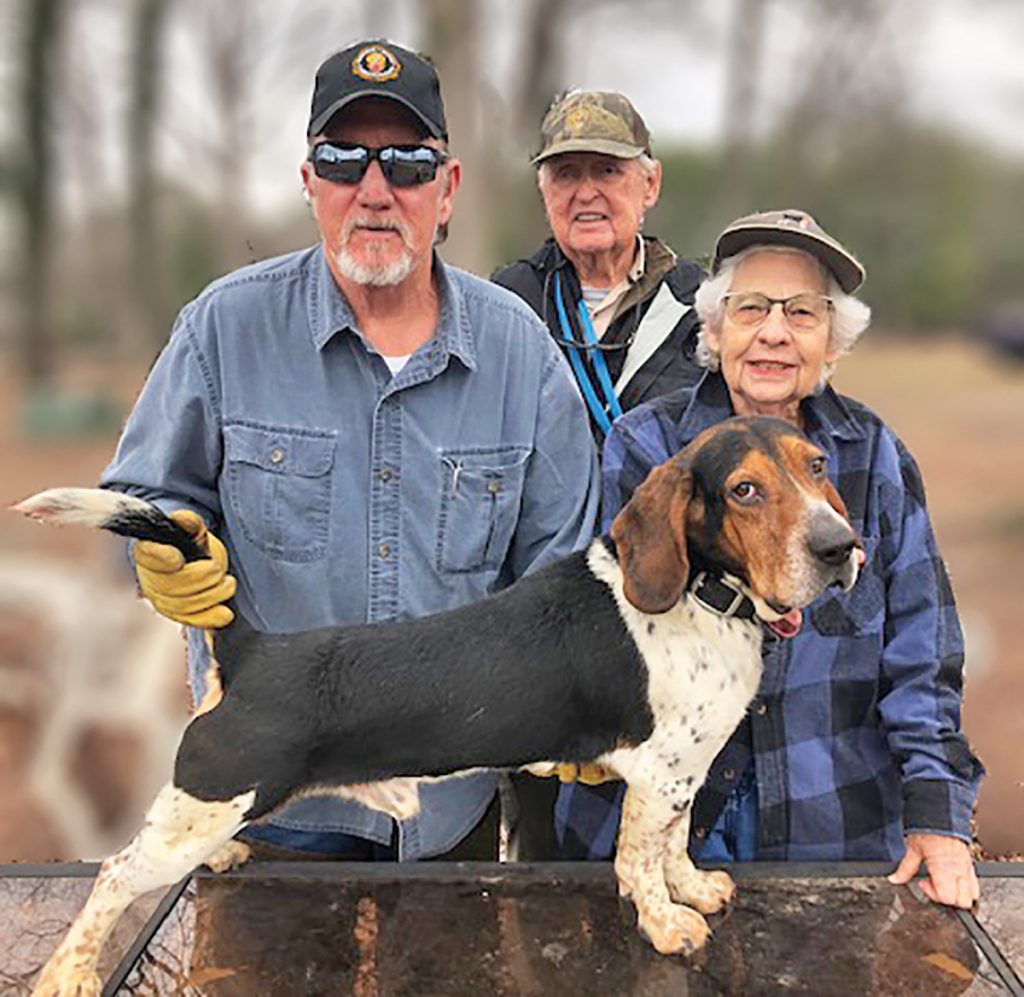 WARE PLACE – Last week was a banner week for Blythewood's Up The Creek Kennels.
Up The Creek Han Solo earned his first win in the Sugarland Beagle Club 15-inch Male Class held at Iodine State Beagle Club in Ware Place, SC on Wednesday. The first place, his first of a minimum three wins needed for an AKC Championship, carried 11 points, which gives him a good foothold on his march to the title. As a derby he is just starting to compete in brace field trials. His litter brother, Up The Creek Luke Skywalker, placed 3rd in the same class.
In the Sugarland 13-inch Male Class, Up The Creek Red Ryder finished fourth, and in the Teche 13-inch Male Class he finished third, earning a total of 4.6 points which moved him to within 8.3 points of earning his AKC Championship.
Up The Creek Benelli won the Teche Beagle Club 15-h Male Class. This is Benelli's fourth win, earning 11 points, and moved to within 6 1/3 points of earning his AKC Championship. 
Benelli and Han Solo are co-owned and mainly handled by Kevin Price of Kingston, GA. Luke Skywalker is co-owned by Sonny Price of Fyfe, AL.
Other Up The Creek notables: Up The Creek Little John placed fourth in the Teche 15-inch Male Class. Up The Creek Wilburn was designated NBQ (fifth) in the Sugarland 13-inch Male Class.
The Robertson's kennel name – Up the Creek Kennels – grew out of Pat Robertson's outdoors-oriented talk show on local radio in the mid- to late '90s called "Up The Creek With Pat and Seth."
But Beagles have long been part of his life.
"I got my first pair of hunting beagles when I was 10 or 11 years old," Robertson said. "I had a hunting pack of four beagle-mix rabbit dogs when Jan and I got married and there have been very few times since then that we have not had beagles.
"My uncle Earl Bridges, whom I grew up rabbit hunting with, introduced me to field trials and we joined the Savannah River Valley Beagle Club in Edgefield more than 50 years ago," Robertson said. "We even delved into show beagles at one point and finished champion beagles in the show ring."
Now he and Jan concentrate on field trials where the dogs compete in braces.
"We conduct two AKC licensed field trials at our club in Edgefield and travel to trials at Iodine State Beagle Club at Ware Place near Pelzer; to Black Jack Beagle Club near Bishopville; Indian Beagle Club at Vale, N.C., near Hickory; Catawba County Beagle Club near Denver, N.C.; and to Middle Georgia Beagle Club near Macon," Robertson said.
Jan drives an off-road cart with kennels mounted on the back and ferries the dogs into the fields for the competition. Though no longer taking judging assignments, Pat Robertson has judged more than 100 AKC licensed field trials and occasionally fills in on a class his beagles are not entered in.
"We have formed friendships with beaglers from across the country and look forward each year to seeing them. At a recent trial we had participants from Michigan to Louisiana with judges coming from Alabama and Mississippi," he said.
"We occasionally breed our beagles, but we do not breed to sell puppies," Robertson said. "We raise puppies to the age when they are ready to start training."
Robertson said his beagles are judged on accuracy trailing the rabbit.
"Modern brace trial beagles work so methodically, they are too slow for hunting purposes," he said. "Rabbit hunters prefer dogs with more drive to push the rabbit out of cover."