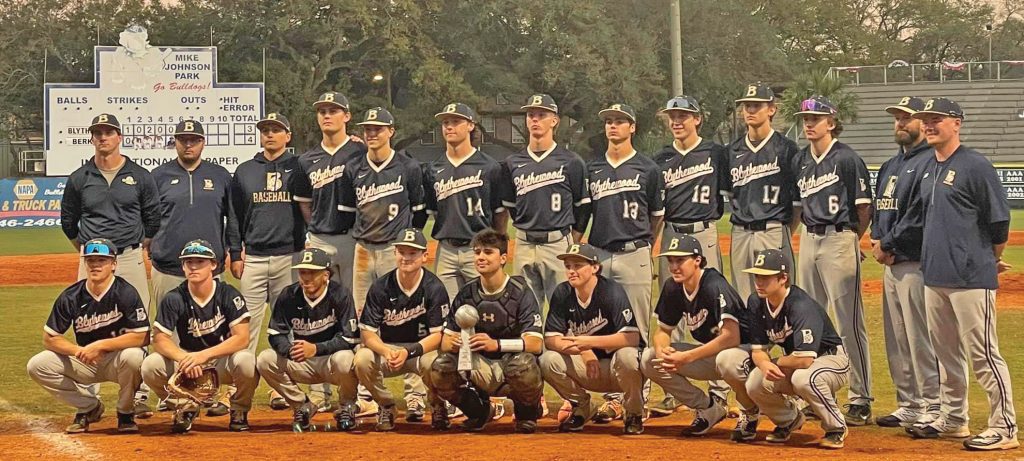 BLYTHEWOOD – The Blythewood baseball team opened the season by knocking off two strong opponents.
Posting a 4-2 victory at A.C. Flora Friday and following up with a Region 3-5A-opening 1-0 win over Fort Mill, the Bengals appear ready for the season under interim head coach Dolan Crolley.
"We've got a lot of guys who didn't have very many varsity innings last year," Crolley said. "As the season goes on and they get more innings at the varsity level, it'll help us even more."
Crolley moved into the top job when Banks Faulkner moved to the Newberry College coaching staff. Faulkner, who took the Bengals to a 5A state championship appearance in 2019 and led the team to its winningest season in school history in 2021.
While Faulkner moved on after six years with the Bengals, Blythewood continues to play crisp, competitive baseball.
Flora, which reached the 4A upper state championship game last year, took a 2-1 lead Friday in the second inning by capitalizing on two errors. Charles Flake reached base on an infield error, and after pitcher Luke Duncan hit Cooper Revels, Jack Moseley reached on another infield error, which scored Flake.
That was the last of the offense for the Falcons, as Duncan settled in for a scoreless third and made way for Xavier Cuevas, who pitched three innings of middle relief and picked up the win.
The Bengals made that happen with two runs in the fifth inning and another run in the sixth.
Weathers opened the fifth with a triple and scored on Landon Penfield's double to make it 2-2. Penfield moved to third on John Rollings' sacrifice bunt and scored on Camden Watts' single to give the Bengals a 3-2 lead.
Blythewood made it 4-2 when Weathers doubled and scored Alex Myers.
Besides pitching three innings, Duncan homered in the top of the second inning.
On Monday Fort Mill and Blythewood faced off in a quick pitcher's duel that was over in less than two hours.
The Yellow Jackets, who fell to Berkeley in the 5A state championship series last year, had Jaeger Pankowski on the mound, and the right-hander didn't give up a hit until the fifth inning.
Blythewood, coming off an upper state championship tournament appearance last year, had Landon Penfield on the mound. The junior College of Charleston commit hardly missed in his complete-game shutout. Penfield struck out eight and walked none, and scattered four hits.
"He's as good as it gets when it comes to throwing strikes and making them put the ball in play and having us making plays for him," Crolley said. "He did it against a really good team."
Blythewood's only run against Fort Mill came in the sixth inning. Penfield led off with a single, moved to second on Watts' infield sacrifice and took third when John Rollings reached base on a 2-out error.
With Penfield at second and Rollings at first, Macon Leppert smashed a ball that careened off the pitchers' mound that Fort Mill second baseman Zach Jennings had difficulty getting to. When his throw to first missed the mark. Penfield scored easily.
"We talk about situational hitting all the time," Crolley said. "We don't always have to have 10 hits to win games, but you have one or two guys come through in a situation that arises and good things happen."
Blythewood traveled to Fort Mill Wednesday and plays host to the Yellow Jackets again Friday. The Bengals play a 3-game series against Nation Ford over the course of next week.
Friday
Blythewood – 0-1-0-0-2-1-0 – 4, 6, 3
A.C. Flora – 1-1-0-0-0-0-0 – 2, 2, 1
W: Xavier Cuevas. L: Rence Best
B: Carson Weathers 2-4, 2B, 3B, RBI. Landon Penfield 2B, RBI. Luke Duncan HR, RBI. Camden Watts RBI. F: Grant Loggins 2B.
Monday
Fort Mill – 0-0-0-0-0-0-0 – 0, 4, 2
Blythewood – 0-0-0-0-0-0-0 – 1, 3, 1
W: Landon Penfield. L: Jaeger Pankowski.
F: Eli Craddock 2-3, 2B. B: Macon Leppert, GWRBI.