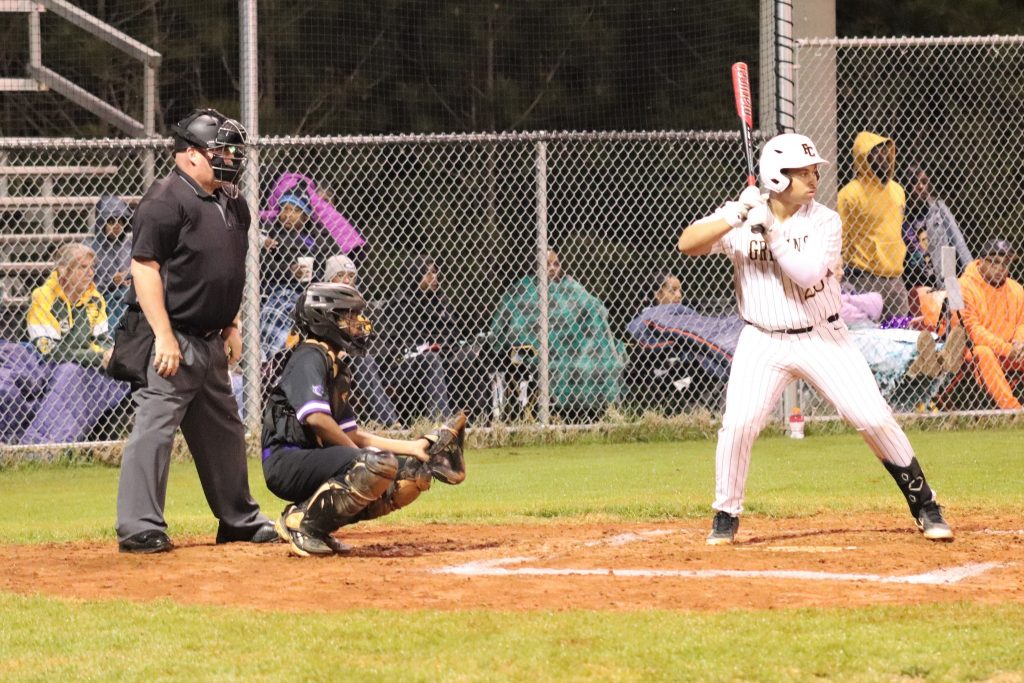 WINNSBORO – After opening the season with a 15-0 loss to 4A Lancaster (6-1) on March 8, Fairfield Central chalked up their first win of the regular season with a 5-3 take down of 4A Ridge View on March 10.
With both teams scoreless after two innings of play, the Griffins took a 1-0 lead in the bottom of the third.
Rylan Woodard singled to lead off the inning and then stole second. A fielder's choice from Blake Gambrell advanced Woodard to third. With two outs, J Warren doubled on a line drive to center, scoring Woodard and giving Fairfield their first lead of the game. A strikeout ended the inning with Warren on second.
With Grame Douglas on the mound, the Griffins held Ridge View scoreless through four. Douglas hit Breylon Boyd to lead off the fourth. Boyd stole second. A quick strikeout and a pop out in foul territory looked to save the Griffins' lead, but a single followed to put runners on the corners. A passed ball and a Griffin error plated two for Ridge View. A 6-3 groundout ended the inning.
Down 2-1 with three at bats left, Fairfield was able to take advantage of pitching mistakes to ignite their offense in the bottom of the fourth.
Woodard walked to lead off and stole second again. A strikeout followed, but Woodard advanced to third on a passed ball. Gambrell walked to put runners on first and third. Warren was hit by a pitch to load the bases, and Blazer pitcher Jackson Kennedy walked Curtis Sampson to tie the game at 2.
With two outs and the bases still loaded, R Ramsey singled to score Gambrell. Nygel Woodard followed a walk, scoring Warren. Yohance Harrison was hit by another Kennedy pitch, scoring Sampson. A Ridge View pitching change was followed by a fly out in foul territory to end the inning with Fairfield up 5-2.
Gambrell took the mound in relief of Douglas in the top of the sixth. A single and three walks plated another run for Ridge View. With the bases loaded and no outs, Gambrell seated the next three batters to keep a 5-3 lead and end the frame.
Douglas picked up his first win of the regular season from the mound. He faced 21 batters in five innings of work, throwing 47 strikes of 77 pitches. Douglas allowed two hits and two runs. He walked one and struck out six. Gambrell picked up the save. He struck out six of the ten batters faced. He allowed one hit, one run and walked three.
Gambrell went 2-3 from the plate with a double. Warren also doubled and went 1-3 on the night.
Fairfield followed the win with a Tuesday night game against region-foe Gray Collegiate Academy. Gray blanked the Griffins in four with an 18-0 final.
Warren took the loss on the mound. He threw two innings, allowed seven hits, 10 runs while walking two and striking out three.
The loss to Gray (1-2) moved Fairfield to 1-2 on the young season. The teams will rematch in West Columbia on Friday at 6 p.m. The Griffins will travel to York Prep for a Saturday game, then will head to Columbia on March 21. They'll return to Winnsboro to host York Prep on March 22, then host Columbia on March 24.
Lancaster 15, FCHS 0
FCHS – 0-0-0-0-X-X-X – 0, 1, 3
LHS – 0-1-5-9-X-X-X – 15, 10, 0
WP: McGee. LP: K Diggs
FC: Sampson 1-1. L: Shannon 2-2, McGee 1-3, Hughes 1-1, Dawkins 2-2, Cos 1-3, Carter 1-2, Sims 2-3.
FCHS 5, RVHS 3
RVHS – 0-0-0-0-2-1-0 – 3, 3, 0
FCHS – 0-0-1-0-4-0-X – 5, 6, 2
WP: Gambrell. LP: Kennedy
FC: Gambrell 2-3 (2B), Warren 1-3 (2B, RBI), Ramsey 1-2 (RBI), N Woodard 1-2 (RBI), R Woodard 1-2.
Gray 18, FCHS 0
GRAY – 3-4-4-7-X-X-X – 18, 11, 1
FCHS – 0-0-0-X-X-X – 0, 1, 5
WP: Magee LP: Warren
FC: Gambrell 1-2. GRAY: Webber 2-3, Lloyd 3-4, Turner 1-3, Wright 1-3, Taylor 2-3, Eshaak 1-2, Magee 1-3.