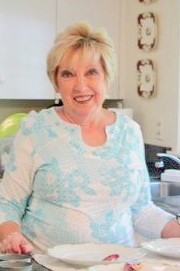 WHITE OAK – Maggie Louise Taylor, 74, of White Oak, died peacefully in her home on Friday, March 24, 2023, after a long and amazingly courageous battle with cancer. Born in Winnsboro, SC, on May 29, 1948, she was a daughter of the late H.C. Belk and Pearline Branham Belk. The oldest of seven, our family called her the 'General.' There wasn't a question she couldn't answer, an order she couldn't give or a problem she couldn't solve. And she loved to help her family and friends. She was a faithful, loyal, God-fearing woman. An amazing cook, fantastic gardener and had the most beautiful home and yard you've ever seen. Louise was always dressed up so nicely; prim and proper for every occasion, including doctor appointments and treatments.
Louise loved her parents, siblings, her husband John, daughter Stephanie and her family, Robbie, Taylor and Maddie, like no other. She was the best mama and best meme. She was a tremendous aunt to her many nieces and nephews who she loved so much. She loved all the babies; from great nieces and nephews to her great great nephew. And she dearly loved her friends, many of which were with her every step of the way during her fight.
She married her husband John on October 13, 1965 and he remained by her side when she went home to be with the Lord, along with their beloved dog Kate.
Louise worked for over 45 years as a customer service representative and was loved by many co-workers and customers. Everything she did, from her work to her home and everything in between with her southern grace.
Survivors include her husband, John Hailey Taylor; daughter, Stephanie Mitchum (Robbie); grandchildren, Taylor and Maddie; siblings, Jeanette Fink (Larry), Lavonne Maddox (Jack), Mamie Motley (Mason), and Janice Lee (Kerry), Kenny Belk (Earlene). In addition to her parents, she was preceded in death by her brother, Heyward Belk.
Her family would like to extend a special thank you to Dr. Minter and his staff at South Carolina Oncology Associates for the amazing care and love shown to her and her family during her treatment. A special thank you to her family friend Sandra Davis, for helping care for her home and yard for many years.
The funeral service for Mrs. Taylor will be held at 1 o'clock, Wednesday, March 29th, at Shives Funeral Home, Trenholm Road Chapel, 7600 Trenholm Road Ext., Columbia, with the Rev. Mark Barnes officiating. Burial will follow the service in White Oak ARP Church, Winnsboro, SC, at 3 o'clock. The family will receive friends prior to the service at the funeral home beginning at 12 o'clock.
Memories and condolences may be shared at ShivesFuneralHome.com