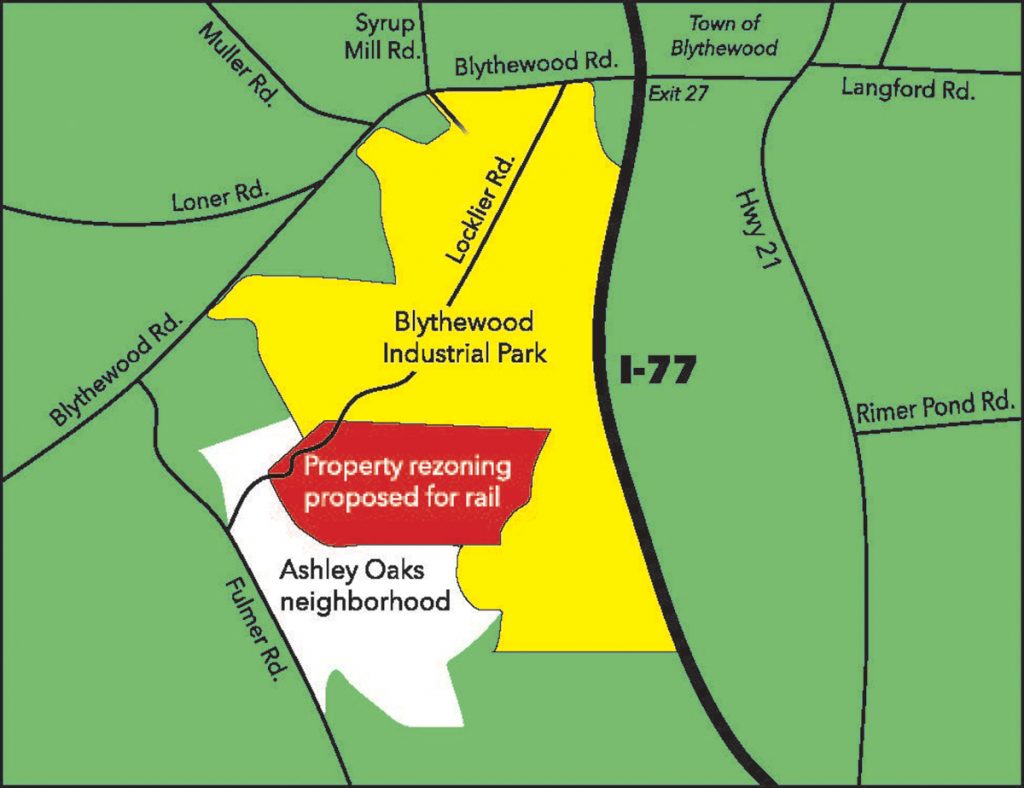 BLYTHEWOOD – About 80 Ashley Oaks residents attended Monday night's town council meeting, and a number of them spoke out against a rezoning request for a property that borders many of their back yards and that will be used as an industrial rail yard. 
The Blythewood Planning Commission ultimately and unanimously recommended the zoning change to town council for the 290.08-acre parcel that is to be part of the recently announced Scout Motors plant proposed to be located in the Blythewood Industrial Park.
However, members of the Commission expressed concern for the residents' pleas.
"I would say, as chair, that I personally think that the noise abatement is probably the most significant issue that's affecting the residents, and it would be more than helpful to have some objective reporting [of information on this issue] available for the town council to review," Commission Chair Malcolm Gordge offered following the public comments.
The applicant and property owner, Saddlebrook Properties, represented by Jeff Ruble, Director of the Richland County Economic Development Office, requested the rezoning from Development District (D-1) to Light Industrial 2 District (LI-2).
The property is located south of the Blythewood Industrial Park and north/northwest of the Ashley Oaks subdivision at the dead end of Locklier Road (TMS# R12500-03-01)
The Blythewood town government and Richland County have both expressed enthusiastic support for the project, which has been awarded the biggest incentive package ever announced by the state of South Carolina.
"This is a transformational project," said Jeff Ruble, who billed it as an opportunity to help fund vital services to town and county residents through its positive impact on the local tax base.
"It's what we all wanted. It's beyond anything we dreamed about," he said. "We probably had 10 projects looking at this site," he said, explaining that Scout Motors came into the picture in December, promising to invest $2.4 billion into a plant that is expected to produce over 200,000 vehicles per year, provide 4,800 jobs and spur the development of some major road improvements in Blythewood.
"It's been looked at as a likely site for industrial development for more than two decades," he said.
Ruble said it was the Inflation Reduction Act, a federal law passed by Congress in 2022, which triggered the current round of interest by large industrial concerns.
After presentations by Ruble and other experts about the rail yard, which is to be about 650 feet from and roughly 75 feet of elevation above the Ashley Oaks subdivision with berms to be put in place to lessen noise, several residents of the neighborhood expressed concerns about its potential impact on their homes and quality of life.
"Our lifestyle's going to be ruined by this," said subdivision resident Brent Norris, of White Oak Ridge Lane. "[The construction of the plant] is going to be a 24/7 operation. The concrete, trucks everywhere – every one of them have beepers – the grading, our whole lifestyle, our homes are going to be ruined."
Most of the residents who spoke were opposed to the rail yard and some to the overall project, citing concerns about potential noise, odors, environmental damage, and chemical exposure that they fear could occur close to their homes, as well as an overall lack of information provided about project details.
"What the heck is going on here?" asked Charles Bayne, of Mountain Valley Road. "Is this another East Palestine?"
He was referring to the Ohio site of a recent train derailment that caused the release of toxic materials.
Ashley Oaks resident Gordan Fuller, of Maple Ridge Road, cited the example of an industrial plant in Illinois where a battery fire resulted in the evacuation of neighborhoods for half a mile around the plant – and subsequent air quality monitoring recorded the presence of harmful chemicals.
One resident, Steven Abrahamsen of Maple Ridge Court, threatened a lawsuit – and received applause from the crowd.
"When we get this thing rolling, I'm going to go get a decibel meter and have my own study done, and then somebody's going to pay me for my home, and it's going to be double the price," Abrahamsen said.
"I just feel like tonight is an example of y'all in bed with Richland County on this. I'm offended by it. You'll hear from my lawyer, $20 million."
One Ashley Oaks resident, Robert Finicum of Black Oak Court, spoke in favor of the project – but also called upon local leaders to work out solutions to his neighbors' concerns regarding potential noise impacts and the risk to property values if the plant negatively impacts the neighborhood's quality of life.
"I actually am very excited about this [plant] personally," he said, "and I believe that everything that has been said is very legitimate."
Members of the planning commission stressed that this meeting was only to decide one step in the process – whether the commission should recommend approval of a zoning change to town council, which still must give final approval for the zoning change. A site plan will later come before the planning commission for review.
"A lot of what we've heard tonight is pertinent to the program moving forward, but… our responsibility [in this meeting] is primarily just to recommend the zoning and the appropriateness of the zoning, and that's really all we are empowered to decide," Gordge said after hearing public comment on the matter.
"Our decision tonight will only be [a recommendation] to council," said Planning Commission Member Erica Page, who said she lives in the Cobblestone subdivision across Blythewood Road from the industrial park, and is also grappling with its potential to impact her neighborhood.
"You have the opportunity from now until then [April council meeting] to write letters to Richland County, to the state, to the economic development folks, and tell them your concerns," Page said.
The request to change the zoning will now go before the Blythewood Town Council for two readings (votes). Council will likely vote on the zoning matter in its April and May meetings.
After their unanimous vote to approve the zoning change, the commissioners also voted unanimously to recommend an update to the zoning ordinance with regard to minimum parking requirements for industrial property.
Gordge said the existing ordinance would result in an unreasonably high parking space requirement for this project, which is what brought the issue to the planning commissioners' attention.
The parking recommendation approved Monday, which applies to all industrial developments in Blythewood, would reduce the minimum parking space requirement to one space per 1,000 square feet of indoor work space, a change from the current requirement of one parking space for every 300 square feet of indoor work space.
The next regular town council meeting will be Monday, April 24.