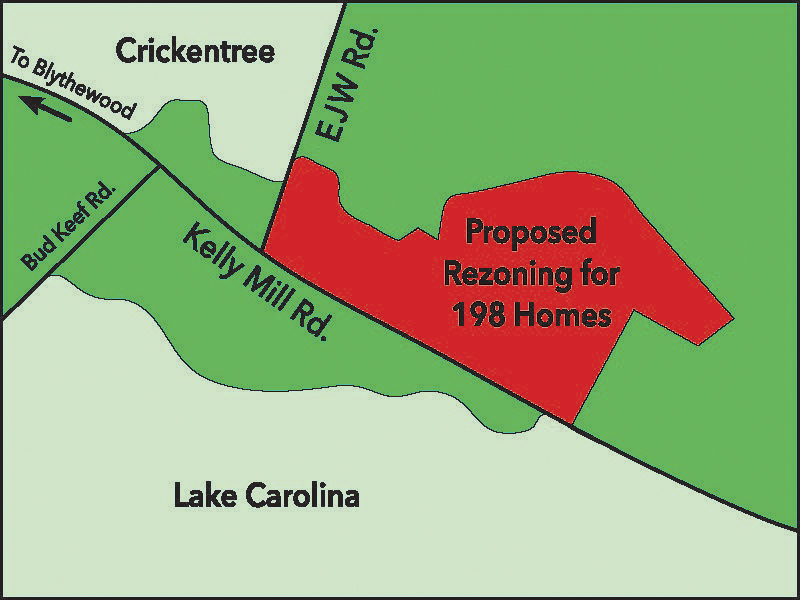 BLYTHEWOOD – Two developers will go before Richland County Council on April 25 to request rezoning for two residential developments totaling 1,400 homes, town homes and apartments in Blythewood 29016.
198 Homes on Kelly Mill
Applicant Kevin Steelman, president of Land Tech, a residential land developer in Columbia, is requesting council to rezone 90.79 acres on Kelly Mill Road from Rural (RU) to residential Estate (RS-E).
The property is located at the intersection of EJW and Kelly Mill Roads in Blythewood.
As many as 197 homes are recommend for that acreage, according to the agenda's information packet. Steelman said at a community meeting that he plans to build 198.
According to the agenda packet, the RS-E zoning district is intended for single-family detached dwelling on large 'estate' lots with a low to medium density. The minimum lot area is 20,000 square feet.
Staff recommended disapproval of the rezoning request, noting that the proposed rezoning is not consistent with the objectives outlined in the Comprehensive Plan.
However, at their Dec. 5, 2022 meeting, the Richland County Planning Commission disagreed, saying the request is appropriate to promote smart growth in the area for the schools and traffic, and recommended approval to County Council.
In February, Richland County council members Derrek Pugh (District 2) and Jessica Mackey (Dist. 9) invited members of the Blythewood community to attend a town hall meeting with Steelman and county planning staff to discuss the rezoning of the property.
Steelman told residents who attended the meeting that, if the rezoning is approved, he plans to build 198 single-family detached homes on large 'estate' lots, or 2.18 units per acre. Rural zoning would allow 1.32 units per acre.
He said the neighborhood would be similar to the Autumn Pond neighborhood he developed at the intersection of Rimer Pond and Hardscrabble Roads. The home prices, he said, would range from $400,000 to $500,000 and would feature hardy plank and vinyl siding.
Residents in attendance pushed back with questions about traffic, overbuilding, lack of teachers, already overburdened schools, lack of proper infrastructure and more.
Steelman countered that the reason the district is having difficulty hiring teachers is because there aren't places for them to live. He also said the new industries coming to Blythewood are counting on their employees having places to live. He said his development will help to accommodate that need.
Kelly Bush, who lives in Lake Carolina, disagreed.
"You can't make me believe that your neighborhood has to be built to accommodate all these new employees," Bush said. "I don't know why Richland County can't look at the infrastructure they have – roads, schools, everything – and determine if the services are there. If not, deny the building permit and stop building."
Michael Watts, a lifelong resident of Rimer Pond Road agreed with Bush.
"In my mind, it's time to just say, 'Stop building out here,'" Watts said. "Just stop for a little while. Get together with the people who live here and pay the taxes. I appreciate Derrek Pugh and the new council members who have gone out on a limb against the powerful interests of the developers and real estate agents to say no to housing projects out here. We have plenty of lots available already, planned and approved by the county for the new employees coming here," he said.
Steelman said that Rimer Pond Road traffic is not anywhere near capacity, and that without more new homes, their taxes will go up.
"This development is too much, too soon, too fast for us," said Tracy Cooper of Crickentree neighborhood, which is adjacent to the proposed rezoning.
1,200 Multi-family Units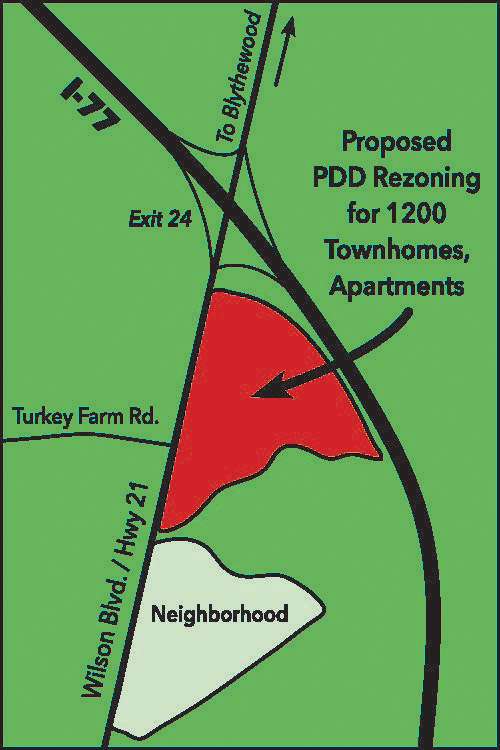 In a separate request at the same April 25 council meeting, developer Bill Theus will ask council to amend the Planned Development District (PDD) zoning on 55.2 Commercial/Industrial zoned acres, between Wilson Blvd. (State Highway 21) and I-77, to a Mixed Use land use classification to allow both single-family and multi-family residential uses. The applicant also requests that the overall residential dwelling unit count be raised from 900 to 1,200 to allow for a maximum density of 300 units in the Mixed Use land use classification.
Both the planning staff and the Planning Commission have recommended approval to county council.
Both the Steelman and the Theus rezoning requests will be heard by council during a zoning public hearing to be held at 7 p.m., Tuesday, April 25 at county council chambers, 2020 Harden Street in Columbia. This meeting is the only time the public will be allowed to speak for or against the rezonings. To speak, arrive a few minutes early and sign in to speak.
The agenda and information packet are available by googling Richland County S.C. County Council meeting agenda.