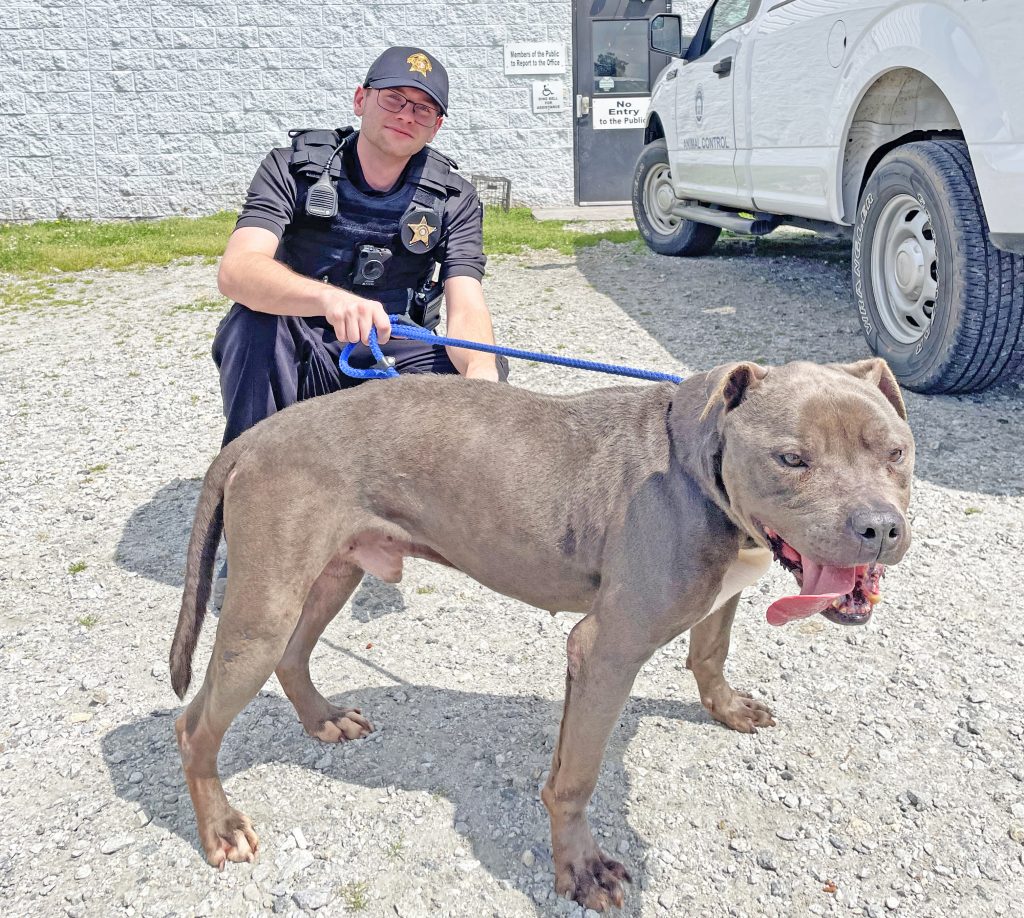 Hi, I'm Arnie, "Mr. April," the Fairfield County Sheriff's Office's (FCSO) Deputy Dog of the Month.
The Fairfield County Animal Control and Adoption Center (FCAC) partners with the sheriff's office every month to help find loving homes for animals like me at our county's adoption center.
So, every month, the Sheriff's Office "deputizes" one of the many pets at the adoption center. And this month, it's me! I'm now an official deputy.
Sheriff Montgomery and his deputies participate in this program because he believes that everyone should do their part to help find safe, loving homes for all of us animals at the shelter.
The deputy in the picture with me is Deputy Thomas Levister, one of Fairfield's newest deputies who recently completed his certification through the South Carolina Criminal Justice Academy. He's a great deputy and he fits right in with the Fairfield County law enforcement family. He and I have become great friends…after all, we're both deputies now, so we have lots to talk about.
Let me tell you a little about myself.
I didn't have a good start in life. I was left chained and abandoned behind a building out in the country where no one could see or appreciate me. No one visited or played with me. It was just by chance that animal control was in the area one day and rescued me from that dire situation. It was really awful.
On the up side, I'm a pretty good looking guy, but I have other great qualities as well. Weighing in at a whopping 81 lbs, I'm a hunk of love on legs! I love going out to explore while walking with my people. I've got good leash manners, but don't let that fool you. For a big boy, I can run with the best of you! I'm up to date on all my shots, I'm heartworm negative and I've been neutered. So, I'm ready to go!
Anyway, I'm here at the animal shelter now and they just love me to pieces and take great care of me.
But I really want my own family that has time for me and doesn't have other animals that I will have to share their love with. It's just that some of us, like me, need to be your one and only.
I've lived the chain life and the shelter life, but I'm really hoping soon to be living the good life with my own family. I would love to have a sofa to curl up on and be able to show my person what a good boy I am.
To help me find my forever home, the shelter staff hopes everyone reading this will share my story with all of their email contacts as well as post it to their own social media pages.
If you're interested in adopting me, or any of the other animals at the shelter, please contact an FCAC staff member at 803-815-0805. You can visit the facility online at [email protected] or at their physical address at 1678 US Hwy 321 Business North, Winnsboro, SC 29180.
And while you're here, maybe we could take a little walk together, just so you could see for yourself how great it would be to have a fine dog like me.