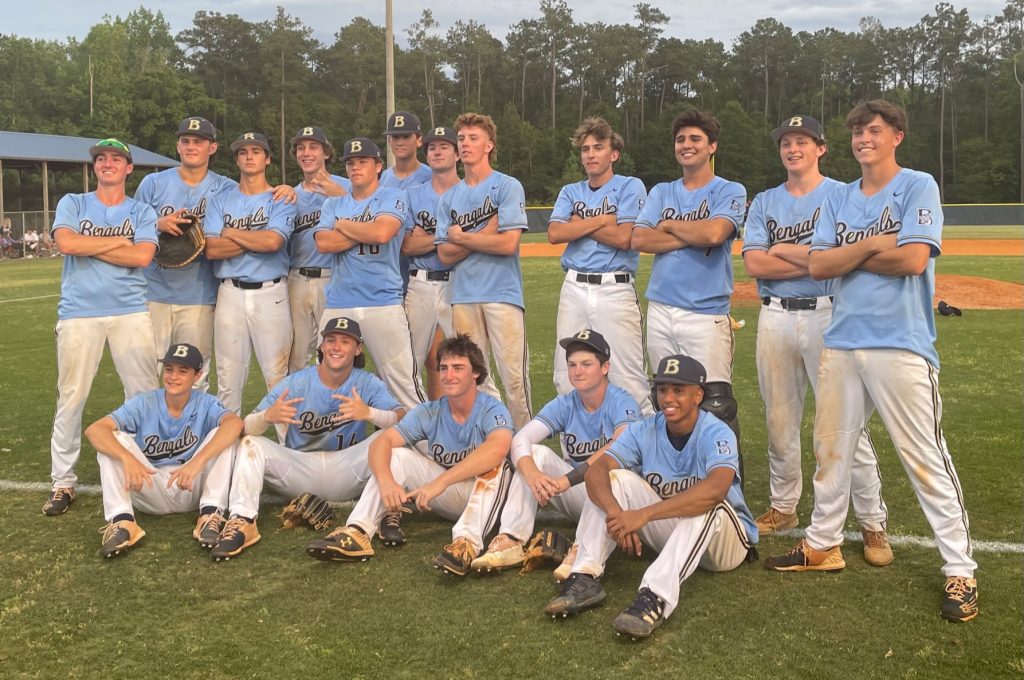 BLYTHEWOOD – The Blythewood baseball team put a clinic on believing Wednesday night.
With Boiling Springs up 6-2 on the Bengals after the top of the fifth inning, it looked like whoever would win the 5A upper state championship would require two games to do it.
The Bengals who returned to the dugout for the bottom half of the fifth didn't think so. Not a lick.
When the fifth inning was in the books, Blythewood hung four runs on the scoreboard to tie the game at 6. After the Bulldogs' scoreless sixth inning, the Bengals scored two more.
That margin was more than enough for relief pitcher John Rollings to throw a scoreless seventh and secure an 8-6 victory—and the second 5A upper state championship in four years.
The win wasn't so much of a surprise for both the young Bengals, who lost six seniors from last year's team, or from first-year head coach Dolan Crolley, a team assistant who replaced Banks Faulkner, who left to be an assistant coach at Newberry College last summer.
"These guys have fought the entire season," Dolan Crolley began. "The theme for this year was trying not to let last year's guys overshadow us. Our guys have just worked their butts off in building on what those guys had done (last year), and they've proven it right here. I can't be any more proud of them. It shows. We got punched early and we just stayed in it, man."
Blythewood (24-6) reached the final series under head coach Banks Faulkner in 2019, falling to Dutch Fork.
With a lot of seniors gone, and with Crolley being an unproven coach, the Bengals truly were a long shot at the start of the season. Yet Crolley showed himself to be a leader who hit it off with the team, and the team showed early that it could compete.
"We came in not expecting to be here, and I think it took a lot of pressure off these guys," Crolley said. "It helped us to keep working, keep working and prove to everybody that we should be here."
The Bengals will face lower state champion River Bluff (26-7) in the 5A state championship series. The Gators lost the first game to Summerville 11-7, but held off the Green Wave 4-3 in the deciding game Wednesday night.
The best-of-three series begins Saturday at River Bluff at 7 p.m. Game 2 is scheduled for Tuesday at Blythewood, and a third game is scheduled for May 27 at a neutral site.
Midway through Wednesday's game, Boiling Springs Boiling Springs (22-12) was set on making it a long night for the Bengals. The Bulldogs scored three runs in the fifth to take a 6-2 lead—just before Blythewood catcher Macon Leppert put the tag on Riley Douglas in front of home plate for the third out.
Maybe one or two people in Bengal country wondered about that possibility.
Not the Bengals. The team, decked out in powder blue uniforms, returned to the dugout and got ready to bat.
And one by one, they walked up to the plate and collectively brought in four runs on four hits, two Boiling Springs errors and a walk.
It all started with Macon Leppert's one-out single. After Carson Weathers popped out, Rollings reached base on a Bulldogs error to put runners at first and second, but with two out.
Harrison Collins took to the plate and blasted a double to the right centerfield gap that scored Leppert and Rollings to make it 6-4 Boiling Springs.
"My guys got on base and I was just doing anything I could to drive them in and try to get some runs on the board," said Collins, who started the game on the mound and worked three full innings. "
The next batter, Luke Duncan, placed another double in nearly the same spot, which brought Collins home.
Xavier Cuevas, batting in the bottom of the order, laced a single into leftfield that scored Duncan for the game-tying run. A fielding error enabled the speedy Cuevas to race around second and make it safely to third.
"I saw that ball go and I knew I had to get to third base," Cuevas said. "I'm ready to do my job, whatever I've got to do."
That surge spelled the end for Boiling Springs' Kyle Dill on the mound. He made way for Noah Ezell, who walked Landon Penfield but got Alex Myers to fly out and end the fifth.
Josh Kanipe started the bottom of the sixth on the mound for the Bulldogs, and Camden Watts led off that inning with a double to right. Watts moved to third before Leppert was hit by a pitch.
After Weathers flied out, Rollings hit a bunt single that scored Watts and put the Bengals up 7-6.
Kanipe walked Collins to load the bases for Duncan. Duncan's sacrifice fly drove in courtesy runner Ryan Watts to make it 8-6.
Cuevas flied out to end the sixth, but those two runs were all Rollings needed to work the seventh.
"We've been punched in the mouth a few times, and we know we're going to swing the bats and we've had some really big innings," Crolley said. "The bottom of the lineup today was just amazing. The 6,7,8, 9 guys were just absolutely beautiful at the plate."
Rollings, who finished the fifth and worked the final two innings, walked Luke Compton, but struck out Justin Dawkins and got Hudson Wilson to fly out.
When Rollings struck out Jackson Cole for the third out of the seventh, the Bengals bounded from the field and from the dugout in a dogpile on Rollings to celebrate the win.
"It's so special," Rollings said. "We've had people doubting us all year. Nobody believed it except for us, to be honest. We've always believed in each other and we've fought through everything."

Boiling Springs – 0-0-3-0-3-0-0 – 6, 11, 4
Blythewood – 1-0-0-1-4-2-X – 8, 11, 1
WP: John Rollings
BS: Corben Childers 3-4, 2 RBI. Jackson Cole 2-4. Justin Dawkins 2B. BHS: Harrison Collins 2-3, 2B, 2RBI. Luke Duncan 2-3, 2B, 2 RBI. John Rollings 2-4. Landon Penfield HR. Camden Watts 2B.