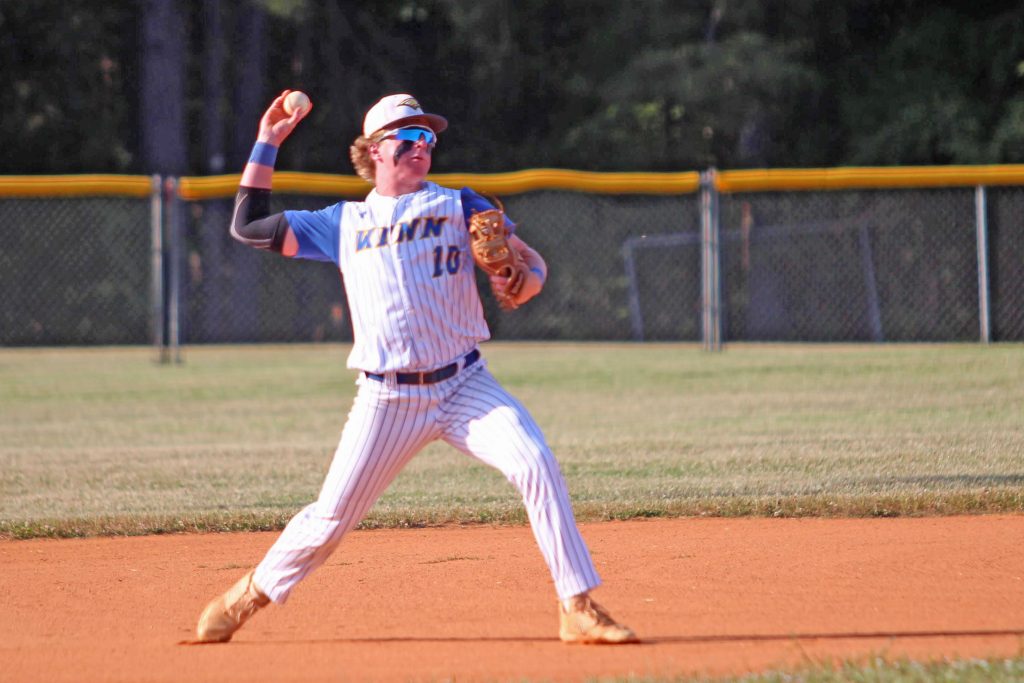 WINNSBORO – Ten-run-mercy rule games are hard to come by in state final baseball series.
When a team as hungry as this year's Richard Winn Academy squad readies for its plate appearances, mercy is more the rule than the exception.
The Eagles jumped all over Jefferson Davis Academy in the first game of the best-of-three SCISA 1A state championship series, riding Miller Stuck's 5-hit pitching performance in a 14-1 victory over the Raiders Monday at RWA's Billy Ladd Field.
"We've struggled in the past, we've had a couple of bad game ones and just weren't able to get ourselves going," Richard Winn head coach Paul Brigman said. "This year's been completely different. Our offense has carried our team all year long, and it continued tonight."
Richard Winn fell 2-0 to Andrew Jackson Academy in the 1A state series last year, losing 6-3 and 7-1. Ever since then, Brigman said, the Eagles have kept their focus on getting better and getting quality at-bats.
"We were disappointed in last year, when we had a great regular season and things didn't work out in the end," Brigman said. "Everybody came back with more resolve—and we had a lot of those guys back—and we decided we were going to take the same road as last year."
This year Richard Winn (24-0) has had an even more dominant run than last year. Monday marked the 15th game in which the Eagles' margin of victory was 10 runs or more this season.
Jefferson Davis (11-8) got on the scoreboard in the first inning when Garrison Hiers slapped a 2-out single and Kaleb Lee doubled Hiers home. That was about it for the Raiders' offense. Hunter Laird grounded out to retire the side, and Stuck 3-hit them the rest of the way.
The Eagles tied the game at 1 when Jacob Chaisson hit a 1-out double and Rob Wilson singled him in on a hard-hit 2-out grounder to leftfield.
Lawson Wade struck out to end Richard Winn's first at-bat of the game, but the Eagles got five runs in the second inning.
Landon Caulder led off with a solo home run over the leftfield fence, Stuck drove in Connor Little on a sacrifice fly, and Charlie Bonds hit a 2-out, 3-run homer to left to give the Eagles a 6-1 lead after two innings.
In the third inning, Richard Winn picked up eight runs on just one hit, but six walks, a balk, a wild pitch, and three Raiders errors. After a scoreless fourth, Stuck and reliever Wilson pitched a scoreless fifth to close out the 14-1 win.
The Eagles hit the road for Blackville Tuesday for Game 2 of the series at Jefferson Davis Academy.
"Our boys have stood up to every challenge and taken every test, and passed it with flying colors," Brigman said. "We just hope we can keep it going."
Jefferson Davis Academy – 1-0-0-0-0-X-X – 1, 5, 3
Richard Winn Academy – 1-5-8-0-X-X-X– 14, 7, 1
WP: Miller Stuck
J: Kaleb Lee 2B. R: Rob Wilson 2-4, 3RBI. Jacob Chaisson 2B. Charlie Bonds HR, 4 RBI. Landon Caulder HR, 2RBI.