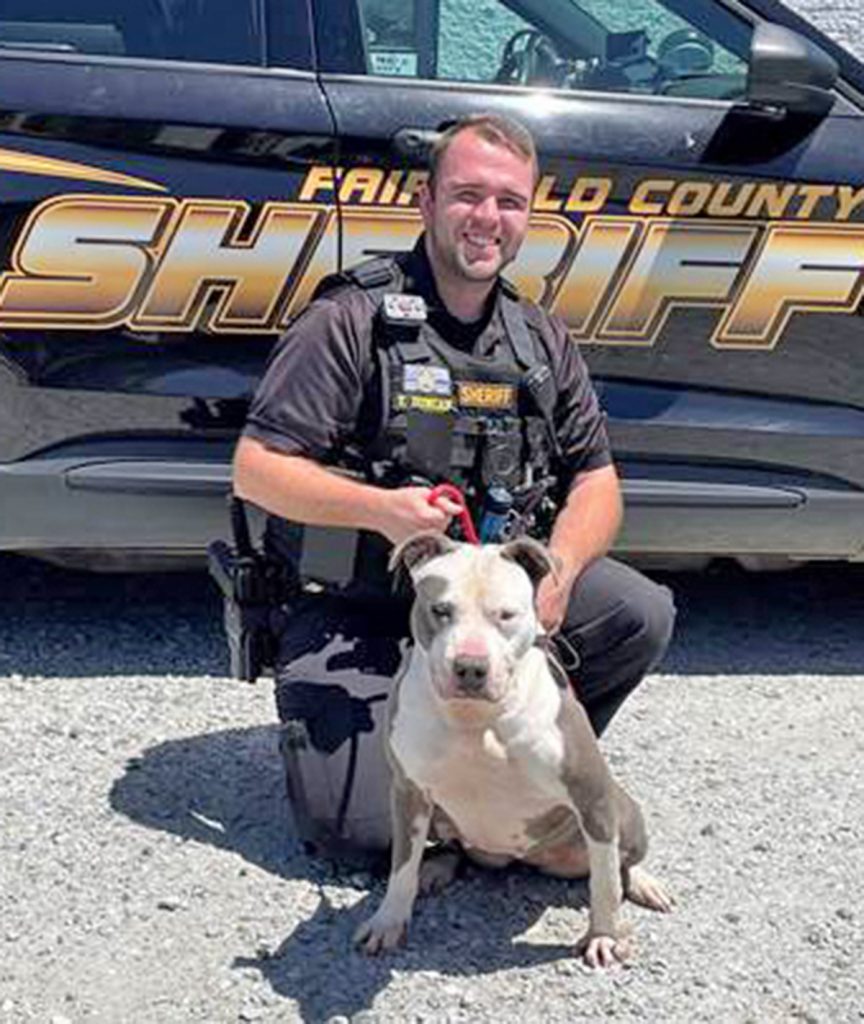 FAIRFIELD COUNTY – Every month, the Fairfield County Sheriff's Office "deputizes" one of the many pets at the Fairfield County Animal Control and Adoption Center to publicize the need to find homes for all of us. Sheriff Will Montgomery has said he believes that everyone should do their part in this endeavor.
Anyway, about me.
My name is Queen, the "Deputy Dog of the Month" for May 2023. Here I am with Sgt. Trevor Duncan. Sgt. Duncan has been with the Fairfield County Sheriff's Office for 2 ½ years and is assigned to the Patrol Division. He's a great guy – good looking and really sharp when it comes to law enforcement. I was so impressed with him when he came to the shelter to hear my story.
Here's what I told him.
I was surrendered to animal control through no fault of her own, but because my owner was moving and was not able to have dogs in the new residence. I'm an especially affectionate dog, and I love giving kisses. I am generally happy and excited when meeting new people …that's because I truly long for human companionship.
In the past, I've been very selective about my doggy friends but I'm becoming more and more social with other dogs all the time.
Although I'm a little older than most of the other dogs at the shelter, I'm really a good looker for a 9-year-old. Plus, I've got a lot of pep in my step and plenty of energy to fit in with a variety of lifestyles.
I'm up to date on all my shots and, thank goodness, I'm heartworm negative.
Some of my favorite things are belly rubs and treats… but not cats! Oh, no, not cats.
The home I dream of is one where I'll be able to enjoy my golden years as the only fur baby in the household and be the center of my new family's world. Also, I'm very treat oriented, so if you're thinking about stopping by to see if you might be a good match for me, bring a few treats along and I guarantee you we'll hit it off.
If you think you might be interested in meeting me, please contact a Fairfield County Animal Control staff member at 803-815-0805, email the facility at [email protected] or visit the shelter at 1678 US Hwy 321 Business North, in Winnsboro.
Even if you're not looking for a dog right now, please share my story on your Facebook page and email it to your friends.