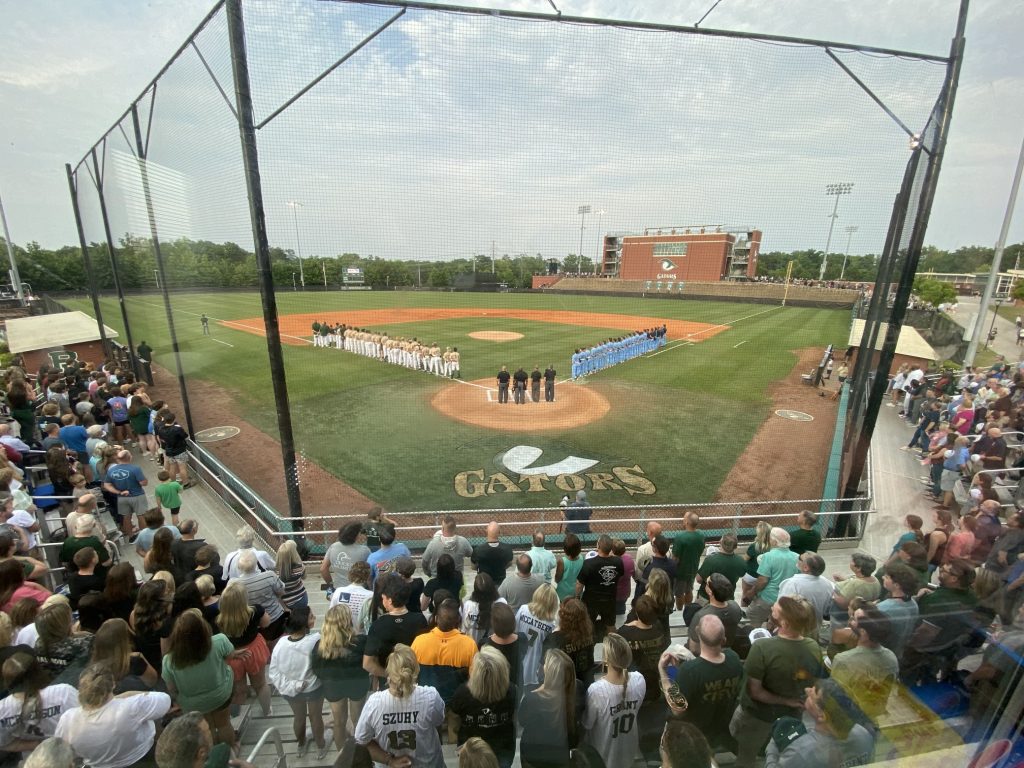 LEXINGTON – Were it not for River Bluff's four straight hits in the second inning Monday night, the Gators and Blythewood would have taken the first game of the 5A Championship series into extra innings.
Those four hits produced two River Bluff runs and the Gators closed out a 2-0 victory over the Bengals at River Bluff's baseball field.
"On both sides I thought the infield play was pretty jam-up," Blythewood head coach Dolan Crolley said. "I think we had a ball down the third base line, and they had a ball down the third base line that squeaked through. They had some balls that squeaked through that we just couldn't make the plays on."
Game two of the best-of-three series is at Blythewood Wednesday. River Bluff (27-7) can clinch the 5A championship with a win. If the Bengals (24-7) win, the series stretches to a Saturday game to be played at Gilbert High School's baseball field.
For Blythewood, the biggest challenge will be to see how the Bengals respond at the plate, and if they can deliver some timely hits, Crolley said.
"We've now been in the first game, we've seen what the atmosphere's going to be like," Crolley said. "It's going to be a large crowd and a lot of noise, and we can't let that get to us."
The only time either team strung hits together came in the bottom of the second.
Weston Grant led off River Bluff's second inning with a line-drive single to centerfield. Wyatt McPherson followed up with a base hit in roughly the same spot, and Logan Busbee got the bases loaded on Blythewood starting pitcher Ben Blackwell with a bunt single.
Myles Proffitt came to the plate and took the first two strikes. Fouled off a pitch, and took two balls. Proffitt connected on the sixth pitch and drove it toward Bengals first baseman Harrison Collins. Collins couldn't make a play on the ball and Grant scored the first run.
With the bases loaded and still nobody out, Matthew Garris hit into a 6-4-3 double play, which would have been a break for the Bengals, but McPherson scored the Gators' second and final run of the game.
Busbee was at third base for Walker Mitchell's at-bat, but Blackwell struck Mitchell out to retire the side.
"We're playing well, and that team's good. We're so similar, we play good defense, we pitch, we've got some guys who can hurt you in the lineup," River Bluff head coach Mark Bonnette said. "Tonight we executed a bunt situation that got some runners into scoring position and we were able to score two, that was huge."
For the rest of the way Blackwell gave up two hits, and relief pitcher Camden Watts pitched 2/3 of a hitless inning.
Blythewood had its chances at the plate. The Bengals got five hits, and had five additional baserunners on four walks and a Gators error, but ended up stranding all 10.
River Bluff's starter, Garris, lasted 4 2/3 innings of the shutout, giving up three Blythewood hits. Andrew Vaughan came on in the fifth inning and worked two full innings striking out two.
The Gators third pitcher of the night, Thomas Powell, threw only one pitch to Watts in the top of the seventh—Watts grounded out to first baseman Beau Hollins to put the game in the books.
"Matty Garris was great. Probably wasn't Matty's best stuff as far as his fastball could have been, but he battled. He got big pitches when he needed to," Bonnette said. "Andrew Vaughan has been doing what he's done all year long for us. We went for a lefty-lefty matchup there with Thomas, and he got the out we needed."
Thomas will start on the mound for the Gators. Landon Penfield will take the mound for the Bengals.
Blythewood – 0-0-0-0-0-0-0-0 – 0, 5, 1
River Bluff – 0-2-0-0-0-0-0 – 2, 6, 1
WP: Matthew Garris.