Griffin Standout Claims 4 State Titles
COLUMBIA – "On my goodness, look at lane four! Holmes is flying… it's Holmes! Holmes takes it!"
Fairfield Central standout Sharmelle Holmes competed in four events in the South Carolina High School League's 2A State track meet last Friday, and she claimed the title in all of them.
In a post-meet interview with Milesplit, Holmes, a junior, said she just felt grateful… happy and grateful.
"I only won one event last year. That was on my mind. I knew I had to come win my main events, the 100m and 200m."
She did so in dominant fashion, claiming the 100m dash with a 12.23 finish – a title she also claimed during her sophomore season.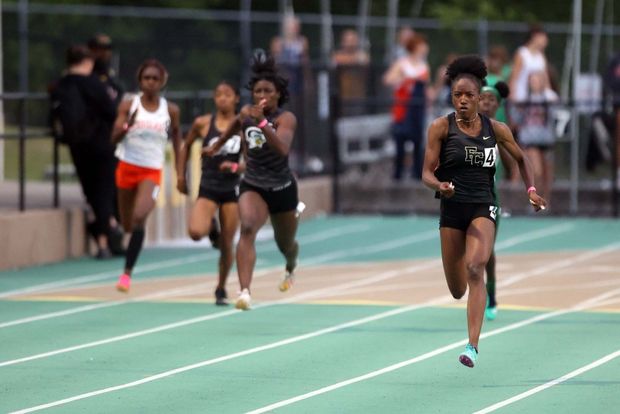 "She really started off well there," the announcers said of her 100m dash. "Beautiful technique. She kept her stride right, kept it tight down those last 20-30 meters or so."
Holmes fell just short of a title in her other two events in the 2022 state meet, finishing second in the 200m and in long jump. She repeated those events this year but with different results.
In the 200m, she beat second place Tresta Miller of Gray Collegiate by just over a second, coming in at 12.74. Miller finished at 25.75.
"Here comes Holmes! Wow!" the announcers said as she pulled away for the win. "Beep, beep – peace out! Pulling away by a huge margin. Sharmelle Holmes is no joke! Amazing."
She also went on to take first place in long jump with a new personal best and new school record at the 18-11 mark.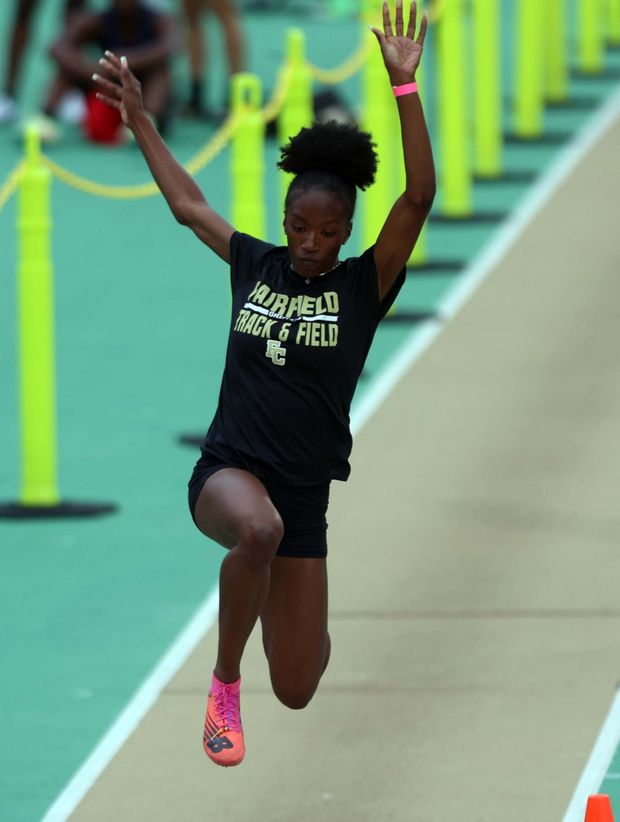 "This year I knew I wanted to qualify in four events and win all four events," she said, "so this whole season I've just been prepping to win all four."
Yes, her math is correct. Holmes added a fourth event for 2023 – the 100m hurdles.
"Sprinting is my main thing," she said, "but jumping is probably second. I'm slowly becoming a hurdler." she said.
But her results weren't slow.
Holmes took first in 100m hurdles, beating out Eau Claire's TyQwasia Williams by a little more than .6 of a second. Her hurdle time of 15.09 was a new personal record and a new school record.
"Even though our league is small, I'm grateful to be putting up times for #1 overall in the state. When I'm running, I'm running for the time, not just for the win," Holmes said after the meet.
Holmes called herself a humble person, but she said she knows that she's becoming the person to beat.
"Once you're at the top, everybody wants you to lose, so I just use that as motivation for everything that I do," she said.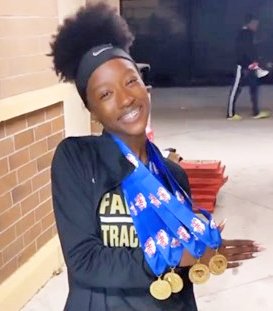 Holmes said she got involved in track and field when COVID ended. She used to play basketball and softball, but once she realized her potential in track, she narrowed her focus.
"Ninth grade is where I really got started, and once I went to that national level, I was like, 'oh, I could really be good at this,'" she said.
"I eat, sleep, dream track. I train all year round, so I'm very grateful for my parents to help me be able to do that. My school coaches, my off-the-track coaches – I'm grateful for all of them. They all got me to where I am today."
Holmes said she hopes to further her career at the collegiate level. On Monday, she tweeted her times and a photo of herself and said only this:
"Now that my junior season has ended… Recruitment is now open."
She doesn't need to be wordy – her times can do the talking for her.