Gadsen Promoted to Deputy Chief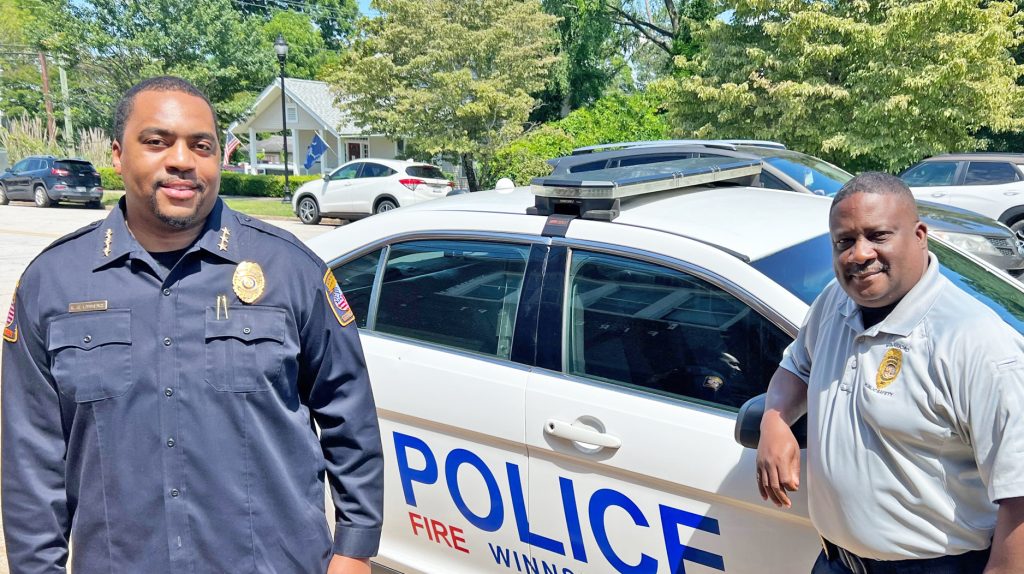 WINNSBORO – Two of Winnsboro's finest have officially been named Chief and Deputy Chief of the Winnsboro Department of Public Safety.
Kevin Lawrence was sworn in last September as Interim Chief of WDPS, and last month he was elevated to Chief. Veteran Fairfield deputy Oren Gadson was named Deputy Chief.
Lawrence, 40, studied criminal justice at Charleston Southern University and is a 19-year veteran of law enforcement.
Prior to being hired by Winnsboro, Lawrence spent two years as an investigator with the Fairfield County Sheriff's Department. Prior to that, he served a short time as a deputy in Aiken, where he grew up and began his law enforcement career.
Lawrence previously worked for 12 years as a deputy with the Richland County Sheriff's Department under Sheriff Leon Lott in Columbia, serving in numerous law enforcement areas, including the Community Action Team, the burglary suppression team, on the narcotics team, as a public information officer, and in drug enforcement.
From 2016 to 2018, Lawrence was a popular deputy on the cop show, LIVE PD.
After two years on the show, Lawrence worked in the criminal investigation division of the Richland County Sheriff's Department before coming to Fairfield County.
"Kevin came highly recommended, and I felt his background in all levels of law enforcement made him well prepared to take on the challenges of some of Winnsboro's crime issues, particularly the drive-by shootings our Town was experiencing at the time," Town Manager Jason Taylor said.
Taylor said he is pleased with the progress in the department since Lawrence took over.
"Kevin has brought new vitality to the WDPS. He has demonstrated himself well. The department has greatly improved and has been more active in drug and traffic enforcement," Taylor said. "I am pleased."
Gadsen Named Deputy Chief
Oren Gadsen, who grew up in Fairfield County, worked 29 years in law enforcement, before being named Deputy Chief of the WDPS last month. He has served in the Fairfield County Sheriff's Department, the Chester Police Department, the Fairfield County Detention Center and the Winnsboro Department of Public Safety.
In addition to his experience working in criminal investigation, undercover drug investigation, field training and other areas of law enforcement, Gadsen is also a certified firefighter.
Lawrence says Gadsen completes what he calls his great team.
"He not only has the law enforcement credentials for the job, but he grew up in Fairfield County and knows everybody," Lawrence said. "That's important to our work. He's been doing this job in Fairfield County long before I came here and he provides a wealth of knowledge."
Lawrence said he's proud of the team he's put together in Winnsboro. Quickly establishing priorities for his department, Lawrence said he wants his officers to not just enforce the laws of the town but he wants them to talk to and get to know the people they meet every day.
"One of our main jobs as officers is to brighten someone's day," he said.
"As Chief, I'm only going to be as strong as my team, and I'll put the team we now have in place up against anybody's. I knew that to be successful in this job, I would have to have the right people around me," he said. "We have that team."