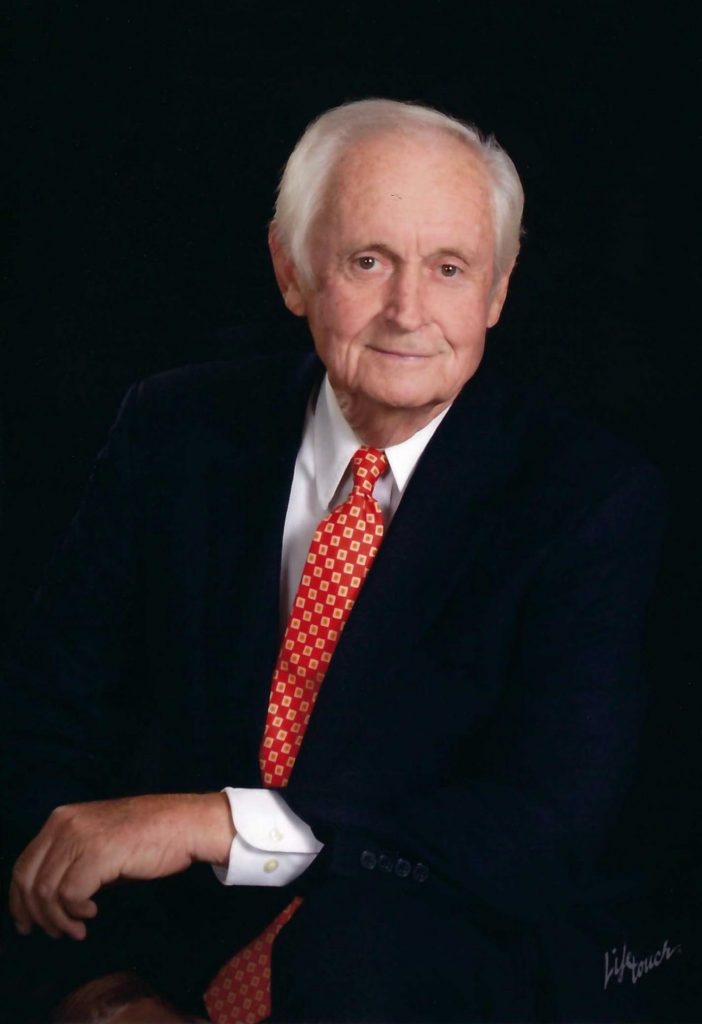 William James Turner, Jr., 85, passed away in Myrtle Beach, SC, on Tuesday, June 20, 2023.  A visitation will be held on Friday, June 23, 2023, at The Dunes Golf and Beach Club, 9000 N. Ocean Boulevard, Myrtle Beach, SC, from 4:00 PM until 6:00 PM.  A memorial service will be held at 11:00 AM on Saturday, June 24, 2023, at Lebanon Presbyterian Church, 8002 Newberry Road, Highway 34 West, Winnsboro, SC.  The family will receive friends at a reception in the church fellowship hall after the service.  Interment in Lebanon Presbyterian Church Cemetery will be private.
Born in Winnsboro, South Carolina, on October 2, 1937, he was the son of the late Sara Smith Raines and William James Turner. He was a 1955 graduate of Monticello High School in Winnsboro, SC, and a 1959 graduate of Presbyterian College, where he was a member of Sigma Nu Fraternity; business manager of the college newspaper, The Blue Stocking; and editor of the 1959 college yearbook, Pac Sac. After college he served six months of active duty in the U. S. Army at Fort Jackson, SC, and then, started work at Rock Hill Printing and Finishing Company.
Upon his father's sudden death in 1961, he returned to the Lebanon community of Fairfield County to take over the family farm, raising cattle, growing cotton, and running his father's country store. He also worked at Manhattan Shirt Company from 1962 to 1983, becoming plant manager in 1972. He served on Fairfield County Council from 1977 to 1983 and became chairman in 1981. Possessing an entrepreneurial spirit and vision, in 1985 he turned his father's small country store, with a pull-down light bulb and an oil can heater in the Lebanon community, into a successful thriving convenience store, Lebanon Mart, and operated it for 10 years until he retired.
As an active lifelong member of Lebanon Presbyterian Church, he loved the Lord and served many years as a deacon and a trustee. He loved his church and, as chairman of the deacons, spearheaded the building of a new fellowship hall and tennis court in 1970. Again, in 2011, as chairman of the deacons, he had the opportunity to assist in the renovation of the fellowship hall, as well as the kitchen and the manse. He enjoyed helping with the Super Seniors at their monthly church luncheons. He also helped to maintain the grounds of the church garden, Aiken Memorial Garden, for many years.
He was an avid sports fan and especially loved watching Presbyterian College Blue Hose football and tailgating with his fraternity brothers. He enjoyed nature, the outdoors, and all of God's creations.
As one of the founders of the Mid-County Water Company, he served on its board, as well as the board of Fairfield Memorial Hospital. These efforts supported his ultimate goal, which was to see the Lebanon community grow. His vision came to life as he developed his family's land in a natural way to include beautiful ponds and home sites. In 2019, he and his wife moved to Myrtle Beach to be near his daughter due to declining health.
Surviving are his wife of 62 ½ years, Selwyn Pearson Turner, of the home, and three children: son, William ("Bill") James Turner III (Andrea Demos), of Mount Pleasant; daughter, Elizabeth Turner Springs (Jay), of Myrtle Beach; and son, Dr. Allan Pearson Turner (Dr. Stephanie Compton), of Greenwood; seven grandchildren: Caroline Springs Hills (Jamie), of Myrtle Beach; Jack Springs (Kaitlin), of Columbia; Andy Turner (Riley), of Greenville; James Turner, of Mt. Pleasant; John Turner, of Clemson, Lydia Turner, and Anna Elizabeth Turner, of Greenwood; and two great-grandchildren, James Lamb Hills III and Pearson Elizabeth Hills, of Myrtle Beach. He was devoted to his children, grandchildren, and great-grandchildren.
He is also survived by one sister, Anne Turner Harrell, of Columbia; a brother-in-law, Bill Pearson (Pam), of Hilton Head, as well as nieces and nephews. He was predeceased by his brother-in-law Flynn Harrell, Sr. In lieu of flowers, the family suggests that memorials be made to Lebanon Presbyterian Church, 8002 Newberry Road, Winnsboro, SC 29180, for the Aiken Memorial Garden or to a charity of one's choice.
The family wishes to express sincere appreciation and thanks to all of the dedicated employees at Portside at Grande Dunes Assisted Living and Agape Hospice.