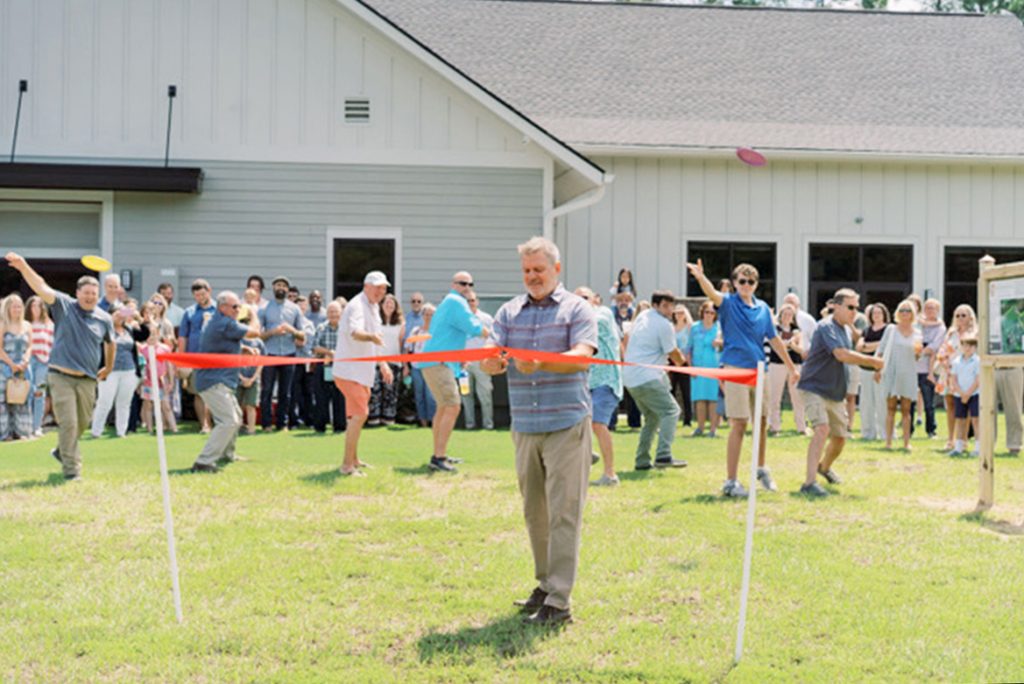 BLYTHEWOOD – Blythewood Pres now offers more than salvation… there's also a disc golf course.
When four members of the Blythewood Presbyterian Church were recently introduced to the sport of disc golf, they found they had to travel at least a half hour to Earlwood in Columbia or to Owens Field to find a course to play on.
On Sunday, July 16, all that changed when church members and friends cut the ribbon to celebrate the opening of a new disc golf course on the church's property at 441 Rimer Pond Road – the first and only such course in Blythewood, according to the four.
Church member Tim Hunter tracked how the course came about.
"The four of us – me, Thomas Boswell, Larry Michelle and David Wyatt – were looking for a way to play disc golf closer to home, and it occurred to us that our church property would be a great place to do that," said Hunter, a retired Athletic Director at Spring Valley High School and member of Blythewood Presbyterian.
At the same time, coincidentally, church member Sawyer Huss, an Eagle Scout candidate from Blythewood Troop 224, decided to build a disc golf course as his Eagle Scout project. The church's board agreed to allow him to build it on the church's property.
While Hunter's son, Link, offered to design the course, the disc golf enthusiasts would need about $3,000 to make the course happen.
While Huss was planning to raise about $500 toward his course materials, the church's elders offered to match any funds raised up to $1,500.
When Huss actually raised $2,000 instead of $500, the church's $1,500 donation put the project over the top. Signage with scripture stationed around the course was financed by church member David Poole.
"The word on the street," said the church's pastor, Rhett Sanders, "is that this is a very fun and challenging course."
But Sanders said it's also a way to bring the community together.
"It's open for everyone to enjoy as we at Blythewood Presbyterian strive to be a great church for the community," Sanders said.
"If you've played disc golf before or if you've never played, go on out and give our course a try," Hunter said. "A starter disc set can be purchased from Amazon for around $20."