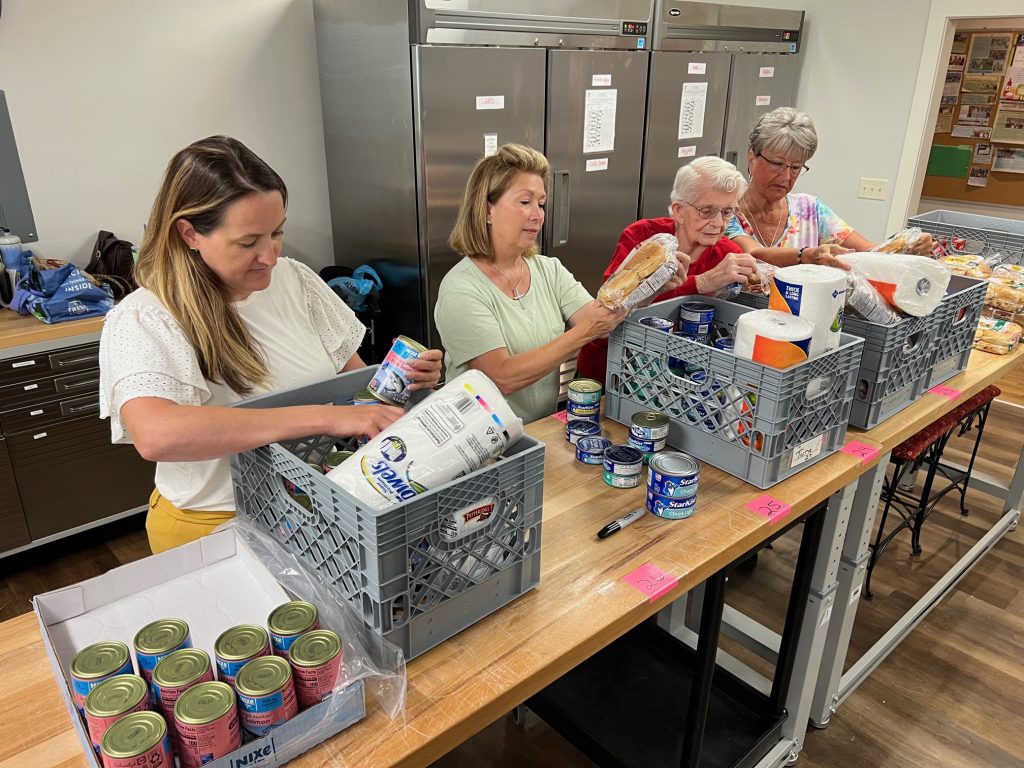 BLYTHEWOOD – It may look like a tiny, unassuming brick house across Blythewood Road from the IGA grocery store, but inside its walls, lives can be changed in a big way.
"We are a food pantry, but we are also here to help people find a vision of where they could be and help them get the resources to get there," says Kate Williams, executive director of Christian Assistance Bridge (CAB).
The organization, which is a joint effort of about 15 local churches, has been open for roughly a decade.
"While we do give some financial assistance, that is not our main goal. Our focus goes beyond emergency assistance. This charity aims to connect people with resources – from helping them make a budget to offering a listening ear to understand, sort out, and find solutions to their complex problems that will eliminate their need to rely on emergency assistance in the future.
"So many people have written off our clients," Williams says, "that just having someone to listen to them, to hear them out and then help them with their solution, is extremely beneficial."
The organization, which is open from 9 a.m. to 1 p.m. Mondays and Thursdays, does offer emergency help with critical needs like food, transportation, housing, and utilities. But that assistance comes with an effort to assist the clients in ways that will help them avoid the need to return for more emergency assistance the next month.
"In other words, we hope to dispense something more to clients than an assistance check or a box of food. We try to help them have dignity," Williams says.
"A lot of our folks have low self-esteem and have been told 'no' a lot of times. They just need someone in their corner," Williams says.
"When it comes to money and budgeting, that could mean helping our client to see where an expense they're paying – such as a high car payment, unaffordable lease, overpriced cable TV, or compounding debt – is interfering with their ability to cover the cost of essentials."
Help could also take the form of assistance with emergency car repairs so the client can get to work; help in resolving an issue with a landlord, fixing a leak that's driving the client's water bill to unsustainable levels, purchasing a bed for a related child they're taking in through the foster care system, or helping with fees that enable a family to move from a motel room into an apartment.
"Right now, we're seeing a lot of the ramifications of the COVID time period," Williams says, noting the increasing price of food as well as rent increases of 50 percent or more that have especially hit hard for senior adults who are living on a fixed income.
The amount of time it takes to assist clients now often takes double the time it used to, she says, because the challenges people are facing have simply become more complex.
Success Stories
However, CAB has a long list of success stories. Williams recalls a few that left an impression.
"One man was searching for work," Williams says. "He had no place to live, so we put him up in a hotel, and a CAB volunteer counselor walked with him down the road to apply for jobs. He was hired for one of them on the spot. It was the start of an opportunity to turn his situation around."
In another case, a senior adult with a cancer diagnosis couldn't pay her bills and couldn't see a way out. She received food and counseling, was connected with resources, and ultimately was able to undergo the medical treatment she needed. She returned last month with a big announcement: she is now cancer-free.
Williams said another woman came in crying her eyes out after she said a young relative broke into her home and stole all of the food she'd received in assistance.
"We helped her with a new lock on her door and talked to her about making a crime report," Williams said. "But what she needed most was just someone to listen to her."
In another case, a senior adult, whose payday loans were decimating her budget, was assisted with finding part-time work, which enabled her to pay off her debts so her budget would balance, and she could afford groceries going forward.
"We take it a step farther than giving out food," Williams says.
"For instance, we visited with a senior adult recently who had an adult child living with her. There was nothing in her pantry and nothing in her refrigerator except for two Senior Resources meals." Williams says. "We filled up her freezer."
"The senior adult was so grateful and in tears, but we're looking at the adult [child] saying, 'How can we help you get a job so you can help your mom?' Sometimes it's easier for us to say those things than it is or a senior adult to say them when she is already feeling weak and vulnerable," Williams says.
"Sometimes, people just need help finding a job – and, with so many workers now participating in the gig economy, there are numerous entry-level positions open that can be perfect for seniors or individuals who are new to the workforce," Williams explained.
Funding
Managed by one part-time staff member and more than two dozen volunteers CAB receives most of its funding from local churches and private donations – everything from excess garden produce to canned goods to anonymous cash donations earmarked for a specific purpose.
"For example, we just received $5,000 specifically to help people buy needed medications," Williams said.
But Williams says the impact of the pandemic is still being felt.
"There were a number of people who came in regularly before the pandemic to drop off donation checks," Williams said. "After the pandemic shut down some of those same people's businesses, they came in needing help themselves."
Summer Food Needs
Williams says summertime often sees an increase in people coming to the food pantry, especially families with children. And this summer has been no exception.
The organization is also here for those not seeking food or financial assistance, but who want knowledge and connections to help them find solutions to their problems.
"If you know somebody who's just going through a difficult time, tell them to come by, even if they just need someone to help them with their budget and talk with them," she says. "We're here for that, too."
In the decade since its inception, Christian Assistance Bridge has given out nearly $95,000 in financial assistance and purchased food. The Blythewood-based charity has also provided a huge unquantified value in offering a hand up for many who simply needed knowledge and a listening ear to help them get on their feet.
More information about Christian Assistance Bridge can be accessed online at http://christianassistancebridge.com or by phone at (803) 786-1903. The charity is located at 126 Blythewood Road.
Here's What You Can Do To Help CAB
For those looking to donate, food donations are definitely high on the list of needs. Christian Assistance Bridge has given out more than 65,000 pounds of food so far this year
CAB always needs more volunteer counselors to assist with things like budgeting, identifying resources for clients, and simply providing a listening ear.
No skill or experience is required for volunteers. All necessary training is provided.