George Lamar Alexander of Winnsboro, SC passed away at age 102 at 4:50 pm on Wednesday, July 19, 2023.  Funeral services will be held at 11:00 AM Saturday, July 29, 2023, at Mt. Zion Baptist Church with Rev. J.D. Wilson and Rev. Grover Johnson officiating.  Interment will follow in the church cemetery.  The family will receive friends from 10:00 AM to 11:00 AM Saturday at the church.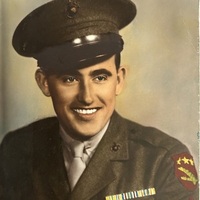 He was born in Walhalla, South Carolina to Carlos Henry Alexander and Ruby Moorman Garrett Alexander on Feb 1, 1921. His parents were millworkers at the Victor Monaghan Cotton Mill; so George grew up in the close knit community of the mill hill village. During his childhood he was known to all by his middle name Lamar or "Bub" to family members.
As a young boy George learned the value of hard work by plowing fields behind a mule and helping his grandfather, Joseph Warren Garrett, grow crops on his Uncle Ernest Garrett's farm just outside of Walhalla, SC. Further lessons of hard work and responsibility were learned by being the family chauffeur and playing football for the Walhalla Razorbacks football team.
When he was in the ninth grade the family moved to Anderson, South Carolina. Soon afterwards, George began working in the Anderson cotton mills. A few years later the Alexander family settled in Chester, South Carolina.
When the winds of war began to hint that the United States would soon be drawn into the fighting of World War II, George received his parent's permission to enlist in the United States Marine Corps when he was 19 years old. You had to be 21 years old to enlist without parental permission at that time.
On July 25, 1941 George formally enlisted in Raleigh, NC and was sent to Parris Island, SC for basic training. Soon after basic training, George was transferred to San Diego and trained for service in the Barrage Balloon Squadrons. He was stationed in Samoa for close to 3 years securing the islands and manning the balloons to protect the islands from enemy attack. He was later sent to Hawaii for about a year at the supply depot, Camp Catlin.
After World War II ended George resigned with the rank of Technical Sergeant and went to work at the Chester Cotton Mill until he was called back to serve his country during the Korean War. For his second enlistment he first went to Ft. Jackson, SC and was then sent to Charlotte, NC for formal induction and finally reported for duty at Camp Lejeune, NC.
He was transferred for security duty to Cheatham Annex just outside of Williamsburg, VA and met his good friend Harvey Kemper. Harvey soon transferred to Parris Island, SC where Harvey met his wife to be Dot Flanders. Dot Flanders and Jackie Ortet were both WAVEs stationed at the base hospital at Parris Island.
Soon afterwards George was also transferred from Cheatham Annex to Paris Island, Reclamation and Salvage. Dot introduced George to the love of his life, Jacqueline Ortet. They were married on Aug 24, 1946 in George's adopted hometown of Chester, SC.
George worked in the Chester Cotton Mill while Jackie earned her high school diploma. George re-enlisted and continued to serve his country in the United States Marine Corps. He served remote duty in Okinawa. After qualifying for the USMC competitive rifle team, George spent time in Gifu, Japan and Hawaii training and competing for the Marine Corps Rifle Team.
After completing a course for Embassy duty in Washington, D.C., the entire Alexander family traveled to Bogota, Columbia where George supervised embassy security forces for the region. George remained in the Marine Corps until retiring on May 22, 1967 as a Master Gunnery Sergeant, the highest enlisted rank within the Marine Corps.
George and Jackie worked civil service jobs until both elected to retire in 1973. George purchased a river cabin, on Lake Wateree, next door to his deceased father's cabin (which George helped to build) is and the couple began renovating their beloved home.
After moving to Lake Wateree, the couple began attending Mt. Zion Baptist Church in Mitford, SC. Both remained very active within the church. George served as a deacon and helped with Sunday School classes.
George loved his family, his community and his country but above all he loved his Lord and Savior, Jesus Christ. He devoted many hours of prayer and reading scripture to his daily schedule as well as regularly attending church services and Sunday School at Mt. Zion Baptist Church until the COVID-19 pandemic.
George's wife of 63 years, Jacqueline Ortet, passed away in 2010. His brothers, Carlos Garrett Alexander and Neil Grant Alexander, and his sister, Carol Catherine Alexander and his sons, George Lamar Alexander Jr. and Gary Michael Alexander have also passed on. His daughter: Karen Jean Alexander (Gary Niklason) live in Westminster, SC and his granddaughter: Kelly Niklason lives in Ft. Lauderdale, FL. His son: Carlos Henry Alexander (Sherry Sanders) live in Winnsboro and his grandson: Michael Sanders (Heaven) lives in Rock Hill, SC with great grandchildren Smith Ediston Sanders, Sunnie James Sanders and Delta Monroe Sanders.
Memorials may be made to Mt. Zion Baptist Church/Bus Fund, 6924 Wateree Rd., Great Falls, SC 29055.
Online condolences may be made to the family at www.dantzlerbakerfuneralhome.com.