FAIRFIELD COUNTY – It's organized at locations around the state as a weeklong summer camp for teens and adult church members – not a week of fun and s'mores around the campfire, but of hard work repairing the homes of neighbors in need.
The event is called Salkehatchie.
"Youth and adults from all over the state come and work on the homes for a week," said Katie Thrasher, camp director for the Jenkinsville-area Salkehatchie camp, which just wrapped up for this year in late June.
"We stayed at Shady Grove Church and meals were prepared for us throughout the week by volunteers. We showered at the YMCA in Irmo," she said, "and other organizations and facilities also offered help where we needed it."
The Jenkinsville camp was one of 37 taking place around the state as part of Salkehatchie Summer Service, an effort of the South Carolina Conference of the United Methodist Church, which has been organizing the camps since 1978.
During the more than four decades since Salkehatchie began, the conference notes that more than 63,000 campers have participated and more than 6,000 families have been helped.
The Jenkinsville camp had 22 youth and adult participants this year, which enabled them to complete work on two homes. The campers – mainly from the Columbia, Blythewood, and Irmo areas – worked on roofs, flooring, and bathroom in the Jenkinsville homes that were in desperate need of repair.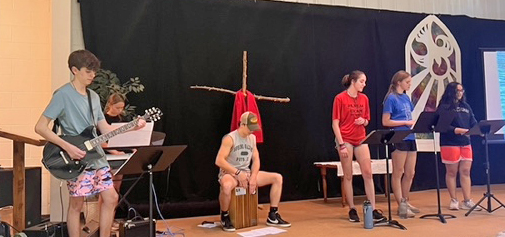 Eleven of the participants were from Trinity United Methodist Church in Blythewood. Trinity's Youth Praise Team led worship nightly for the Jenkinsville camp.
They typically can't repair every issue with a home, she said, so they focus their efforts on the most pressing needs.
Kaysun Lewis and Kay Wigley

Will Farr and Jake Riley

Leah Wigley
"We tackle what we can," Thrasher said. "This year we replaced a roof and flooring in one of the rooms in one house. In the other house, we replaced a section of the tin roof that was falling in and replaced two ceilings and the flooring in the kitchen, bathroom, bedroom, and a hallway. They rehabbed the bathroom as well. They gutted the bathroom, then rebuilt and refurnished it."
Thrasher said the two homes repaired this year were in the Jenkinsville area and were selected from a list that she gathers all year.
"I and the other site leaders checked out houses," she said, "and then we spent some time thinking about it, praying about it, trying to figure out which ones we wanted to work on during that week."
This year's theme for the campers was focused on being "the hands and feet of Christ" for the homeowners they assisted.
Thrasher, 35, says she's participated in this camp in some capacity for 19 years, beginning when she was a teenager in the early 2000s.
"Our youth group at church always participated and everybody always talked about it," she said, so when I was finally old enough, I went, too."
"I fell in love with Salkehatchie, and just kept going back," she said. "That's why I ended up becoming a camp director too. It's a great feeling to go help someone who needs it."