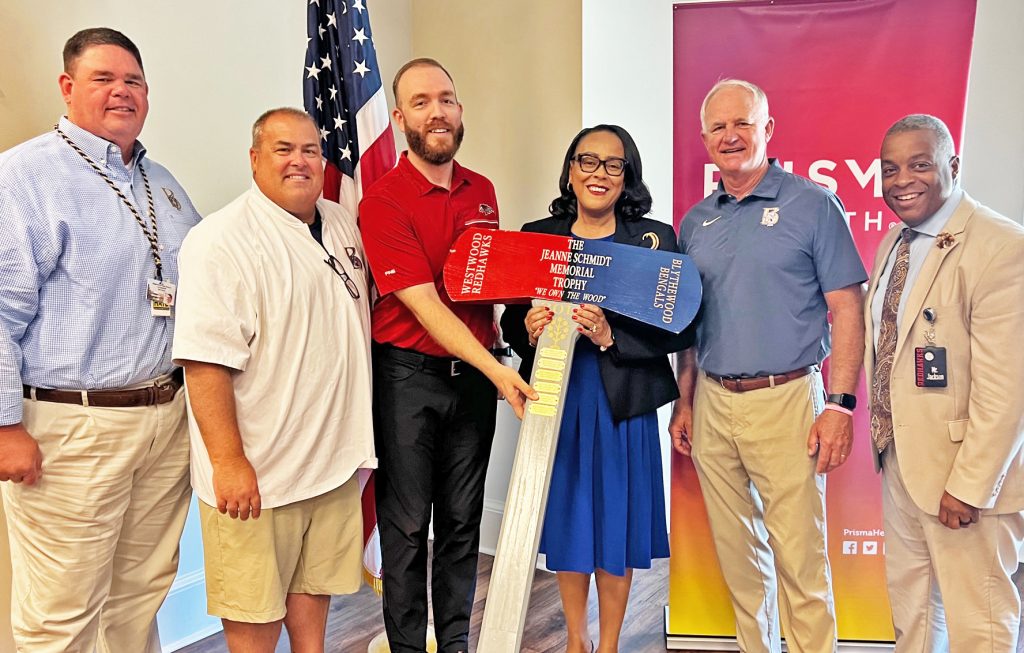 BLYTHEWOOD – The heat of summer is still burning the practice fields, but as of tomorrow those fields will get the look of fall.
Blythewood kicks off the 2023 football season Friday night with both high schools opening at home. Blythewood plays host to Ridge View and Westwood takes on Spring Valley. Both games are scheduled for a 7:30 p.m. start.
For both teams, the 2023 season marks a transition.
The Bengals begin their first run since head coach Jason Seidel resigned. Seidel, who coached the team since 2018, was 27-21 in five years. Blythewood did not have to look far to find a successor. Defensive coordinator James Martin was promoted to head coach last spring.
Martin said that his assistants and the players have made it an easy transition for him, especially when he noted a medical issue that took him off the sidelines for most of spring practice.
"I had to miss most of the spring, but the staff came up and saw me in the hospital and so did the kids," he said. "We didn't skip a beat. That's what I love about our staff. Everyone just knows that the next one steps up and (says) let's get our jobs done."
Since then he's recovered fully and looking forward to the season, with good reason. Blythewood returns a lot of talent from last year's 10-2 squad that captured the team's first region championship since 2012.
Firstly is 6-4, 218-pound quarterback Harrison Collins. Collins has been under center since he was a sophomore. He's split time at quarterback with David Herden, who graduated last spring.
"He's everything you want sizewise who can throw, and he's not scared to run either," Martin said. "He'll lower the shoulder."
Collins has returning receivers Chris Thompson and Nate Rabon to throw to, as well as senior Ridge View transfer Kaleb Kelly
You've got Harrison Collins coming back, 6-4, 218 pounds, taking snaps since he was a sophomore
We've got a great wide receiver corps coming back with Chris Thompson coming back and Nate Rabon, and we've added Caleb Kelly who is a junior transfer from Ridge View.
"To have him come in is a real plus for us," Martin said.
The defense returns largely intact, with experience and depth.
Juniors Sterling Sanders, Silas Holmes and Edward Robinson will hold down the line, with a second string of linemen ready to wreak havoc.
Seniors Drayden Young, Trevon Williams and Jaylin Tyler anchor the cornerback positions, along with newcomer Josiah Sands, who recently picked up an offer to play for The Citadel.
Martin, who led his team's defense to a 5-0 region record in which the Bengals gave up 27 points in that span of games, likes what he sees on both sides of the ball.
Seeing so much experience on the team is good comfort for Martin, as he knows that everyone will be looking at Blythewood to go at least one round better than its second-round playoff appearance last year.
"We're excited where we are. We've got to repeat, and we've got a target on our back which we know, and we don't mind that," Martin said.
After Ridge View (3-7, 2-3 Region 5-4A), the Bengals travel to Richland Northeast Aug. 25 before heading to Westwood Sept. 1. Home games against Lexington and Goose Creek come next, then the Bengals travel to Fort Mill to open Region 3-5A play.
"Last year we thought it was going to come down to us and Clover, I still think it's going to come down to us and Clover this year. But Rock Hill's going to have a really good year this year, so I think it could be anybody's region."
For Westwood, under second-year head coach Robert O'Connell, the Redhawks look to do better than last year's 3-8 effort.
"We've had a really good summer," O'Connell said during the Blythewood Chamber of Commerce's annual football preview." Our kids have been in the weight room since last November. We've been working for 10 months for an opportunity to play."
Westwood got off to an 0-4 start last year but went 3-3 in the back half of the season. The Redhawks went 2-3 in a tough Region5-4A and lost at Bluffton in the first round of the 4A playoffs.
The biggest loss for Westwood was senior receiver and defensive back Noah Jennings. Jennings, a Shrine Bowl pick and Region 5-4A Player of the Year who signed with Charleston Southern, had 121.2 receiving yards per game and nine touchdowns on the season. On defense, he had an interception and a fumble recovery.
"He ended up having about 12 Division-I offers, which amounted to a couple of million dollars," O'Connell said. "He's going to be tough to replace."
Other losses include quarterback Dylon Oneal, receiver and defensive back Kareem Harrison, and receiver Jayden Harrison.
"We're really young, we graduated a lot last year," O'Connell said. "We'll have about 12 sophomores and juniors starting for us, which is good and bad. You' go through those learning curves and you have to play through that, but we're excited."
This fall Westwood will start one of two sophomores under center, Carrington Carter or Nate Caldwell. Dominick Young and KaShawn Harrison will be wide receivers and Zachario McNeil and Edwin Wilson will anchor the offensive line.
On defense Marcus Sims and Jalen Burns will start as linebackers behind a defensive line powered with Dekontee Mack and Christen Rhoden.
In working to do better than last year, Westwood will focus on the trenches—putting together a time-grinding rushing attack while stopping the run on defense.
After opening with the Vikings (5-6, 2-3 Region 3-5A), Westwood travels to Lower Richland Aug. 25 before playing host to Blythewood for the annual Battle of the Woods game Sept. 1. The Redhawks open region play against defending champion A.C. Flora (13-1) Sept. 29.