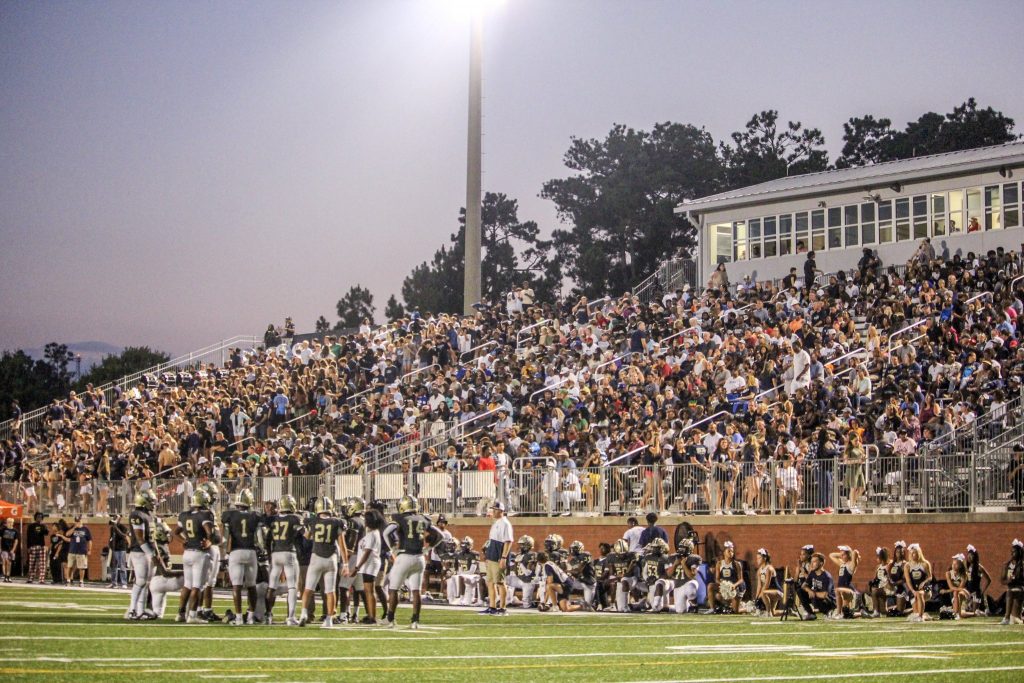 BLYTHEWOOD – A seasoned and deep Blythewood football team finally got to show what it could do for new head coach James Martin Friday night.
Neither Coach Martin, nor the team, nor at least half of the packed house at District Two Stadium were very much pleased.
The Bengals dropped passes, overthrew passes by a step or two, and let three drives die out in the shadow of the Ridge View goal posts. Meanwhile the Blazers controlled the line of scrimmage on their possessions and put together a balanced attack in a 32-21 victory.
"The whole game tonight was mental mistakes," said Martin, the team's defensive coordinator last year before succeeding Jason Seidel, who resigned last spring. "We made too many mistakes at the wrong time, we jumped offsides, we couldn't line up right tonight, and I take that as the head coach. We'll get to work on that next week, but no excuses. We dropped four touchdowns tonight."
Returning quarterback Harrison Collins passed for 347 yards and three touchdown passes—two to Kaleb Kelly and one to Quinton Solomon. But drops and overshoots on at least four occasions blunted several possessions that could have gone as scoring drives.
Add to those misses Ridge View's tenacious run defense, which held the Bengals to 23 rushing yards on 13 attempts, and the result was three turnovers on downs to the Blazers, who rolled up 373 total yards, split almost evenly between passing and rushing.
The win for the Blazers put some distance on last season, when the team had to forfeit five games and miss the postseason because three players were found to be ineligible to play. Wanting some kind of tonic that would fuel Ridge View, second-year head coach Derek Howard said.
"We've been preaching to the guys that they've just got to worry about what we can control," Howard said. "Our kids have been working extremely hard, and these kids understand adversity. All they did was continue to tap into the things we ask them to do, and they played against a good football team, a team that people felt like was a top-10 5A program, and for the most part we dominated the entire game."
Ridge View sophomore receiver Jordan Gidron had six catches for 122 yards and three touchdowns. Senior Siah Mack, who moved from wide receiver to running back this year, had 138 yards and a touchdown on 16 carries.
"I tell you what, man, we're a wide-receiver factory," Howard said. "We've got a lot of good wide receivers. Jordan's special, along with four or five other kids we have that are special. Tonight was his night and I was proud of him."
Junior quarterback Breydon Boyd used both of those weapons behind an offensive line that neutralized Blythewood's seasoned and deep defensive front throughout the game.
"I'm extremely proud of Breylon. A lot of hard work has gone into how he's been playing," Howard said. "If we're going to be good he's going to have to be one of the best in the state."
Ridge View stopped Blythewood in the game-opening possession, and the Blazers' offense kicked in early, with Boyd connecting with Gidron for a 34-yard touchdown pass.
The Ridge View defense stopped Blythewood again, but the Bengals defense sacked Boyd twice to force a punt.
Blythewood wasted no time on its next possession. On second down at the Blythewood 36-yard line, Collins passed to Kelly nine yards downfield. Kelly took it the rest of the way to complete a game-tying 64-yard touchdown pass play at the 3:47 mark of the first quarter.
Boyd connected with Gidron again for a 12-yard TD in the second quarter to give the Blazers a 13-7 lead.
Likewise, Collins found Kelly again for a short pass that Kelly took to the house for a 37-yard scoring play with 3:51 in the first half.
Blythewood led 14-13 at that point, but Ridge View drove quickly down the field again, this time scoring on Aiden Keeffe's 5-yard run with 1:47 left to give the Blazers a 19-14 lead.
Collins tossed up the ball several times in the closing minutes, but the Bengals went to the locker room with a 5-point deficit.
Ridge View drained the third-quarter clock on a long drive that gave Gidron his third score of the night, and early in the fourth quarter Mack burst into the end zone from five yards out to give the Blazers a 32-14 lead.
With the game decided, Blythewood got another score on the board with 3:17 left, a Collins-to-Quinton Solomon 17-yard connection.
With the game decided by then, the final drive amounted to some extra practice for this week.
The loss put a stain on Collins' and Kelly's night. Collins passed for 347 yards, going 28-for-45 with three touchdown passes and without any interceptions. Kelly had six catches for 122 yards and two touchdowns.
"We go catch those four balls that we drop, we don't jump offsides, we go do what we need to do, and we're fixed," Martin said. "This is why we do a non-region schedule. You've got to work on these things to get to the region. Great job to Ridge View. They did a great job tonight. They made the plays and we didn't."
Ridge View heads to Sumter to take on the Gamecocks, and Blythewood travels to Richland Northeast Friday.