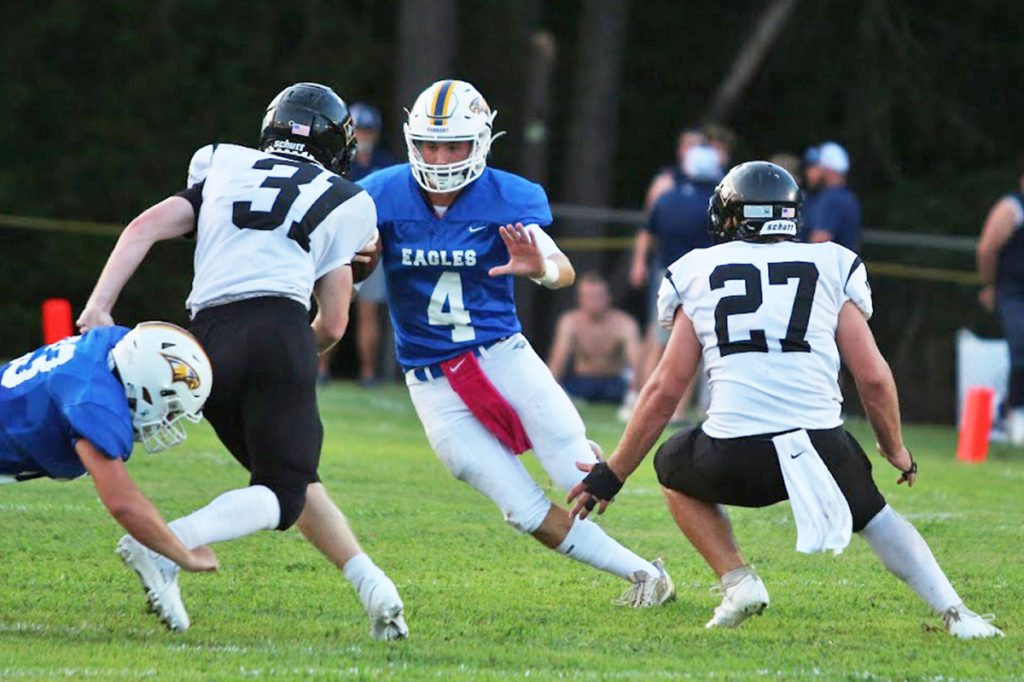 WINNSBORO – The Richard Winn Eagles debuted their 2023 talent on their home field last Friday during a three-quarter jamboree with conference foes Wardlaw Academy and Laurens Academy.
Following a first quarter matchup pitting Laurens against Wardlaw, the Eagles took the field in the second quarter against Wardlaw.
Wardlaw scored first on a 55 yard touchdown run by quarterback Colt Bailey, but the two-point conversion failed.
The Eagles took over at their own 25 yard line and drove the remainder. A 10 yard touchdown pass from Eagle quarterback Charlie Bonds to senior returner Drew Spires capped off the drive. A successful 2pt conversion followed with another Bonds-to-Spires connection.
Wardlaw took over at their 25, but failed to move the ball before time ran out, ending the quarter with Richard Winn up 8-6. Ryan Mills lead the Eagle defense with 3 tackles. Bonds finished 6-9-56 and a TD. Spires had 4 catches for 50 yards and a TD.
Against Laurens, the Eagles opened the third quarter at their own 25. They marched down the field, but the drive stalled inside the red zone. Laurens took over, but 2 plays later, sophomore Eli Smith sacked the Laurens quarterback for a safety. The Eagles lead 2-0 with just under 7 minutes left.
Richard Winn's reserve-heavy offense stalled the team's second drive with a fumble recovered by Laurens. Eagle freshman Johnathan Bonds intercepted a Crusader pass and took it 16 yards to set up the Eagle offense one last time.
Smith ran the clock out with 23 and 14 yard runs respectively. Sophomore quarterback Bennett Nicholson was 3-3 for 12 yards against Laurens. Bonds was 3-4 for 56 yards. Spires recorded 2 receptions for 46 yards.