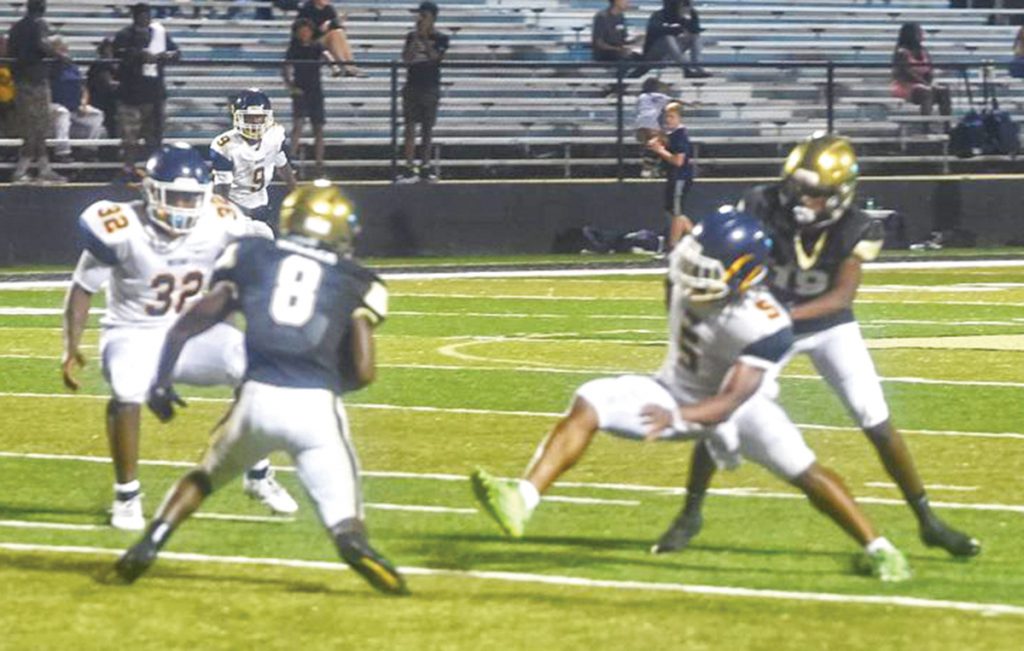 WINNSBORO – Friday night was a thriller under the lights at E.K. McLendon Stadium. From opening kickoff until the final drive, fans from Fairfield Central and Lancaster had ample opportunities for cheers as the lead bobbed back and forth.
After a quarter of play, Lancaster led the Griffins by a narrow 14-13 margin. Fairfield put up 12 points in the second quarter and held the Bruins to just 8. The Griffins held a 25-22 lead at the half.
Lancaster scored twice in the third quarter and allowed the Griffins in the end zone just once. Down 36-32 at the start of the fourth quarter, Fairfield resurged and outscored the Bruins 14-8. The Griffins' fourth quarter clenched the 46-44 win.
Fairfield tallied 444 total yards of offense in the 2-point win. Sophomore quarterback Cam McMillon completed 23 of 28 passes on the night for 290 yards and four touchdowns. He also had two carries for 29 yards and a touchdown.
The night was highlighted by big plays, including game-changers from TyDarion Grier with a 90 yard kickoff return for a touchdown in the third quarter and a fourth quarter 98-yard fumble recovery for a score from Douglas McCloud Jr.
Senior Kristian Golden tallied the receiving yards, racking up 112 yards on eight catches for two scores. Sophomore Dre Walker had 6 receptions for 75 yards and a touchdown. On the ground, Walker gained 75 yards on 6 carries. Grier racked up 60 yards on 5 catches Roger Burns had two receptions for 37 yards and a touchdown. Myles Robertson had 49 yards on 11 carries.
A pack of 17 Griffin defenders accounted for the 56 tackles on the night. Senior Amos Bell led with 11 total tackles, four solo and one QB hurry. Junior Antario James also had four solo tackles and a QB hurry. McCloud racked up nine tackles – three solo.
The win moves the Griffins to 3-1 on the season. They host Keenan (1-2) on Friday. Kickoff is 7:30 p.m.