WINNSBORO – It was a bittersweet moment Monday as Fairfield County's animal control director stepped to the podium for perhaps the last time.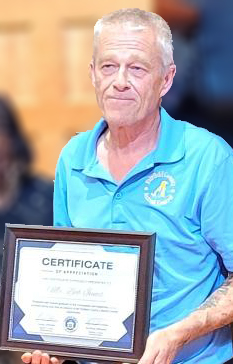 Usually Bob Innes, in his distinct British accent, takes to the lectern to advocate on behalf of abused and abandoned animals.
He's lobbied for stronger animal care laws. He's pleaded for funding to upgrade the animal shelter's aging facilities. And he's taken neglectful and abusive animal owners to task.
On Monday night, however, Innes managed a few muted "Thank You's" as he was praised for his seven years of service to the county.
"I really, really hate to see you leave but I understand," said Councilman Dan Ruff. "Thank you for your dedication to the citizens and the animals."
Innes resigned last week. His last day with Fairfield County is Oct. 6, said interim administrator Laura Johnson.
The most heartwarming remarks came from Kathy Faulk, president of the Hoof and Paw Benevolent Society.
Through the years, Faulk has worked closely with Innes to develop policies designed to update the county's antiquated animal control laws.
"It was very obvious from the beginning that Mr. Innes did not take the position just to collect a paycheck," Faulk said. "He had a very clear vison for the animals and the community, and was determined to bring about change."
In December 2018, the council voted to approve a $500 civil penalty for violations of the county's animal control ordinance. It was the first update in 11 years.
The law mandates the reporting of any occurrence of when a motor vehicles strikes a pet. The law also requires feeding pets at least once daily and providing potable water.
A year later, the county, under Innes' urging, enacted legislation outlawing tethering and cracking down on animal hoarding.
Faulk listed the anti-tethering law as one of Innes' biggest accomplishments.
Further county action on animal control issues has slowed in the last couple of years, but Innes has never wavered in his determination to improve animal living conditions in Fairfield, Faulk said.
"It is our hope that you, county council, will learn from this loss and embrace Mr. Innes' vision as your own," Faulk said. "You (Bob Innes) are valued more than you know, and you will be missed greatly."
Innes told The Voice that he plans to take a few months off, visit with his children in England, and then "find something else."