COLUMBIA – State investigators have listed a litany of new ethics charges against a former Richland County elected official.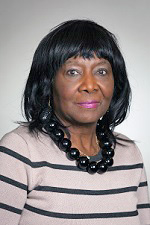 Former Councilwoman Gwendolyn Kennedy already owes nearly $11,000 in fines levied from earlier violations in 2012 and 2015, according to the S.C. Ethics Commission's online debtor list.
More than 200 new ethics counts were presented during an ethics commission hearing August 17, meaning more fines are likely to follow if the panel rules against Kennedy.
The 201 counts cover a period from 2016-2020, ranging from campaign finance violations to taxpayer funded shopping sprees, documents state.
An additional 26 counts in a separate complaint assert that Kennedy used her Richland County credit card to cover over $1,520 in personal expenses.
Kennedy represented Council District 7, which includes Blythewood. She could not be reached for comment.
In November 2018, not long after catching heat for racking up over $10,000 in 13 months using her county credit card, Kennedy told The Voice in an interview she accidentally comingled county and personal credit cards.
"I really had almost forgot about it until it [news stories] started in the paper," she said. "I have too many years in education and elsewhere for foolishness like that. It was all done accidentally."
The ethics complaint lists $1,522.91 in personal spending attributed to Kennedy, a fraction of the amount The Voice and other media reported in 2018.
"I mixed the cards up and I told them (county staff) that. I told them that the very next day. I added it up and gave them exactly what they told me I messed up," Kennedy told The Voice. "My card and their card look so much alike. It was a mistake and I cleared it up. It bothered me and I fixed it."
Similar spending patterns are itemized in the main ethics complaint, which contains 201 violations.
Ninety counts relate to failing to disclose campaign contributions. Ethics filings itemize each donor, with single donor amounts ranging from a few dollars to $1,000, the most an individual can contribute.
Another fifty counts assert Kennedy spent campaign funds on personal expenses. Kennedy made a slew of purchases at department stores, grocery stores and restaurants.
Kennedy also shopped at Kohl's, Ross, TJ Maxx and other retail stores using campaign funds, documents state.
Several other violations assert Kennedy failed to either deposit contributions into – or made excessive withdrawals from – her campaign account, the complaint continues.
The remaining 17 counts state Kennedy improperly used campaign funds for fuel.
The complaints represent the latest of Kennedy's ethics troubles as she already owes nearly $11,000 in unpaid fines.
Kennedy's name appears on the ethics commission's Debtor's List, an online database of candidates and officeholders indebted to the state for various ethics violations.
Kennedy currently owes $11,792 stemming from violations occurring in 2012 and 2015, according to the database.
The exact nature of the violations was not immediately known.
An ethics commission representative referred The Voice to the S.C. Department of Archives and History, where the representative said the 2012 and 2015 violation notices are stored.
Documentation from the violations was not available on the Archives and History website as of press time.
Kennedy has also faced foreclosure and debt collections actions in Richland County, according to civil court records.
In November 2011, a magistrate ordered Kennedy to pay $7,500 to Visiting Angels.
Kennedy also faced a foreclosure action in August 2022, but the lawsuit was dismissed in April 2023, according to court records.