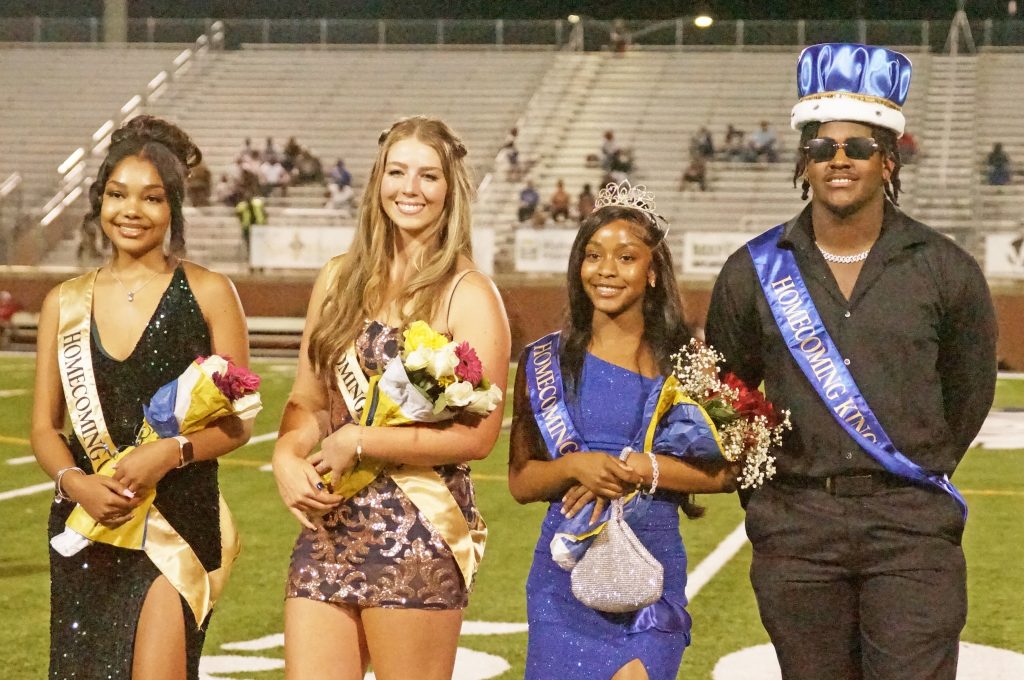 BLYTHEWOOD – The Blythewood football team scored two fourth-quarter touchdowns against Goose Creek to tie the game at 28 all Friday night, but the Gators had one more bite in them.
Quarterback Kymani Clary and running back Meliq McGowan led Goose Creek on a drive that started in the shadow of its own goal post and ended with Owen Freres' game-winning 29-yard field goal at Richland District Two Stadium to seal the Bengals' 31-28 defeat.
Goose Creek's final possession was the first time since early in the second half where it moved the ball steadily against Blythewood.
"Defense did a great job in the second half, but we just couldn't stop them on one drive," Bengals head coach James Martin said. "And it was the one drive that mattered the most."
Clary and McGowan moved the team 84 yards in 12 quick plays in the final two minutes of regulation.
When they had the team at the Bengals' 12-yard line, Freres came out onto the field for a 29-yard field goal attempt with four seconds left.
Freres drilled it high and between the uprights with no time remaining, and Goose Creek walked off with its first non-region victory since 2021.
"Unbelievable job by our kids," Gators head coach Jason Winstead said. "We had a tough start to the season and to see us do that and our kicker Owen Freres do that, unbelievable. What a game. High school football is great."
Clary passed for 349 yards and two touchdowns with no interceptions on the night. McGowan's 143 yards on 28 carries kept the Gators going.
Army commit Davion Malloy was Clary's biggest target on the night, pulling down 10 catches for 182 yards and a score.
The Goose Creek defense had some trouble with Blythewood's no-huddle offense, but the Bengals largely beat themselves. Quarterback Harrison Collins threw 2 interceptions, including a pick-six, and the Bengals offense saw back-to-back drives die out deep into Goose Creek territory in the second half.
"Some of it is mentality, and some of it is in execution," Martin said. "When we execute the way we want to, we're hard to beat. We didn't execute in the first half, and in the second half we stalled two times in the red zone, because when you're down 14 points at that point, you just can't kick a field goal."
Collins finished the night 18- for-32 with three touchdowns along with those interceptions, passing for 242 yards. Five Blythewood rushers totaled 101 net yards on the ground.
Blythewood (2-3) got the game going when Aiden Winder returned a Goose Creek punt 41 yards and the Gators (1-3) took a personal foul penalty on the play. That set the Bengals up at the Goose Creek 14-yard line. Three plays later Zahir Jones rumbled in from 10 yards out for the first score.
Goose Creek got on the scoreboard with Clary's 19-yard TD pass to Ashton Drayton late in the first quarter.
Collins found Tyler Kahle for a 12-yard touchdown pass early in the second quarter, but Goose Creek scored twice to take a 20-14 lead into halftime.
To make matters worse for Blythewood, Jordan Turner intercepted Collins on the first play from scrimmage of the third quarter, and returned it 21 yards for a touchdown. After Clary's pass to Drayton for the 2-point conversion Goose Creek held a comfortable 28-14 lead on the Bengals.
That pick-6 marked a change for Collins, who was more productive after that mistake.
"It's the first year for this offense, and he's got to make a lot of decisions in a very fast split second," Martin said about Collins. "We just told him what went wrong, and it was very simple, footwork and mechanics. He fixed it and he came back and did it."
Collins moved the Bengals faster down field, but the bad news continued for Blythewood. Its next two drives died out inside the Gators' 10-yard line, leaving the Bengals scoreless in the third quarter.
Collins, who by then had two interceptions and no touchdown pass since the first minute of the second quarter, caught fire in the fourth quarter. He finished the night 18-for-32 with 242 yards and three touchdowns to two interceptions.
The 6-4 senior marched the no-huddle Bengals offense down the field in a 11-play 75-yard drive early in the final quarter. Collins capped it with a 26-yard TD pass to Trent Lewis with 8:25 to go. Blythewood missed the extra point and the Gators led 28-20.
After the Blythewood defense forced Goose Creek to punt at midfield, Collins took over at the Bengals' 16-yard line and moved them the length of the field in six quick plays and four first downs.
On fourth and 4 at the Goose Creek 18, Collins found Kaleb Kelly wide open in the right corner of the end zone for a touchdown with 2:06 left. Kelly then tied the game at 28 on a reverse run to the left side of the end zone for the 2-point conversion.
With momentum on its side, Blythewood kicked off to Goose Creek and managed to pin the Gators back at their own 4-yard line after a block-in-the-back penalty.
Instead of settling the score in overtime, the Gators got fired up with Clary passes and McGowan runs that set up Freres' game-winning shot.
"I got the flag just to make sure it was longer," head coach Jason Winstead laughed. "We had a little meltdown there at the end of the game with some coverages. They (the Bengals) were going fast and had momentum, but man our kids kept fighting. I couldn't be more proud."
Blythewood is off next week and opens Region 3-5A play at Fort Mill Sept. 29. Goose Creek travels to Summerville Friday.
Goose Creek – 6-14-8-3 – 31
Blythewood – 7-7-0-14 – 28
First Quarter
B – Zahir Jones 10 run (Kyle Whisenant kick) 8:30
G – Ashton Drayton 19 pass from Kymani Clary (kick failed) 2:34
Second Quarter
B – Tyler Kahle 12 pass from Harrison Collins (Whisenant kick) 11:07
G – Jehoava Williams 3 run (pass failed) 8:50
G – Davion Malloy 39 pass from Clary (Clary run) 3:41
Third Quarter
G – Jordan Turner 21 interception return (Drayton pass from Clary) 11:43
Fourth Quarter
B – Trent Lewis 26 pass from Collins (kick failed) 8:25
B – Kaleb Kelly 18 pass from Collins (Kelly run) 2:06
G – Owen Freres 29 field goal :00
GCHS BHS
First downs 22 23
Rushes-Yards 41-150 34-101
Passing yards 349 242
Att-Com-Int 27-19-0 32-18-2
Fumbles-lost 0-0 0-0
Penalties-yards 8-74 3-30
Punts-Avg 6-31.8 3-36.7
INDIVIDUAL
RUSHING
G-Meliq McGowan 28-143, Ashton Drayton 3-9, Evan Daniels 1-2, Jehoava Williams 1-3, Kymani Clary 7-(-7). B-Desmond Macklin 14-41, Zahir Jones 12-54, Harrison Collins 6-(-4), Kaleb Kelly 1-10, Mitchell Hepler 1-5.
PASSING
G-Kymani Clary 19-27-0. B-Harrison Collins 18-32-2.
RECEIVING
G-Davion Malloy 10-182, Meliq McGowan 3-58, Ashton Drayton 2-20, Jaylin Grant 2-60, Evan Daniels 1-28, Team 1-1. B-Tyler Kahle 4-59, Trent Lewis 7-91, Kanye Reed 2-21, Mitchell Hepler 1-14, Kaleb Kelly 3-41, Desmond Macklin 1-16.