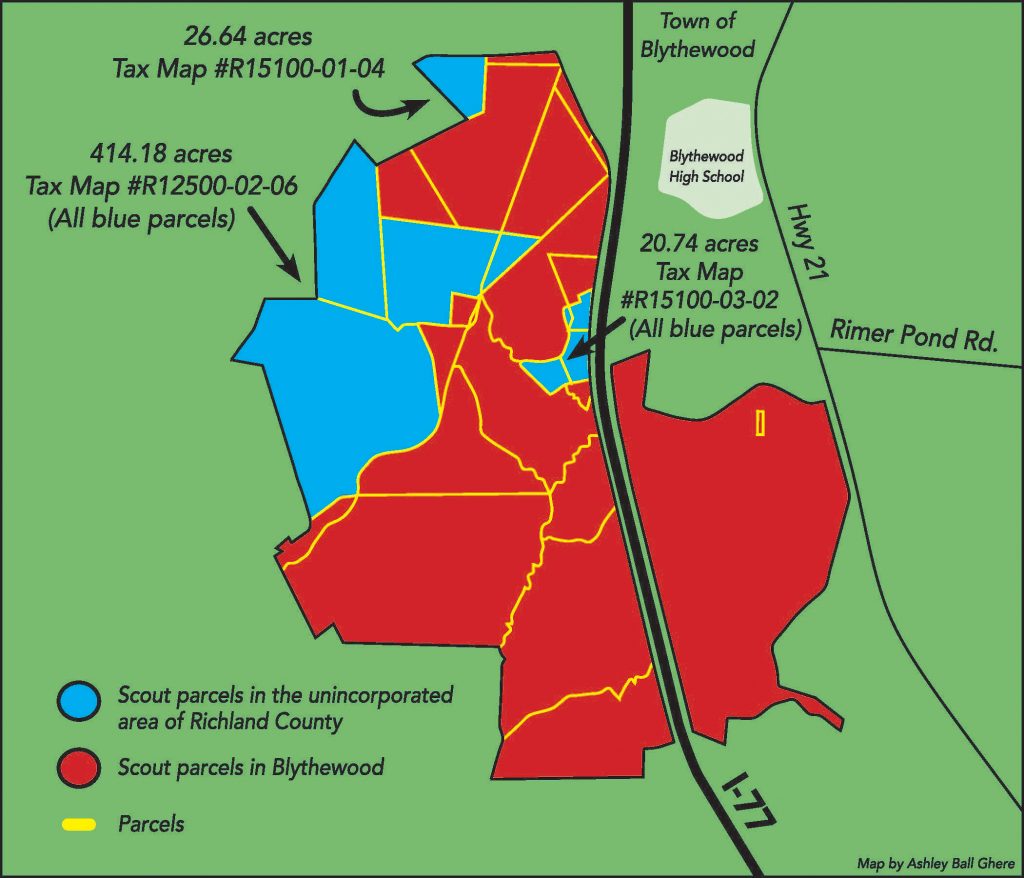 BLYTHEWOOD – Amid resident concerns about impacts on wetlands and streams on the Scout Motors site, the Blythewood Planning Commission voted to recommend rezoning three parcels totaling 461.56 acres associated with the project.
Technically, the property still lies within unincorporated Richland County and would have to be annexed into the town at a later time.
But town and county officials say the long-term goal is to streamline all zoning and management issues for the Scout site under the Town of Blythewood.
"The request today is to approve zoning. Annexation approval request would come at a later time," said Tiffany Harrison, an economic development consultant working with Richland County.
"We sort of always thought the site would be developed in multi phases," Harrison said. "We knew that at some point we'd have to have the mechanism to address consistent approvals and a consistent plan."
Scout Motors recently announced plans to build a $2 billion auto manufacturing facility in Blythewood on 1,600 acres bordered by Blythewood Road and I-77.
It has the potential to generate up to 4,000 jobs, but the new plant has generated concerns ranging from increased traffic to harmful environmental impacts.
Planning Commission Chairman Malcolm Gordge said Tuesday night's vote was merely on the rezoning, and not intended to address other aspects of the Scout Motors project.
"Nothing will change other than the zoning," Gordge said. "The other issues that relate to that site are completely separate from what we're doing this evening."
A public forum delving into other aspects of the project is tentatively scheduled for Sept. 19, with two community meetings held prior to that on Sept. 17 and 18.
Several residents voiced concerns that the rezoning opens the door to potentially harmful environmental impacts to wetlands located within the acreage. Blythewood resident Bobbie Young, a former planning commission chairwoman, feared there's a lack of transparency concerning what she said is "the filling in of some wetlands on the Scout site."
Young also questioned the timing, saying she didn't understand why the commission was considering the zoning change prior to annexation.
"I'm quite shocked the town of Blythewood is annexing that property now," Young said. "Why now at the tenth hour? It seems odd that it's coming up at this time. I just can't understand why Richland County would want to give up the reins on such a big project."
Blythewood resident Charles Bane also voiced concerns about the wetlands. He challenged the validity of Scout's potential plans for mitigation, a process where wetlands elsewhere are preserved to compensate for filling in wetlands at a development location.
"I'm particularly interested in the EPA wetlands. It's being swept under the rug the best I can tell," Bane said. "We don't like covering up those wetlands at all. We want another proposal for that."
Gordge, the planning commission chairman, said wetlands are federally protected. As such, he didn't think any wetlands would suffer from covert filling or destruction. He also said eventual annexation gives Blythewood greater authority to protect the site from any harm.
"I don't think there's any real risk of them being covered up or obliterated," Gordge said. "And if we have more direct involvement in management of the site, we're in better position to question and challenge that than if we just let Richland County manage the site themselves."
Harrison noted the property is already zoned for industrial use under current Richland County zoning. She said that wouldn't substantially change should Blythewood proceed with the rezoning and eventual annexation.
This property is currently zoned industrial. It can be developed as industrial as it's zoned within Richland County," Harrison said. "What we're asking is for this to get through planning commission so it can be forwarded [to town council for a vote]."